BWW REVIEW Dig Dance Presents Aileen Passloff Stepping Forward: one foot (in front of the other)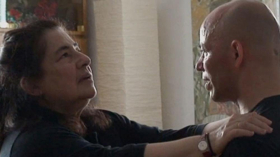 Dig Dance is a series of dance performances offered at the 92nd Street Y Harkness Dance Center, NYC. On January 13, 2019, the presentation was Aileen Passloff, her second performance at the 92nd Street Y (although a second performance this year was added on 1/11). Her first professional appearance was also her first performance at the 92Y, in 1944 at age 13, as a member of James Waring's company. During the discussion at the end of this performance, Passloff spoke of her mentor, Waring, and his enormous influence on her career and her approach to dance. She spoke of his playfulness, his openness, and his deep, passionate work. All the above is evident in this presentation. Passloff began her training in classical ballet but expanded her horizons to modern and postmodern. She has been called avant-garde. Now 87, Passloff has not lost her passion for her work, as she continues to choreograph and to coach her dancers.
First on the program was an excerpt from the documentary film, Arthur and Aileen, by Marta Renzi, recording the rehearsal process between Arthur Aviles and Passloff. This was followed by an excerpt from Her Magnum Opus, a ninety-minute film, also by Renzi, with fragments from April and December and fragments of Table Dance. The films were beautifully shot, and the fragments begged seeing more.
The performance included eight choreographies by Passloff, four of them World Premieres, one by Waring, originally choreographed for Passloff, reconstructed by her, and one by Remy Charlip, also originally choreographed for Passloff, and reconstruction by Passloff. Colors used in all the works were a variety of reds, black and white.
Pianist Douglas Schultz played for several of the works as well as two Musical Interludes, music by Johannes Brahms, Ernesto Nazareth, John Cage, Bela Bartok, and Maurice Ravel. Pianist Michael Cherry also played Johannes Brahms for one piece and played Satie with Schultz for another. Michael Scales, pianist, played Frederic Chopin for Nocturne For Bob. One other musical interlude was played by guitarist, Arturo Martinez, who remained on stage as dancer Charlotte Hendrickson danced Somnambula, sometimes directing her attention towards him.
Aviles has a powerful, passionate presence in each of the works in which he appeared, engaging the audience in his experience, whether directed by the choreography as in Frolic or in other pieces by his large energy drawing us in. During the discussion after the performance, he told us that Passloff was his first teacher and his mentor. When Hendrickson danced, she seemed to be channeling Passloff, who looked delighted and completely enthralled by Hendrickson's interpretation. Watching Octandre, 1958 choreography by Waring, it seemed that the strong dancer Nic Petry (member of The Bang Group) with energy and intensity was an incarnation of Waring (my imagination). Although this was the choreography of Waring, it had been created for and reconstructed by Passloff, a tribute to both Passloff and Petry. He Dreams of Small Battles (premiere) was choreographed by Passloff and dedicated to Waring. Hendrikson, the solo performer, wore an ethnic vest of Warings in the first two sections, Parade and Battle, before removing it and covering her red costume with a white costume for the final section, Heaven.
I am grateful to Passloff for bringing her experiences and insights via her choreographies and reconstructions to our consciousness. She spoke of her love for honing a piece, bringing it back to what it was. The biography in the program states that her work was included in the recent exhibition at the MOMA of the Judson Dance Movement. She was called a pioneer of the Judson Dance Theater. Passloff says that dancing and teaching have always been deeply connected to her. If she has a legacy, she says, it is the dancing of her students Aviles and Hendrickson and all her many wonderful students.
Photo from the 2012 film Arthur and Aileen by Marta Renzi
Related Articles
View More Dance

Stories