BWW Review: RIGOLETTO, Premieres in Sao Paulo Bringing as Subjects Harassment, Revenge, Curse and Power


The 2019 lyrical season of São Paulo's Theatro Municipal brings one of the most important operas of Italian romanticism, Rigoletto by Giuseppe Verdi. With scenic direction by Jorge Takla and musical direction by conductor Roberto Minczuk, and sumptuous scenarios by Nicolás Boni, the premiere takes place on July 20 at 20h. The recitals follow on days 23, 24, 26, 27 and 30, always at 8 pm, and on Sundays 21 and 28 at 6 pm.

A temporada lírica de 2019 do Theatro Municial de São Paulo traz uma das óperas mais importantes do romantismo italiano, Rigoletto de Giuseppe Verdi. Com direção cênica de Jorge Takla e musical do maestro Roberto Minczuk, a estreia acontece no dia 20 de julho, às 20h. As récitas seguem nos dias 23, 24, 26, 27 e 30, sempre às 20h, e nos domingos 21 e 28 às 18h.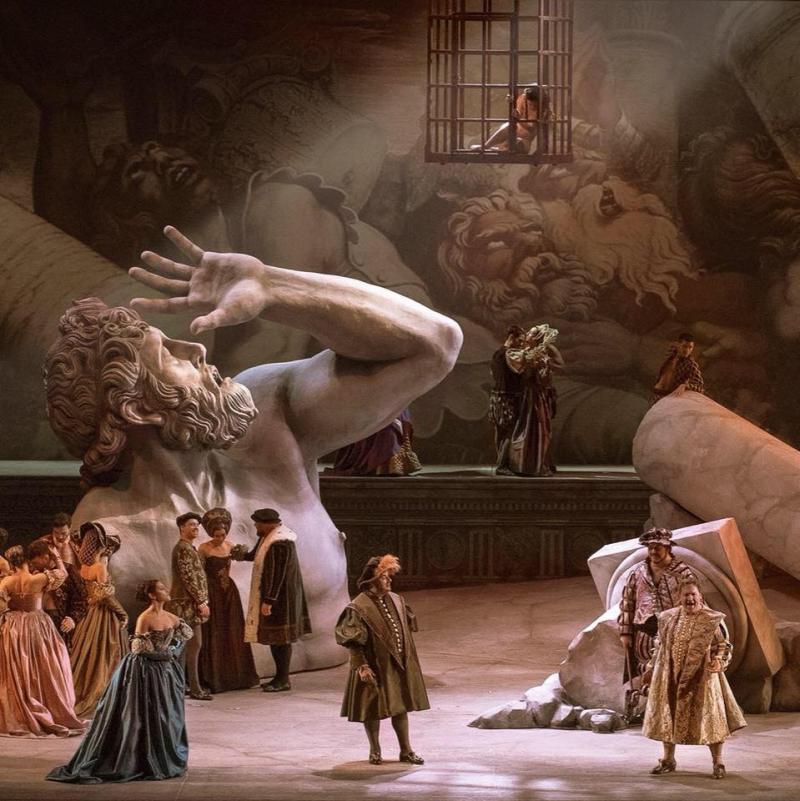 A ópera em três atos, com libreto de Francesco Maria Piave, é baseada na peça Le rois'amuse (O Rei se Diverte) de Victor Hugo e faz parte da chamada trilogia popular de Verdi (junto a Il Trovatore e La Traviata). Rigoletto é um bufão corcunda da corte, de língua afiada e mordaz que serve ao Duque de Mântua, um libertino incontrolável. Rigoletto mantém escondida em casa sua única filha que tem permissão de sair somente para ir à missa. E é exatamente na missa que Gilda, a filha do bufão, conhece o insaciável Duque (que se apresenta para a jovem como um pobre estudante). Os cortesãos num gesto de vingança pelas piadas do bufão sequestram sua filha que será depois abusada pelo próprio Duque. O bufão decide se vingar, mas uma maldição ronda sua vida e fará com que toda a tragédia se complete.
O elenco conta com grandes cantores da cena lírica internacional. No papel de Rigoletto, se revezam os barítonos Fabián Veloz, argentino eleito pela Associação de Críticos Musicais da Argentina como o melhor cantor lírico de 2018, e Rodrigo Esteves, brasileiro radicado na Espanha, com passagem por diversos Teatros na Europa e que faz sua estreia no papel de Rigoletto. Como Duque de Mântua, teremos o tenor Fernando Portari que já interpretou o mesmo papel em mais de 50 apresentações e, em 2019, completa 30 anos de carreira. Alterna com ele, o tenor argentino Darío Schumunck também já experiente no papel. Como Gilda, a jovem soprano russa Olga Pudova, que recentemente esteve nas produções de Lucia di Lammermoor e Les Contes d'Hoffmann na Bayerische Staatsoper de Munique; e Carla Cottini, soprano brasileira que vive em Berlim e interpretará Gilda pela primeira vez em sua carreira.
Todas as apresentações contam com a performance da Orquestra Sinfônica Municipal de São Paulo, sob a regência do maestro Roberto Minczuk, e do Coro Lírico Municipal de São Paulo, preparado pelo maestro Mário Zacarro.

Encenando Rigoletto
Rigoletto estreou no La Fenice em Veneza, em 11 de março de 1851. Uma produção polêmica para a época, inspirada na peça O Rei se Diverte de Victor Hugo que retratava um monarca libertino que explorava o seu criado corcunda, totalmente complexado por sua condição. A peça, que já havia sido banida dos palcos franceses por ofender a monarquia, sofreu também censura em sua adaptação operística. Verdi insistiu (chegou a pedir ao libretista Piave que percorresse Veneza para tentar encontrar uma pessoa influente que ajudasse a liberar o texto) e acaba por adaptar o local da ação, ao invés da França o enredo se passaria em Mântua na Itália; e o Rei seria substituído por um Duque.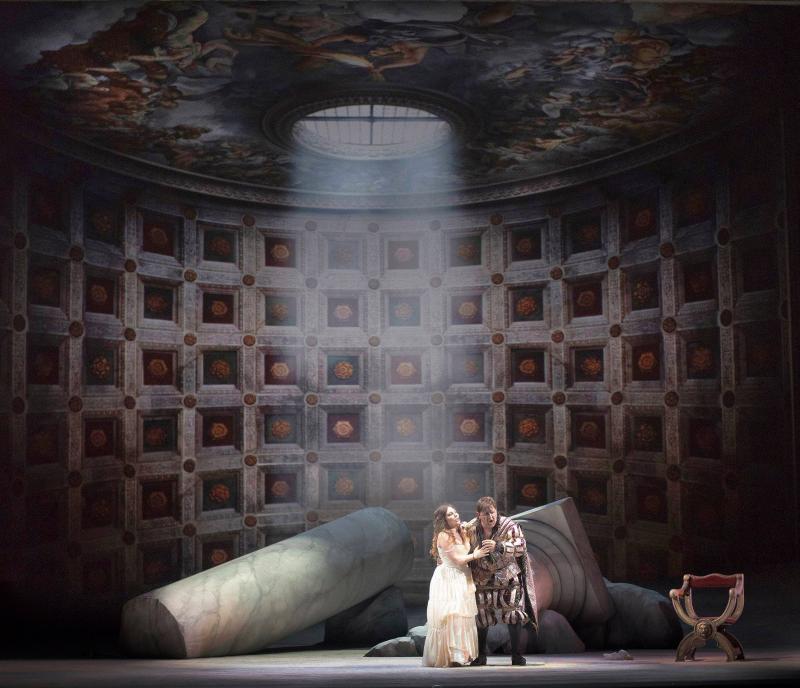 Segundo o próprio Verdi, numa carta ao libretista, "todo o argumento da ópera está nessa maldição que também se torna moral: no início, um pai infeliz que lamenta a honra tirada de sua filha é ridicularizado pelo bufão da corte. Em desespero, o pai o amaldiçoa. A maldição persegue então o bufão de uma forma assustadora. Me parece grandioso".
Jorge Takla, que já dirigiu cerca de 20 óperas e este ano completa 30 anos de direção apenas na cena lírica, considera os temas abordados pelo libreto de Rigoletto atuais e flagrantes de nossa perene condição humana. Assédio, cárcere privado, corrupção, vingança, estupro. Por isso prefere criar uma montagem que se passa no tempo sugerido pelo libreto: o século 16. "A obra essencialmente aborda o amor paterno, nada mais atual e eterno. Seria redundante e gratuito atualizá-la", explica.
Para o maestro Roberto Minczuk, diretor musical da produção e regente titular da Orquestra Sinfônica Municipal de São Paulo, a música é o grande trunfo que conduz o enredo "Rigoletto foi considerada revolucionária na época e estabelece uma transformação no estilo de composição do Verdi. Ele passa a compor de forma menos fragmentada e a estabelecer um fluxo contínuo da música e da história, mesclando de forma única a narrativa musical com a ação dramática".
Para Hugo Possolo, diretor artístico do Theatro Municipal, "essa encenação visa ampliar a vocação dessa casa para ópera, trazendo por meio dessa obra consagrada, uma temática relevante para o mundo contemporâneo ao falar de abuso sexual como arma de manipulação de poder".
A ópera tem uma das árias mais famosas do repertório lírico, La Donna è Mobile, uma melodia tão impregnante que a Gazeta de Veneza escreveu que já na noite da estreia podia-se ouvir pessoas cantarolando pelas vielas de Veneza. Outras passagens musicais desta ópera entraram também para as listas das mais ouvidas árias e grupos de todos os tempos, como a Caro Nome cantada por Gilda e o quarteto Bella Figlia DellAmore.
O cenário está sendo produzido no Brasil pelo premiado cenógrafo Nicolás Boni. O figurino conta com mais de 100 peças produzidas com o requinte que a época pede pelo figurinista Fábio Namatame. Visagismo de Tiça Camargo, desenho de luz de Ney Bonfanti e coreografia de Anselmo Zolla.
Os ingressos para Rigoletto variam de R$ 20 a R$ 120 e estão à venda pelo site do Theatro Municipal (www.theatromunicipal.org.br) ou na bilheteria. A ópera é a segunda da Temporada Lírica 2019 após O Barbeiro de Sevilha que estreou em fevereiro.
Serviço:
Julho
Sábado, 20, às 20h
Domingo, 21, às 18h
Terça-feira, 23, às 20h
Quarta-feira, 24, às 20h
Sexta-feira, 26, às 20h
Sábado, 27, às 20h
Domingo, 28, às 18h (Com audiodescrição)
Terça-feira, 30, às 20h

RIGOLETTO
Orquestra Sinfônica Municipal de São Paulo
Coro Lírico
Regente - Roberto Minczuk
Direção Cênica - Jorge Takla
Cenários - Nicolás Boni
Figurinos - Fabio Namatame
Desenho de Luz - Ney Bonfanti
Coreografia - Anselmo Zolla
Visagismo - Tiça Camargo
Elenco:
Rigoletto (barítono) - Fabian Veloz (20, 23, 26, 28)/Rodrigo Esteves (21, 24, 27, 30)
Duque de Mântua (tenor) - Fernando Portari (20, 23, 26, 28)/Dario Schmunck (21, 24, 27, 30)
Gilda (soprano) - Olga Pudova (20, 23, 26, 28)/Carla Cottini (21, 24, 27, 30)
Maddalena (mezzo soprano) - Juliana Taino (20, 23, 26, 28) /Magda Painno (21, 24, 27, 30)
Sparafucile (baixo) - Luiz Ottavio-Faria
Conde Monterone ( barítono) - Davi Marcondes
MatteoBorsa (tenor) - Eduardo Trindade
Marullo (barítono) - Wladimyr Carvalho
Conde Ceprano (barítono) - Daniel Lee
Condessa Ceprano (mezzo soprano) - Carla Rizzi
Giovanna (soprano) - Karen Stephanie
Pajem (soprano) - Ludmilla Thompson
Oficial (baixo) - Andrey Mira
Duração aproximada
: 2 horas e 30 minutos em 3 atos
Indicação etária
: 12 anos
Ingressos
: R$ 120,00 / R$ 80,00 / 20,00 pelo site
theatromunicipal.org.br
ou na bilheteria do
Theatro MunicipalHorário da Bilheteria do Theatro Municipal
: De segunda a sexta-feira, das 10h às 19h, e sábados e domingos, das 10h às 17h.
Related Articles View More Brazil

Stories

Shows