Judy Kuhn, Lesli Margherita, and More Join Cape Playhouse 2018 Season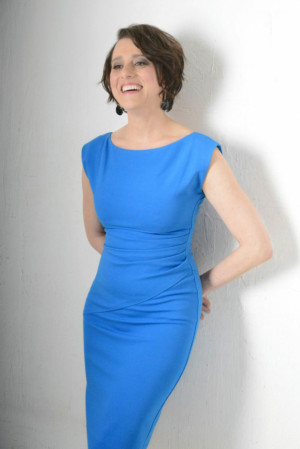 Some of the top talent in the Broadway community will be gracing the stage of The Cape Playhouse this summer. The impressive list of headliners includes Judy Kuhn, Michelle Pawk, Mary Testa, Nancy Opel, Jennifer Simard, Mike McGowan and Jennifer Cody..Michael Rader, Artistic Director, today announced the casting for the historic theatre's 92nd season in Dennis, MA. The six-play schedule, running from June 12 - September1, 2018, features three plays and three musicals-including three Playhouse premieres-in a season featuring Tony and Drama Desk Award-winning shows and the premiere and Pre-National Tour Engagement of a new production of the classic movie Clue: On Stage.
Kicking off the 2018 season will be Robert Harling's poignant Steel Magnolias. Set in Louisiana in the 1980s, Steel Magnolias is equal parts hilarious and heartwarming. At Truvy's beauty shop, six southern ladies gather each week to chat and support each other through thick and thin. But those bonds are about to be tested when M'Lynn and her daughter Shelby face a life-changing crisis. Infused with heart and humor, Steel Magnolias is a hilarious story that touches on love, loss, and enduring friendship. Four-time Tony Award-nominee Judy Kuhn (Broadway: Fun Home, Fiddler on the Roof, She Loves Me, Chess, Les Misérables, film: title role, Disney's Pocahontas) plays M'Lynn; Mary Testa (Broadway: Wicked, Guys and Dolls, Chicago, 42nd St,; TV: Bull, Two Broke Girls, Nurse Jackie) is Ouster; and Truvy is played by Leslie Margherita (London: Laurence Olivier Award, Zorro the Musical; Broadway: Dames at Sea, Matilda the Musical; TV: Homeland, Seven Seconds, Elementary, The Good Wife). Rounding out the cast are Jillian Louis as Annelle, Joy Franz is Clariee, and Laurie Veldheer as Shelby. Directed by Pamela Hunt, Steel Magnolias runs June 12-23, 2018.
Second on the roster will be Sylvia, the acclaimed comedy by two-time Pulitzer Prize-nominee A.R. Gurney. Empty nesters Greg and Kate have moved back to Manhattan after twenty-two years in the suburbs. Greg finds Sylvia, a street-smart lab/poodle mix, and brings her home. She promptly becomes a bone of contention between Greg and Kate, testing their marriage to comedic and touching effect. Directed by Matt Lenz, Playhouse favorite Jennifer Cody (Broadway: Shrek the Musical, The Best Little Whorehouse in Texas, Pajama Game) headlines as Sylvia; Michele Pawk Broadway: Hollywood Arms - Tony Award, Hairspray, Mamma Mia, Chicago, Seussical, Cabaret, Crazy for You; TV: Madame Secretary, Law & Order) is Kate; John Dossett (Broadway: Gypsy, Ragtime; TV: The Americans, Blue Bloods) is Greg; and Stephen DeRosa (Broadway: Into the Woods, On the Town, Hairspray; TV: Elementary, The Good Wife, Boardwalk Empire) is Tony/Phyllis/Leslie. This wonderful look into the complexities of love and commitment asks what it truly means to be devoted to your partner... and how do you choose between the love of your life and man's best friend? Sylvia runs June 26-July 7, 2108.
After worldwide success in West End, Las Vegas, Canada and Broadway, Million Dollar Quartet is coming to the Cape Playhouse! This energetic musical tells the story of the afternoon that Elvis Presley, Johnny Cash, Jerry Lee Lewis and Carl Perkins recorded some of the most iconic rock 'n' roll songs of all time. You will be transported to Memphis, Tennessee on December 4th 1956, where music was changed forever. The four musicians have a jam session at the famous Sun Records, where they created some of the most well-loved and upbeat songs of all time. Jerry Lee Lewis is played by Sean McGibbon (National Tour Million Dollar Quartet, 25th Anniversary National Tour The Buddy Holly Story) Sky Seals (Johnny Cash in Million Dollar Quartet at Cincinnati Repertory Theater, the Repertory Theatre of St. Louis, Geva Theatre) is Johnny Cash, and James Barry (Million Dollar Quartet: 1st National Tour; Ogunquit Playhouse, Papermill Playhouse, New Theatre, Fulton Theatre, and Maine State Music Theatre is Carl Perkins and Ari Wilford plays Elvis Presley. Directed by Hunter Foster, the musical includes more than 20 well-loved songs from that exciting era, such as Real Wild Child, Memories are Made of This, Fever, Hound Dog, Walk the Line, Matchbox, Blue Suede Shoes and many more. An unforgettable fun night of rock 'n' roll, Million Dollar Quartet, a Playhouse Premiere, runs July 10-21, 2018.
The fourth show of the season, Altar Boyz, winner of the Outer Critics Circle Award for Outstanding Off-Broadway Musical comes to the playhouse after an astounding five year run off-Broadway. Altar Boyz tells the story of 5 small-town boys - Matthew, Mark, Luke, Juan and Abraham - trying to save the world one screaming fan at a time. Their pop act worked wonders on the Ohio bingo-hall-and-pancake-breakfast circuit. But when fate brings them to New York, will the boyz take a bite out of the big apple? Directed and choreographed by Jason Sparks with music direction by Jordan Jones-Reese, features Coby Getzug (Broadway: The Book of Mormon, Brighton Beach Memoirs. National Tours: The Book of Mormon, Spring Awakening) as Abraham; Austin Colby (National tour: The Sound of Music; Cape Playhouse debut) as Matthew; David Barnes (National Tour: The Book of Mormon) as Mark; Anthony Fortino (National Tour: Fun Home) as Luke; and Ben Chavez (North Shore Music Theatre, Paper Mill Playhouse) as Jaun. With angelic voices, sinfully spectacular dancing and a touching story, Altar Boyz is destined to rock the masses of all denominations! A Playhouse premiere, it runs July 24-August 4, 2018.
The final musical of the Playhouse season, South Pacific, has earned a staggering 17 Tony Awards, 5 Drama Desk Awards and the Pulitzer Prize for Drama. In South Pacific, love transcends the harsh realities of war and prejudice in this sweeping tale centered around two unlikely love affairs. Set on a tropical island during World War II, and based on James Michener's Pulitzer Prize-winning novel Tales of the South Pacific, with music by Richard Rodgers, lyrics by Oscar Hammerstein II, and book by Hammerstein and Joshua Logan, this timeless classic features some of the most beautiful music ever composed woven into an inspiring story cherished the world over. The beloved score's songs include "Some Enchanted Evening," "I'm Gonna Wash That Man Right Outa My Hair," "There is Nothin' Like a Dame" and "Bali Ha'i." Directed by Cape Playhouse Artistic Director Michael Rader, the production features Mike McGowan (Broadway: The Book of Mormon, The Producers, The Apple Tree, Ragtime, Grease, Priscilla) as Emile; Becky Gulsvig (as Nellie), Tim Rogan (National Tours: Camelot, Beauty and the Beast) as Lt. Cable; Shea Renne (Broadway: Allegiance) as Liat; Michael Thomas Holmes (Broadway: Oklahoma!; National Tours: The Phantom of the Opera, The Producers) as Luther Billis; and Yvonne Strumecki (National Tours: South Pacific, Man of La Mancha, and Saturday Night Fever) as Bloody Mary. South Pacific, directed by Michael Rader, choreographed by Joyce Chitick and music directed by Garrett Taylor, plays August 7-18, 2018.
If you loved the classic movie Clue: On Stage, you'll kill to be among the first audiences to see this hilarious new stage adaptation of this cult favorite before it launches a National Tour. Based on the iconic 1985 Paramount movie adaptation of the classic Hasbro board game, Clue: On Stage is a hilarious farce-meets-murder-mystery. Adapted from Jonathan Lynn's screenplay (My Cousin Vinny, The BBC's Yes Minister), with additional material by Hunter Foster, Sandy Rustic, and Eric Price this live staging tells the shocking tale of six mysterious guests who attend an unusual dinner party hosted by Mr. Boddy, where murder and blackmail are both on the menu. When Boddy himself ends up murdered, all the guests become suspects, and together they must solve the mystery before the police arrive. An evening of slapstick, slamming doors, and some of the funniest one-liners in movie history stars Nancy Opel (Broadway: Honeymoon in Vegas, Beautiful, Cinderella, Memphis, Gypsy, Fiddler on the Roof, Urinetown, Triumph of Love, Anything Goes, Sunday...With George, Evita,) is Mrs. Peacock; Jennifer Simard (Broadway: Disaster!, Hello, Dolly, The 25th Annual Putnam County Spelling Bee, Sister Act,) is Mrs. White; Michael McGrath (Broadway: She Loves, Nice Work if You Can Get It -Tony Award, Spamalot) plays Mustard; Lorenzo Pisoni (Broadway: Equus, Henry IV) is Wadsworth; Duane Bouttém (Broadway: Carousel, Parade) is Professor Plum; rounding out the cast is David Beach (Broadway: Something Rotten, It's Only A Platy, Mama Mia!, Urinetown; TV: Veep, The Good Wife). Directed by Hunter Foster with choreography by Jen Cody, Clue: On Stage will leave both cult-fans and newcomers in stitches. A New England premiere prior to the National Tour, Clue: On Stage wraps up the season, playing August 21-September 1, 2018.
Casting Director for the 2018 season is Geoff Josselson, CSA.
Season tickets and single tickets are now on sale and can be purchased at www.CapePlayhouse.com or by calling 508-385-3911. The box office will open for the season on May 30.
The non-profit Cape Playhouse was founded in 1927 by Californian Raymond Moore, who spent several summers in Provincetown painting scenery, writing plays, and acting in local theatre. His vision, however, was to have a theatre of his own-a smart, sophisticated summer theatre that would bring Broadway to Cape Cod. He purchased a 19th-century former Unitarian Meeting House for $200, had it moved to 3½ acres of pasture land fronting the Old Kings Highway in Dennis, and converted it into a professional theatre. The Cape Playhouse has been kept true to its original structure-even the original pews still serve as seats. The opening performance on July 4, 1927 was The Guardsman, starring Basil Rathbone. Over the years, many big- name stars from Broadway and the silver screen have acted there, including Bette Davis (who first worked as an usher), Gregory Peck, Gertrude Lawrence, Lana Turner, Ginger Rogers, Humphrey Bogart, Tallulah Bankhead, Helen Hayes, Julie Harris, and Paulette Goddard. It's no wonder the Cape Playhouse is known as "The Birthplace of the Stars." Many young, aspiring performers have spent their summers here. In 1956, a young student was given a small part in The Male Animal, starring Henry Fonda (his daughter, Jane)! Today, most of the stars still come from Broadway, but it seems that almost every well-known star of stage, screen, and TV has walked the stage of the Cape Playhouse.