Review: THE LEGEND OF GEORGIA MCBRIDE: Drag Queens in Suburbia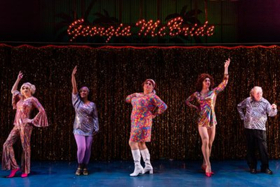 The Legend of Georgia McBride
Written by Matthew Lopez, Directed and Choreographed by Russell Garrett; Scenic Design, Cristina Todesco & Jeff Adelberg; Costume Design, Gail Astrid Buckley; Lighting Design, Jeff Adelberg; Sound Design, Monica Giordano; Production Stage Manager, Maegan Alyse Passafume; Properties Master, Sarah Elizabeth Bedard
CAST (in alphabetical order): Jade Guerra, Rick Park, Ed Peed, Alex Pollock, Jared Reinfeldt
Performances through May 20 at Greater Boston Stage Company, 395 Main Street, Stoneham, MA; Box Office 781-279-2200 or www.greaterbostonstage.org
Greater Boston Stage Company in Stoneham presents the Boston premiere of The Legend of Georgia McBride, a play with music about a not-so-great Elvis impersonator who finds success with a new calling involving lipstick, sequins, high heels, and specially-padded undergarments. If you subscribe to the philosophy that life is what happens when you're busy making other plans, then playwright Matthew Lopez makes a strong case for it.
In a run-down bar in the Florida Panhandle, Eddie (Ed Peed) the proprietor will do anything for a quick buck, including putting his long-lost cousin's drag queen act on the bill. When Miss Tracy Mills (Rick Park) and Anorexia "Rexy" Nervosa (Alex Pollock) sashay into the dressing room, that's the first that Casey (Jared Reinfeldt) hears of his ouster from the gig. Instead of performing his Elvis lip-sync show, he is relegated to bartender, faced with a lowering of his already meager income right after learning that he and his wife Jo (Jade Guerra) are expecting a baby. When Rexy gets drunk and passes out backstage one night, Tracy conscripts a very reluctant Casey to take her place. After all, the show must go on.
The play is primarily about Casey's journey from faux-Elvis to legendary Georgia McBride, set to a pop song soundtrack. It has a lot of heart and humor and allows us to watch Casey grow up and blossom before our eyes. Of course, he never thought he was going to become a star as a drag queen, but he finds himself to be a new man in his female persona. Reinfeldt is endearing in the role and captures the essence of Casey's transformation. He is believable in the early scenes when he is the screw-up, trying to convince his wife that everything will be okay, and his sweetness almost sells it. As he gains confidence in the act with Tracy, Georgia becomes a fully-realized character who has a lot to teach her alter ego.
Park is masterful and totally natural as the mentor, but also gives a great performance when Tracy does her club act, featuring Cher, Nancy Sinatra, and Marilyn Monroe, among others. Gail Astrid Buckley deserves sustained applause for the outfits she has designed for the drag queens, and the wigs and makeup are over the top. Thanks to the Loretta Lynn-style 'do and big, black false eyelashes, combined with a thick southern accent, it took me a while to realize that it was Pollock doing the Rexy strut and pratfall. He is terrific in that character, and also plays Casey's landlord Jason, a nondescript kind of guy who seems patient and laid back, until he threatens eviction for overdue rent.
Eddie makes no secret about his worship of the almighty dollar and Peed's eyes virtually glow as the money starts rolling in at the bar. The character is fairly straightforward, but Peed is a pro and infuses him with a little heart beneath his gruff exterior. Guerra's skill enables her to make something out of her underdeveloped character, whose chief purpose seems to be "the wife." With a modest amount of time on stage, Jo's story arc ranges from loving, yet scolding, wife, to excited mother-to-be, to the crushing discovery of Casey's secret life, and finally finding her place in their new family constellation. In spite of the quality of each of their individual portrayals, there's not much chemistry stirring between Guerra and Reinfeldt, in contrast with the bromance between Tracy and Casey.
Cristina Todesco and Jeff Adelberg are co-scenic designers, crafting an anything-but-luxurious backstage/dressing room, sharing the stage with a tired and cramped apartment for Jo and Casey. When it comes time for a performance in the club, a curtain is drawn to conceal the set and the lip-syncing takes place downstage. Adelberg's lighting design effectively changes from the living space to the dressing room to the floor show. Monica Giordano does an excellent job with the sound design for the plethora of recorded music.
Russell Garrett wears both the director's hat (his first such assignment at GBSC) and the choreographer's shoes. He establishes a good rhythm, reflecting what it must be like for the guys in the drag show to make quick changes, jumping from one persona to another. The dancing matches the styles of music and the skill level that one might expect of these performance artists. What matters most to them is to express themselves without apology and to be entertainers. Like its characters, the play is not without flaws, but The Legend of Georgia McBride steps in front of the glittery curtain, struts its stuff, and entertains.
Photo credit: Nile Scott Shots (Alex Pollock, Jade Guerra, Rick Park, Jared Reinfeldt, Ed Peed)
From producing and starring in family holiday pageants as a child, to avid member of Broadway Across America and Show of the Month Club, Nancy has cultivated her love of the art and respect for the... (read more about this author)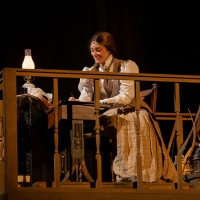 LITTLE WOMEN: THE BROADWAY MUSICAL

December 1, 2022

Have there ever been such devoted sisters as the four March girls, birthed by Louisa May Alcott in her postbellum semi-autobiographical novel LITTLE WOMEN? Director Ilyse Robbins shows her abiding affection for the story with her devotion to its heart and soul on display in the production of the 2005 Broadway Musical at Greater Boston Stage Company.
---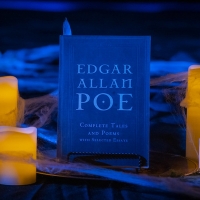 REVIEW: THE EDGAR ALLAN POE DOUBLEHEADER

October 28, 2022

If you have yet to reach your fright limit for the Halloween season, you still have two chances to experience chills of the dramatic variety at THT Rep at the BrickBox Theater in Worcester. Reprising the production she created for small, socially-distanced audiences of 20 in the early days of the pandemic, Artistic Director Livy Scanlon is performing THE EDGAR ALLAN POE DOUBLEHEADER in front of 290 stadium-style seats.
---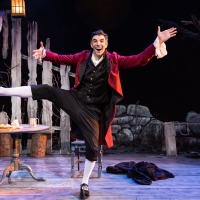 REVIEW: THE LEGEND OF SLEEPY HOLLOW

October 26, 2022

Two hundred years after Washington Irving introduced the little hamlet of Sleepy Hollow and its superstitious denizens to the canon of American literature, the legend remains among the most enduring of stories that capture the imagination of adults and children alike, inspire questions about the supernatural realm, and scare the bejesus out of its audience.
---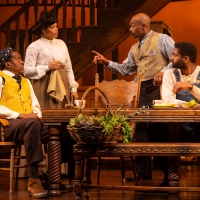 Review: AUGUST WILSON'S JOE TURNER'S COME AND GONE

October 22, 2022

JOE TURNER'S COME AND GONE was the first Wilson play produced at the Huntington in 1986, the beginning of a 19-year relationship that saw all ten of his American Century Cycle plays chronicling the African American experience in the 20th century performed on the local stage.
---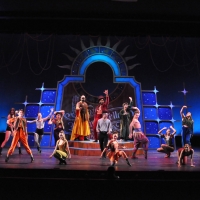 Review: PIPPIN: Growing Up Is Hard To Do

August 8, 2022

The second and final production of Reagle Music Theatre of Greater Boston's 2022 season is Stephen Schwartz's PIPPIN, originally produced on the Broadway stage in 1972 with direction and choreography by Bob Fosse, and revived/reimagined in 2013 by Diane Paulus at the American Repertory Theater before going to Broadway. Undaunted by following in those two very large sets of footsteps, RMT Artistic Director Rachel Bertone forges her own path to stage a version that leads with an enlarged heart and a healthy helping of fun and whimsy.
---