BWW Review: TELL ME I'M NOT CRAZY at Williamstown Theatre Festival Is Packed With Laughs, But Oh So Much More.
Sometimes when we view a piece of art, we understand it. It's meaning is obvious to us. Others can view the same piece in the same time and place yet draw a completely different meaning. Artists rarely provide a clear explanation of what their work is about. Such is the case with TELL ME I'M NOT CRAZY now enjoying its world premiere at Williamstown Theatre Festival.
Forced into retirement and unsettled by the changing world around him, Sol Koenig (Mark Blum) buys a gun-and his family is up in arms. His wife Diana (Golden Globe and Emmy Award nominee Jane Kaczmarek) thought they'd spend more time together and with the grandkids, but Sol's new hobby puts a bullet in that plan.
Meanwhile, their son Nate (Mark Feuerstein) is trying to be a good stay-at-home dad while his jet-setting wife Alisa (Nicole Villamil) climbs the corporate ladder, and the school is calling with concerns about their kid. Directed by Tony Award nominee Moritz von Stuelpnagel, Sharyn Rothstein's world premiere comedy asks how one small firearm redefines a family and how two generations confront what it means to succeed and to sacrifice in America today. The creative team includes Alexander Woodward (Scenic Design), Tilly Grimes (Costume Design), Isabella Byrd (Lighting Design), and Palmer Hefferan (Sound Design).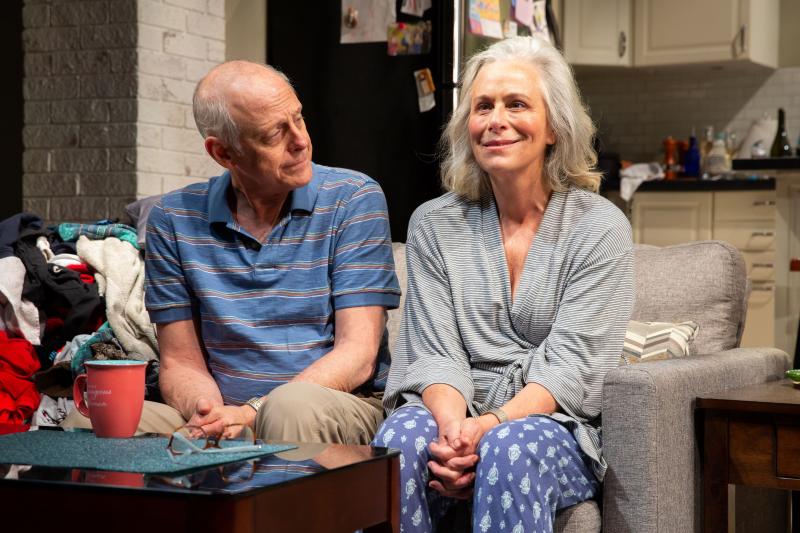 On the surface, TELL ME I'M NOT CRAZY is a laugh out loud comedy well executed by an ensemble of very talented and skilled artists. The first two scenes are packed with great lines, physical comedy, facial expressions, and schtick that provides at least a laugh a minute. The team of creatives and performers is so strong, the audience is effortlessly and almost immediately drawn in. Within about the first 15-20 minutes we are put at ease, off guard, and feeling familiar with the characters. That's when it happens. The "stuff" gets deep and very real. The laughs continue as multiple layers of each of the four characters are revealed. There is plenty of neurosis to go around as we learn that beneath the surface, each of the characters is dealing with their own personal pain and struggle, mostly in the form of fear. Those fears include, change, inadequacy, loss, health, safety, etc. Any of those feel familiar?
The cast is strong and adept at their craft and we feel a full range of emotions right
along with them as each character wrestles with their own personal demons. Disclosing how would be giving too much away, but I will provide a couple of hints. It has been said that the truth will set you free and also that there is strength in numbers.
There is quite a lot to like about this exemplary Williamstown Theatre Festival Commission and recipient of an Edgerton Foundation New Play Award. I've discussed the play with several people who've seen it. They all enjoyed and spoke highly of the experience, but each focused on a different aspect of its many nuances and facets. You would be crazy not to go and see what it says to you if / while you can. TELL ME I'M NOT CRAZY continues only through August 3rd at Williamstown Theatre Festival's Nikos Stage. Visit: https://wtfestival.org/ for tickets and information.
Related Articles View More Boston

Stories

Shows