BWW Review: NAKED at Berkshire Theatre Group closes the 90th season with twists, turns, and complexity.
Luigi Pirandello's works include novels, short stories, and about 40 plays. Many consider the plays to be his greatest contributions. He was awarded the Nobel Prize for "his almost magical power to turn psychological analysis into good theatre." Pirandello's tragic farces are often seen as forerunners of the Theatre of the Absurd. I have been involved with theatre for over 40 years, yet I have never had anything to do with anything from Pirandello. I had heard the name, but that's about it. I'm not suggesting this is rare or unique, but it is somewhat surprising given that he is "hailed as one of the great playwrights of all-time". That has changed thanks to Berkshire Theatre Group's current production of NAKED now playing at The Unicorn Theatre in Stockbridge.
NAKED, like many of Pirandello's plays, is not well known nor widely produced, particularly in America. Director of this production, Eric Hill, suggests "there are many reasons for this, not the least of which is his use of theatrical methods less familiar to modern audiences." It is important to note that while NAKED was first produced in Rome in 1922, this production is a new version of the original work by Nicholas Wright that was first performed in London's West End in 1998.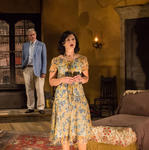 The play opens as Ersilia Drei (Tara Franklin), a young and attractive woman and Ludovico Nota (Rocco Sisto), a mature gentleman and accomplished writer, enter the apartment he rents from Singora Onoria (Barbara Sims) in a boarding house in Rome. Erisilia is in dire straits and Nota has come to her rescue. It quickly becomes apparent that he is attracted to her youth and beauty. She to his reputation, literary prowess, kindness and means. He is disappointed but remains supportive. We learn that she has been dismissed from her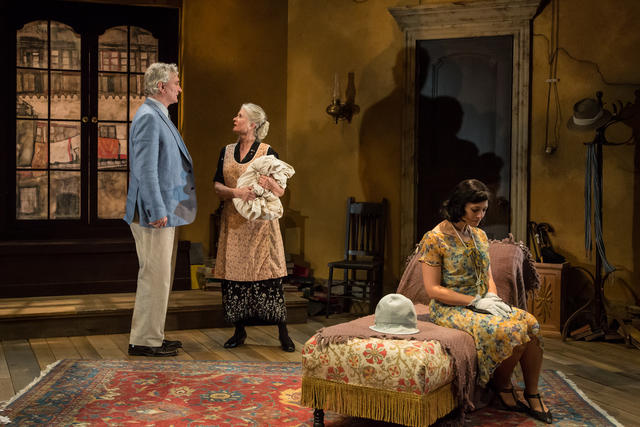 job as a governess, when the child in her care suffers a tragic fate. Also, that she has been jilted by her lover.
The dialogue and action continue at a rapid pace as the cast of characters, that includes Journalist, Alfredo Cantavalle (David Adkins); the lover, Franco Laspiga (James Barry); Ersilia's former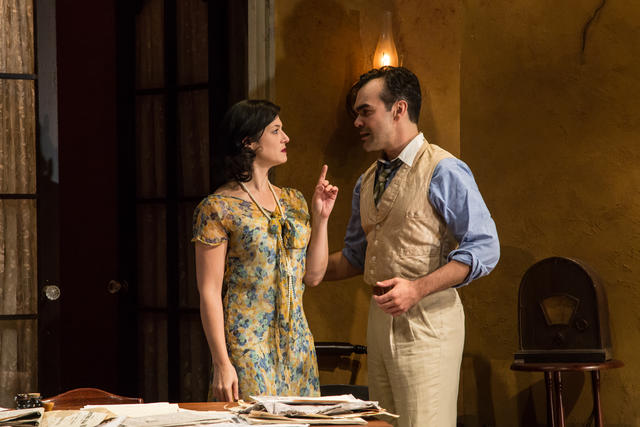 employer, Consul Grotti (Jeffrey Doornbos); and Emma the housekeeper (Haley Aguero) enter and exit the scene repeatedly. Each time one does, more details about them and what becomes a very complex situation are revealed. At each turn, characters undergo significant changes in personality, demeanor, and motivation. It can be both exhilarating, and at times slightly confusing, for audience members to watch the characters twist along with the plot. It is rewarding, however, as we are entertained by an exploration of the psychological defense of denial along the journey to one's truth.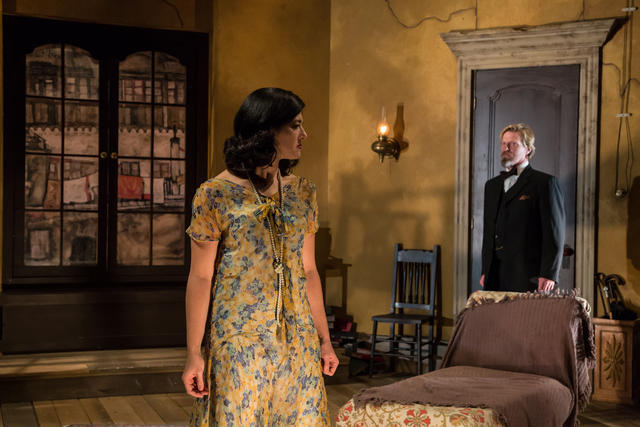 Solid and strong performances are delivered by each member of the ensemble cast. Particularly noteworthy are James Barry's frenetic portrayal of Laspiga, Jeffrey Doornbos's intensity as Consul Grotti, and Tara Franklin who keeps us in constant wonder as she reveals a multitude of layers that are Ersilia Drei.
The artistic company includes Director Eric Hill, Scenic Designer Randall Parsons, Costume Designer Yoshi Tanokura, Lighting Designer Matthew E. Adelson, Sound Designer / Composer J. Hagenbuckle, Stage Manager Jason Weixelman, Production Assistant Caroline Stamm, and Soundboard Operator Allison Hannon.
Naked is the last show at The Unicorn Theatre in Berkshire Theatre Group's 90th season with performances through October 28th.
Related Articles View More Boston

Stories

Shows