Company of Fools to Present Tanya Barfield's BRIGHT HALF LIFE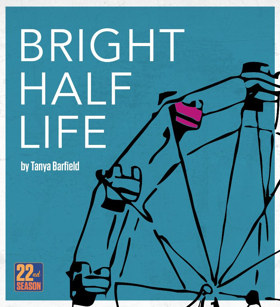 Following a successful summer run of Aaron Posner's play Life Sucks, Company of Fools' 22nd season of theatre continues this fall with a production of BRIGHT HALF LIFE by playwright Tanya Barfield. Company of Fools' Interim Artistic Director, Ilana Becker, will direct the play, which runs Sept. 27-Oct. 14, 2017, at the Liberty Theatre in Hailey.
The cast of BRIGHT HALF LIFE features New York-based actors Liz Morgan and Sophie Hassett as Vicky and Erica, respectively. The production features scenic design by resident designer Joe Lavigne, lighting design by Mike Inwood (Philadelphia/NYC), sound design by Emma Wilk (NYC) and stage management by K.O. Ogilvie.
BRIGHT HALF LIFE is a stunningly human and humorous depiction of a life in love. In Tanya Barfield's nonlinear, intimate play, Vicky and Erica navigate the peripatetic present through a lifetime of courtship and marriage, kids and parents, death and divorce, Ferris wheels and skydiving, in a moving story that spans decades in an instant.
BRIGHT HALF LIFE was developed during residency at the Eugene O'Neill Theater Center's National Playwrights Conference in 2014 (Preston Whiteway, Executive Director; Wendy C. Goldberg, Artistic Director) and was commissioned by Center Theatre Group, Los Angeles, California. The world premiere of BRIGHT HALF LIFE was produced in 2015 by Women's Project Theater (Lisa McNulty, Producing Artistic Director). Patrons should note that the play contains a small amount of strong language and is recommended for ages 13 and up.
PERFORMANCE SCHEDULE:
Wednesday, Sept. 27 7 p.m. "Pay What You Feel" Night
Thursday, Sept. 28 7 p.m. Second Night 22 ($22 Tickets)
Friday, Sept. 29 8 p.m. Educator Night
Saturday, Sept. 30 8 p.m.
Wednesday, Oct. 4 7 p.m.
Thursday, Oct. 5 7 p.m.
Friday, Oct. 6 8 p.m.
Saturday, Oct. 7 8 p.m.
Sunday, Oct. 8 3 p.m. Chat Back / Backstage Tour
Wednesday, Oct. 11 7 p.m.
Thursday, Oct. 12 7 p.m.
Friday, Oct. 13 8 p.m.
Saturday, Oct. 14 8 p.m.
TICKET INFORMATION:
Prices do not include taxes or processing fees
$35 for members of The Center
$40 for nonmembers
$35 for seniors (62 and over)
$15 for students (with student ID)
SPECIAL PRICING OPTIONS:
"Second Night 22" (New for the 2017-2018 season):
$22 for adult tickets on Thursday, Sept. 28 at 7 p.m.
"Pay What You Feel" Night
Join us for the first performance of Bright Half Life and literally pay whatever you'd like! Tickets go on sale at the Liberty Theatre box office one hour prior to the performance. There are no reserved seats. Simply buy your ticket, find a seat and enjoy the show. If you'd prefer to reserve your seats, you may also purchase your tickets at full price for this performance.
10 for $10
10 seats are sold for $10 each, on each night, at the box office starting one hour prior to the performance.
Educator Night
$15 tickets are available to currently employed educators and school administrators for this designated night. These tickets may be purchased in advance. Limit two per person.
Special Group Rate - parties of 8 or more receive $35 tickets (a savings of $5 per ticket, if you are not a member of The Center!)
"BEYOND THE CURTAIN" SPECIAL PERFORMANCES:
Learn, explore, and have fun with Company of Fools. Take advantage of these interesting ways to engage with theatre and the current performance on a deeper level:
Post-Show Chat Back / Backstage Tour - Sunday, Oct. 8, 3 p.m.
Immediately following the performance, stay for a thought-provoking and fun discussion with the artists of BRIGHT HALF LIFE and enjoy a behind-the-scenes tour with COF's resident scenic designer Joe Lavigne to learn about the design elements that went into creating the show.
Tickets may be purchased online at sunvalleycenter.org, by phone at 208.578.9122 or at the Liberty Theatre box office starting one hour before curtain. Company of Fools' box office is located at the Liberty Theatre, 110 N. Main Street in Hailey, with hours from 10 a.m. to 4 p.m., Monday through Friday. All seats are reserved, except for the "Pay What You Feel" preview.
ABOUT THE ARTISTS:
Tanya Barfield's plays include BRIGHT HALF LIFE (Time Out New York Critics' Pick), THE CALL (New York Times Critics' Pick), BLUE DOOR, OF EQUAL MEASURE (Center Theatre Group), CHAT (New Dramatists' PlayTime Festival) and THE QUICK (New York Stage and Film). She is the recipient of a Lilly Award and a Lilly Award Commission as well as the 2011 Helen Merrill Playwriting Award. She is a proud alumna of New Dramatists and a member of The Dramatists Guild Council.
Tanya is currently developing a limited series for HBO with client Beau Willimon, based on the life of Jack Johnson. She is an executive story editor on Alan Ball's new one-hour series, Here, Now, and previously worked on Alejandro Inarritu's The One Percent, FX's The Americans and the VH1 hip-hop series, The Breaks.
SOPHIE HASSETT (Erica) is a New York based actress and comedy writer. She's performed in The 24 Hour Plays: Nationals Best Worst Birthday Party in the History of the World, the Naked Angels Issues Lab Tiny Bird Cries by Kara Lee Corthron, and at The Brick Theater, The Barrow Group, Dixon Place, The Wild Project, The Tank and more, as well as recently filmed The Brunch Club, How to Be a Startup in 21 Days, and My Ex Next Door web series'. Sophie holds an Acting BFA & Feminist Studies BA from University of California, Santa Barbara where favorite roles include The Fairytale Lives of Russian Girls (Annie), and Appoggiatura (Sylvie/Young Helen). Bright Half Life is her heart and she is so happy to dream it forward.
Liz Morgan (Vicky) is an NYC-based actor and writer best known for her poem "Why I Was Late Today, And Will Probably Always Be Late As A Black Woman" featured on the Huffington Post. She is very excited to be working with Ilana Becker again and making her Company of Fools debut. Recent acting credits include: Perseverance Theatre (The Mountaintop), Capital Rep (The Mountaintop), Trinity Rep (Boeing-Boeing), Huntington Theatre Company (Start Down; All Times; Shelter), Harlem Shakespeare Festival (Othello), Playwrights Rep (The Hunchback of Seville; Principal Principle; Chicken Grease is Nasty Business), Rites and Reason Theatre (Na Luta; Inkblots) and a collaboration with Ntozake Shange on her choreoessay in development, Lost in Language and Sound. Film: Ted 2 with Seth MacFarlane. MFA: Brown/Trinity Rep. For more about Liz's acting and writing, visit www.LizMorganOnline.com.
Ilana Becker (Director) has directed and developed new work with National Black Theatre, New York Theatre Workshop, O'Neill Theater Center, Ars Nova, Dixon Place, The Lark, The Flea, NYU, Columbia University, Disney/ASCAP Musical Workshop, and 54 Below, among others. Ilana is a proud member of The Civilians' R&D Group, Lincoln Center Theater Directors Lab, DirectorsLabChicago, Bastard Playground, Fresh Ground Pepper's PlayGroup, a Playwrights Horizons Robert Moss Directing Fellow, an Emerging Leaders of NY Arts Fellow, and an Associate Member of SDC. As a producer, Ilana has led community-driven projects throughout NY and is Artistic Director ofArgument Sessions, an ongoing series of immersive events taken from SCOTUS transcripts. Ilana moved to the Wood River Valley to work with CoF and directed this summer's production of Life Sucks. www.ilanabecker.com
Mike Inwood (Lighting Design) Previously with CoF: Life Sucks. Past productions include the Off-Broadway premieres of Small Mouth Sounds (Signature Theatre), Stupid Fucking Bird (Pearl Theatre Company), Out Cold/Zippo Songs (BAM), and HIR (Playwrights Horizons). Regionally, Mike has designed productions with companies including Boston Lyric Opera, Magic Theatre, Portland Opera, Philadelphia Theatre Company, Pittsburgh Opera, Perseverance Theatre, and The Hudson Valley Shakespeare Festival. Mike was nominated for the American Theatre Wing's Henry Hewes Design Award in 2014 for his design of The Essential Straight and Narrow (Mad Ones, NYC) and earned a 2010 Emmy Award for his work with NBC Sports (Vancouver Winter Olympic Games). www.mikeinwood.com
JOE LAVIGNE (Scenic Designer) has been a resident of the Wood River Valley since 1995. He holds a degree in theatre with an emphasis in scenic design from Boise State University. While at BSU, Joe's first realized set design, Dante, earned a regional KCACTF scenic design award. Since 2006, Joe has built every set and designed numerous plays for each season at Company of Fools. Highlights include August: Osage County, K2, Doubt, God of Carnage, Other Desert Cities, Enchanted April and Proof. Joe is eternally grateful to Denise and Rusty for starting the journey, to John for his keen insight, to Dennis for his eye for color and-as always-to Jen and Ava for their support and spark.
Emma Wilk (Sound Design) is an NYC-based Sound Designer. Recent/favorite credits include: Raisin (Astoria Performing Arts Center), Crane: on earth, in sky (premiered at The Lied Center in Lincoln, NE), The King Stag (The New School), Lost Voices (HERE Arts Center), Miss Oriental (Glicker-Millstein, Barnard), Big River, Gypsy and Quartet, (Sharon Playhouse, Sharon CT), Gorey (Sheen Center and HERE Arts Center), Visiting Hours (TheaterLab), The Way We Get By (American Theater Group), Loose Canon (Soho Playhouse), Sex of the Baby (Access Theater), After the Fall and The Crucible (Atlantic Stage 2), Zwerge (Dixon Place), Tigers Be Still (Drilling Company), Mass: A New Musical (The Brick), The Shape of Things (45th St Theater), PS Jones and the Frozen City (co-design, The New Ohio), Ghost Girl (Workshop Theater). Emmamwilk.com.
Since 1996, Company of Fools (COF) has produced high quality plays, musicals and new work along with substantial arts-in-education programming in Sun Valley, Idaho. A member of The Theatre Communications Group and an Actors Equity Small Professional Theatre, COF has always put an emphasis on the connection between theatre and community, a commitment to excellence in acting and design, and the signature intimacy of its home, the Liberty Theatre. COF has been recognized for its significant contributions to the arts, receiving the Idaho Governor's Award for Excellence in the Arts in 2004 and being honored as Arts Advocate of the Year by the Sun Valley/Ketchum and Hailey Chambers of Commerce in 2009. Founding members Denise Simone and John Glenn are both individual recipients of the Idaho Governor's Award for Excellence in the Arts - Simone in 2014 and Glenn in 2016. In 2013, COF merged with the Sun Valley Center for the Arts - a multifaceted organization that runs museum-quality art galleries and presents educational programs, music, dance, and film screenings in venues around the Wood River Valley - to become what is now the largest arts institution in the state of Idaho.
Sun Valley Center for the Arts is located at 191 Fifth Street East in Ketchum, Idaho, in Hailey at 314 South Second Avenue and at The Liberty Theatre at 110 North Main St, Hailey. Ketchum hours are 9am-5pm Monday through Friday year-round and 11am-5pm on Saturdays in February and March and July and August.
Established in 1971, the mission of the Sun Valley Center for the Arts is to enrich our community through transformative arts and education experiences. Accredited by the American Alliance of Museums, the Center's year-round programming includes Company of Fools' professionally produced theatre, visual arts exhibitions featuring regionally and nationally recognized artists, lectures, concerts, film, dance, classes in visual and performing arts, play readings and BIG IDEA multidisciplinary projects that explore a theme or idea through multiple events and disciplines. In addition, The Center works to enhance arts education in Blaine County schools by providing elementary school theater education, student exhibition tours, in-school artist residencies and performances, arts-based classroom enrichment projects, student and teacher scholarships and professional development programs for classroom teachers. More than 40,000 people attend these events annually. Our programs are supported through the Engl Trust, the Idaho Commission on the Arts, the Idaho Humanities Council, the National Endowments for the Arts and Humanities, private foundations, proceeds from the Sun Valley Center for the Arts Wine Auction, grants, donations and membership dues.
Related Articles View More Boise

Stories

Shows
More Hot Stories For You