Click Here to Visit the College Center

Blogs are the opinions of the authors and do not necessarily reflect the opinions of BroadwayWorld. BroadwayWorld believes in providing a platform for open and constructive conversation.

Student Blog: Letters from a Nobody in New York #3: My Top 5 Golden Age Tunes for Auditions!
This week, we discuss some of my favorite golden age tunes...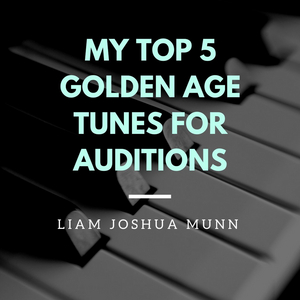 Someone sent you this article for a few reasons; (1) they love you and want you to succeed, (2) maybe there's a musical that you never heard about, or (3) You need to sing something other than Anatasia. I'm just kidding, Anatasia royally makes me gayer everytime I listen to it and there's nothing wrong with jamming to your 16 bar cut of "Journey to the Past". But there are other audition songs out there and it's about time we explored just a few of them! Welcome to another week of Liam being unabashedly selfish and nerdy, all at the same time.
Nothing beats singing a song at an audition that you just jam with- a song that feels like, just the right amount of you before the panelists wonder why you aren't in therapy. Looking at you, "Girl Who Sings Pretty Funny because it's pretty and definitely not because you identify with Rose's struggle...". I hope this article acts as a conversation starter, start looking at your audition book like your "Musical Theatre I-D Card". What parts of yourself are you ready to bring forward? You cannot share every single fact about yourself nor can you share every bit of your voice; but let the songs in your book act as a perfect "first date" moment.
Here is a short list of some lesser known Golden Age Musical Theatre Songs that I just love! If you want to follow along; I've provided a link to a playlist of the songs on my Instagram page @liamjoshuamunn. Follow the link on my Profile and it will take you to the Spotify playlist. (FYI, I come out with a Monthly Musical Theatre Playlist for all your nerdy needs. Follow4Follow;)
1. "Someone Woke Up" from Do I Hear a Waltz? (Richard Rodgers/Stephen Sondheim)
Based on a 1952 play by Arthur Laurents, Do I Hear a Waltz? (1966) is one of Sondheim's lesser known musicals. Arthur Laurents wanted famous duo Rodgers and Hammerstein to write his play into a beautiful little chamber musical. Sadly, by the time the musical was solidifying a creative team, Oscar Hammerstein had died. Rodgers then asked newcomer Stephen Sondheim to write the lyrics to his melodies. This magical little show is a mixture of golden age meets Sondheim's complex and introspective lyrics about a young woman visiting Venice, Italy for the first time. Within the opening number, you hear the grand lush orchestrations waving good morning to you as you stroll by the town center. This song is perfect for any person who loves a good, classic golden age/Sondheim-y belt moment. Elizabeth Allen sounds incredible on the cast recording. JUSTICE FOR DO I HEAR A WALTZ?!
2. "Somebody, Somewhere" from The Most Happy Fella (Frank Loesser)
If you haven't heard Laura Benati sing this classic song on Youtube, you just haven't lived. Although Loesser has written some of musical theatre's most famous songs, I feel like he is slept on. Yes, "Lucky Be Lady" is a really famous song that he happened to have written but other than that; his material secretly sleeps under the fabric of all American music. The Most Happy Fella is just a wild time. We're in San Francisco in 1927, Rosabella is a beautiful young waitress who starts conversing with a gorgeous young man through letters. Little does she know, she's being cat fished. That's it. That's the show. Some people call The Most Happy Fella an opera; Loesser has called it a "musical with music".
3. "Call me Savage" from Fade In, Fade Out (Jule Styne/Comden & Green)
Set in a bustling Hollywood in the 1930s, this 1964 Musical Comedy is a ruckus, joyful show with an overflowing heart. This show would welcome Carol Burnett back to Broadway and you must hear this song on the cast recording. Mrs. Burnett sounds incredible, she's best known for being a comedian but this song is such a testament to her life as a singer. The show is about a young chorus girl getting her big break in Hollywood, little do the producers know but they made a mistake and asked the wrong girl. This Chorus Girl is very lovely but she has little to no talent. This show is just pure joy.
4."This is What I Call Love" from Happy Hunting (Matt Dubey/Harold Karr)
Another golden age musical about planned marriages, a classist society and Ethel Merman not wanting to do another musical. Mrs. Ethel Merman did not want to do Happy Hunting; she announced that she was retiring from the stage and focusing on her family. Like any healthy new relationship, her new Husband basically forced her to take on the new musical project. Merman didn't really like the score nor the book and she had the creative team change nearly everything throughout the process. Let us all be Ethel Merman in 2021. Yet, there is a simple little love song in Act 1 called "This Is What I Call Love". The song is perfect for anyone who oozes charm.
5. "I'm Glad I'm Leaving" from Hazel Flagg (Jule Styne/ Bob Hilliard)
One of my favorite scores of all time, Hazel Flagg is about a writer named Wallace Cook who suggests that his magazine should run a story about a small-town girl almost dying from exposure to radium (I LOVE GOLDEN AGE MUSICALS, WHAT?!). The Small-town girl is named Hazel Flagg and she gets invited to come to New York for an interview with Wallace. This story is truly wild but the score is so infectious! Almost like radium!
Thank you for indulging me and I hope you enjoyed listening along at home. I help create musical theatre rep books for actors wanting to audition for musical theatre. Whether you're preparing for college or wanting a fresh set of eyes for your book, you can check out my website if you're interested in working with me. Your Musical Rep should be a moment of joy- a moment for you to share your work and most importantly yourself. Whether or not you booked the job, your audition book should make your work fun, focussed and joyful.
Until next time friend,
LJM


BIO: Liam Joshua Munn (he/him) is a New York Actor who has been seen on the stages of Williamstown Theatre Festival, Barrington Stage, Walt Disney World & Lincoln Center. His voice can be heard singing some spooky Bass harmonies on Ryan Scott Oliver's new album, Future Demons. Liam made his 54 Below debut last year with his solo cabaret show "Sailing" and he is planning on taking it around the country. Season 2 of his Theatre Interview Podcast "on the callboard" has just premiered with several special guests from around the theatre industry. liamjoshuamunn.com//@liamjoshuamunn