BWW Review: SNOW CHILD at Arena Stage - A Magical Delight of a Musical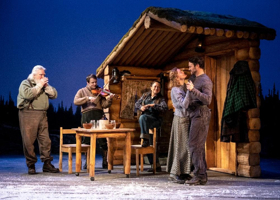 It is always exciting when you sit in a theater to see the world premiere of a new musical. The Arena Stage's Kreeger Theater was a buzz in anticipation of SNOW CHILD which is a co-production with Alaska's Perseverance Theatre. Why Perseverance? Well, Arena Stage's Artistic Director Molly Smith actually grew up in Alaska, returned there after schooling and founded the Perseverance Theatre in Juneau. She served as Artistic Director there for 19 years before coming to Arena Stage. Four years ago, Smith and Perseverance Artistic Director Art Rotch discussed the idea for an adaptation for SNOW CHILD.
Smith has directed this magical musical based on the fairy tale novel by Eowyn Ivey which was a finalist for the Pulitzer Prize. John Strand has adapted the novel. The story takes place in the wilds of Alaska in the 1920's and Smith knew the music had to reflect this fact and that is why she brought in native Alaskan Bob Banghart who has a background in folk music. As a musician and composer, he has performed in Alaska, Canada, and Pacific Northwest and co-founded the Alaska Folk Festival.
Since Banghart had no musical theater experience, he turned to Georgia Stitt who has a long and varied resume in this field. The two worked together on the music and Stitt has written the clever lyrics. Lynn Shankel is responsible for the lovely orchestrations. The music is a combination of bluegrass, folk, country and traditional musical theater. The music works beautifully.
William Yanesh conducts a talented six-piece orchestra located downstage right allowing the audience to view the conductor and part of the orchestra. Yanesh also is on Keyboards, Andie Springer on Fiddle, Griffith Kazmierczak on Mandolin, Jim Roberts on Acoustic Guitar, Hilary Hawke/Keith Arneson on Banjo/Guitar, and Greg Watkins on Bass. I look forward to the CD.
The story involves a young married couple from Pennsylvania, "Mabel" (Christiane Noll) and "Jack" (Matt Bogart) who after losing an unborn child, decide to move to the Alaskan wilderness totally unprepared for what Alaska had in store for them. Jack was a shopkeeper and Mabel an artist. Neither had experience as a farmer or trapper.
Thankfully, they have friendly experienced neighbors who attempt to help them adjust. "George" (Dan Manning), his wife "Esther" (Natalie Toro) and their son, "Garrett" (Alex Alferov). "George" complains about the continued U.S. intrusion into the lives of people in the Alaskan territory.
The play opens with a haunting melody as "Mabel" walks ever so slowly across ice which one can obviously see is cracking (nice set design by Todd Rosenthal). She sings "Frozen River" in which she desires the ice to truly crack until she hears the haunting voice of someone singing which intrigues her.
When the first snow of the season arrives, "Mabel" suggests to "Jack" they build a snowman. Well, they build a small one and she labels it a "snow child". She adds a red cap and red scarf. Later, she notices they have disappeared. Soon thereafter she meets "Fiona" (Fina Strazza), an ethereal young female with a gorgeous voice who is always accompanied by white fox (worked by Dorothy James). Puppet Designer Emily DeCola adds a great deal with her clever work and Eric Wright did the Puppetry Direction.
There's also a gigantic puppet work horse (worked by David Landstrom and Calvin McCullough). It reminded me of the play War Horse. Landstrom also controls a beautiful swan puppet.
"Fiona" at first is only seem by "Mabel". But soon, "Fiona" is welcomed into "Mabel and "Jack's" home and they dance together and make snow angels together. But "Mabel" realizes "Fiona" is not able to exist in warm weather.
After "Jack" suffers an injury and is incapacitated, the burden falls on "Mabel" to work the farm. The question becomes can they survive and continue living in the wilderness.
The performances are uniformly spot on. I've never seen Noll not give a superb performance. Noll is a Tony-Award winning performer (RAGTIME) is just plain terrific.
Tony veteran Bogart gives a strong performance with his booming voice. I kept thinking he would be terrific in Jason Robert Brown's BRIDGES OF MADISON COUNTY. Manning and Toro add a nice touch of levity. Manning does a nice soft shoe and plays the guitar. Alferov has a great voice and plays the violin (he actually played the "Fiddler" in the Arena Stage's FIDDLER ON THE ROOF.)
A huge BRAVA to Fina Strazza who excels in the difficult and complex role of "Faina". This 12-year-old is full of talent. She made her Broadway debut as the youngest to perform the title role in MATILDA THE MUSICAL and has a great future.
Joseph P. Salasovich did the costumes, Kimberly Purtell the lighting, and Roc Lee the sound. Special kudos to Projection Designer Shawn Duan.
Do I think SNOW CHILD has a future? Absolutely. It may even follow in the footsteps of DEAR EVAN HANSEN and NEXT TO NORMAL with a trip to Broadway.
SNOW CHILD ends May 20, 2018. For tickets call 202-486-3300 or visit www.arenastage.org. But act quickly.
Next up at the Arena Stage is the musical DAVE based on the film. It begins July 13.
THIS AND THAT
The Tony Awards will be on Sunday night, June 10 on CBS at 8 p.m
Circle June 25 on your calendars when you can see the wonderful Broadway musical BANDSTAND at your local movie theater produced by Fathom Events. It stars Corey Cott who replaced Jeremy Jordon on Broadway in NEWSIES.
The Hippodrome next has ON YOUR FEET June 5 to June 10. I saw this on Broadway and loved it. Next season it has FIDDLER ON THE ROOF, ANASTASIA, CHARLIE AND THE CHOCOLATE FACTORY, THE KING AND I, COME FROM AWAY, THE PLAY THAT GOES WRONG, LES MISERABLES and THE BOOK OF MORMON. And then there's HAMILTON which will play four weeks next summer - June 25 to July 21, 2019.
Just announced Tony-winner Audra McDonald joins the BSO in concert Thursday night, June 14 at 8 p.m.
Live from Lincoln Center on May 11 features Andrew Rannells on PBS.
The Kennedy Center announced a superlative line-up for next season that includes:
ALLADIN, MISS SAIGON, HELLO DOLLY with Betty Buckley, DEAR EVAN HANSEN, FALSETTOS and THE BAND'S VISIT.
There will also be three musicals done in a concert version: LITTLE SHOP OF HORRORS, THE WHO'S TOMMY, and THE MUSIC MAN with Harold Hill played by the talented Norm Lewis, so spectacular as Caiaphas in NBC's JESUS CHRIST SUPERSTAR LIVE.
A world premiere musical is at Baltimore Center Stage: SOUL THE STAX MUSICAL inspired by the legendary story of Stax Records with iconic stars such as Otis Reading, The Staple Singers, Isaac Hayes, and Booker T. & The MG's. It runs May 3 to June 10, 2018. Next season will feature CAT ON A HOT TIN ROOF, KING OF THE YEES, A WONDER IN MY SOUL, the Tony-winning musical FUN HOME, Paula Vogel's hit INDECENT, and HOW TO CATCH CREATION.
The highly anticipated THE BOOK OF JOSEPH opens at the Everyman Theatre runs until June 10, 2018. Directed by Noah Himmelstein, the play is by Karen Hartman and is based on the life of Joseph A. Hollander and his family. Baltimore's Rich Hollander has compiled letters from his family in his book and the play got rave reviews in Chicago.
Dundalk Community Theatre put on the musical CATCH ME IF YOU CAN. It was very enjoyable. Look for my review.
Rep Stage in Columbia has TRUE WEST by Sam Shepard and directed by Everyman
Theatre's Artistic Director Vincent Lancisi running April 26 to May 13, 2018. Next season brings SWEENEY TODD, THE DEMON BARBER OF FLEET STREET, THINGS THAT ARE ROUND, Anna Deavere Smith's TWILIGHT: LOS ANGELES, 1992, and THE 39 STEPS
I loved VIETGONE at the Studio Theatre which runs until May 20. This comedy takes place in a refugee camp in 1975 and is "high octane".
CAMELOT directed by Alan Paul comes to the Shakespeare Theatre Company May 22 and continues until July 1, 2018.
Signature Theatre next has THE SCOTTSBORO BOYS beginning May 22. Next season features PASSION, HEISENBERG, BILLY ELLIOT, AIN'T MISBEHAVIN', GRAND HOTEL, SPUNK, and BLACKBEARD.
The Round House Theatre next season will feature SMALL MOUTH SOUNDS, HOW I LEARNED TO DRIVE, GEM OF THE OCEAN, OSLO, and A DOLL'S HOUSE PART 2.
Next season at Arena Stage has TURN ME LOOSE, ;ANYTHING GOES, INDECENT, KLEPTOCRACY, THE HEIRESS, JQA, JUNK, and JUBILEE.
The musical PRISCILLA QUEEN OF THE DESERT is at the Kensington Arts Theatre through May 26.
DIRTY ROTTEN SCOUNDRELS ends May 13 at the Bowie Playhouse.
New York City Center Encores Summer Music Series will open with Jason Robert Brown's SONGS FOR A NEW WORLD June 27-30. Jason is married to SNOW CHILD'S composer and lyricist Georgia Stitt.
Brown's hit musical PARADE will be presented this July by the Young Artists of America Junior Academy Production at Sandy Spring Friends School, Sandy Spring, MD.
cgshubow@broadwayworld.com
Related Articles View More Baltimore

Stories

Shows