Danielle Taylor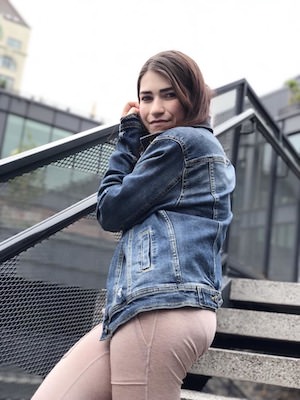 Danielle is passionate about all things music and entertainment. In her spare time away from writing, she manages an update account centered around the band A Great Big World (@AGBWonTour on Twitter & Instagram). On those accounts, Danielle keeps fans updated on interviews, articles, show announcements and more. 
MOST POPULAR ARTICLES
LAST 365 DAYS
BWW Review: Ingrid Michaelson Takes NYC To The Upside Down

October 29, 2019

Indie-pop queen Ingrid Michaelson took NYC to the upside down on the appropriately titled 'The Dramatic Tour' with special guest Maddie Poppe on October 28 at Webster Hall.
---
BWW Review: JoJo Makes Heavy Hitting Return With 'Joanna'

October 14, 2019

It's been a minute since we've heard new original material from mid-00s favorite, JoJo. She's been laying low besides playing shows here and there. 'Mad Love' was released in 2016 and more recently, the powerhouse vocalist teamed up with Maroon 5's PJ Morton on the track 'Say So' earlier this year.
---
BWW Review: A Great Big World Makes Magical Return With 'This Is Magic'

June 19, 2019

Grammy-winning duo, A Great Big World is celebrating pride month in all the right ways. The band composed of Ian Axel and Chad King are back for real this time after a lengthy hiatus. 
---
BWW Review: 'Happiness Begins' With The New Jonas Brothers Album

June 7, 2019

Is summer heating up or what? I would say so with the Jonas Brothers' newest release!
---
BWW Review: Cassadee Pope Drops Nostalgic Lyric Video for 'FYI'

June 3, 2019

Cassettes (the name for Cassadee Pope's passionate fanbase) have spoken and were heard loud and clear. Cassadee Pope released a nostalgic lyric video for fan-favorite track 'FYI' off her second album Stages. 
---
BWW Review: Ally Brooke Proves 'Lips Don't Lie' With New Single

May 28, 2019

Ally Brooke's new single proves 'Lips Don't Lie' with the new collaborative effort featuring A Boogie Wit Da Hoodie.
---
BWW Review: Dinah Jane Drops Sultry Debut EP

April 19, 2019

Everyone knows Dinah Jane from pop group 'Fifth Harmony' but she is surely creating a path for herself.
---
Adam Lambert Drops Achingly Honest 'Feel Something'

February 22, 2019

Calling all 'Glamberts' (the name given to Adam Lambert's passionate fanbase) how many of you are relieved that Adam Lambert is officially back?
---
BWW Review: Magic Giant Drops Feel-Good Single 'Rocketman' with American Authors

February 15, 2019

Looking for a new feel-good group to jam out to? The answer to that question is Magic Giant. They're quickly become a favorite of mine, thanks to my friend constantly tweeting about them! Whenever I turn on their music, I instantly perk up and get in a better mood.
---
BWW Review: Sara Bareilles Drops 'Fire' New Single

February 15, 2019

The queen of kindness and goodness (hey Waitress the Musical reference) first hit us with the powerful anthem 'Armor' and now she's hitting even harder with her 'Fire' new single.
---
BWW Review: John Legend Drops Politically-Charged Single 'Preach'

February 15, 2019

Whenever another act of violence happens in the world, people are quick to send 'thoughts and prayers'. How is that enough? We need more than that to stop these cruel intentions. 
---
PJ Morton Drops Heartbreakingly Beautiful 'Say So' With JoJo

February 14, 2019

Who needs a special someone on Valentine's Day when there's music to comfort us always?
---
BWW Review: Meghan Trainor Is Head Over Heels For Daryl Sabara On 'The Love Train' EP

February 11, 2019

Can you feel the love in the air? Yes? No? Maybe? Meghan Trainor's third album Treat Myself may be on hold but that did not stop her from dropping an EP full of new music!
---
Julia Michaels Opens Up On New EP 'Inner Monologue Part 1'

January 28, 2019

Singer/Songwriter, Julia Michaels dropped her new EP Inner Monologue Part 1 on January 24, a day early from the scheduled January 25 release date. 
---
BWW Review: Tori Kelly Spills Her Heart In Vulnerable Single 'Change Your Mind'

January 25, 2019

Who else is relieved that one of the best vocalists is back? Tori Kelly took a short absence from the pop music world to drop her gospel record Hiding Place last September which reached number 1 on Billboard's US Top Gospel Album charts. 
---
BWW Review: Sam Smith And Normani Drop 'Dancing With A Stranger'

January 14, 2019

Let's talk about this power collaboration? Sam Smith and Normani teamed up for their new single 'Dancing With A Stranger'. This song is about to bring the former Fifth Harmony member to new heights. 
---
BWW Review: Lauren Jauregui Drops Banger 'More Than That'

January 14, 2019

Lauren Jauregui will not be her fans' little secret anymore. She dropped her new single 'More Than That' under Columbia Records and it is an absolute smash. I believe she is about to blow up after releasing this R&B hit.
---
JoJo Surprises Fans With Re-Worked Albums And Singles

December 21, 2018

JoJo fans rejoice! Yesterday may have been the star's birthday but she surprised fans by announcing a re-release of her first two albums and singles. Due to contractual obligations with former record label Blackground Records, her first two albums The High Road and JoJo were taken down from music platforms but she finally got the rights back after a tricky legal battle.
---
BWW Interview: James S. Murray Sits Down To Discuss His Book Trilogy and IMPRACTICAL JOKERS

December 11, 2018

James S. Murray? Does that name ring any bells? How about Impractical Jokers? He's the one of four who stars on the hit TruTV television series along with his best friends since high school Joe Gatto, Sal Vulcano, and Brian Quinn. Together, they dare each other to do outrageous things in public and the loser has to do something even more embarrassing.
---
BWW Review: Lauren Jauregui Makes Crowd Go Wild at Pop-Up Performance

December 6, 2018

It was a loud and wild experience at Lauren Jauregui's pop-up show on Nov. 17 in New York City. Fans showed up quite early despite the cold weather conditions to make sure they got that front row spot.
---