BWW Review: Meghan Trainor Is Head Over Heels For Daryl Sabara On 'The Love Train' EP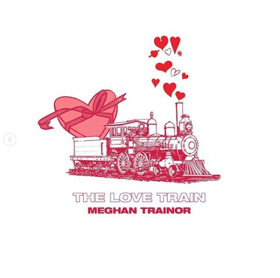 Can you feel the love in the air? Yes? No? Maybe? Meghan Trainor's third album Treat Myself may be on hold but that did not stop her from dropping an EP full of new music!
Trainor is head over heels for Daryl Sabara (yes Juni Cortez from the highly popular film series Spy Kids) and isn't afraid to sing about it on The Love Train EP released under Epic Records. This comes just in time for Valentine's Day!
Aside from "All The Ways" released last year the remaining 5 tracks equally gush about Sabara.
The singer collaborated and worked on the EP with producers Andrew Wells (5SOS, Fall Out Boy, Jason Mraz), J KASH (Maroon 5, Charlie Puth, Kesha) and Tyler Johnson (Harry Styles, Cam). Talk about some fire names in the industry!
The ukulele-backed track "Marry Me" was the song the singer/songwriter walked down the isle to on the December 22 wedding (her birthday nonetheless). Believe it or not, the track was written thirty days after meeting the love of her life. It's so romantic and makes me only hope that I find someone that loves me for me one day. With lyrics like "There's no one I'd rather kiss than you/ And that's one thing you swear you'll never do?" how can you not wish for a romance like her's?
If the title doesn't make it clear "I'm Down" an upbeat track backed by the saxophone has the songstress being down for anything with Sabara. "If you're up for it/I'm all yours now," she sings in the chorus.
The piano-led power ballad, "After You" delves into Trainor asking Sabara to never leave her side. Cue the tears. The track is hauntingly beautiful and showcases her vulnerable side. "If you have to go, be my ghost/ Hope you haunt my dreams/ So I won't be alone/ 'Cause I'd give up hope/ If you weren't there for me/ And oh, please don't go/ Please don't go and leave me alone."
"Foolish" is an absolute banger and I've been seeing countless tweets from fans asking the singer to make this a single. Let's hope she sees the pleas from her followers! The track describes jumping into a relationship and being head over heels (surprise-surprise) over someone. "This ain't no one night stand/ Want your picture on my nightstand/ Be my lover, be my best friend/ Put that bling bling on my left hand."
Trainor is no stranger to getting her family involved in her music being that she had her mother Kelli Trainor featured on the appropriately titled song "Mom" off her second studio album Thank You. "Good Mornin" on the EP features her father Gary Trainor this time around. We love a family oriented musician! This track particularly gives me The Lion King vibes. The track describes waking up to your loved one every day. How sweet!
All and all, the production on these tracks are fantastic and will hold us over until Trainor's next studio album is released.
Let's make 2019 the year we stop sleeping on Meghan Trainor's music!
Stream/Purchase The Love Train EP here.
**As if we cannot get enough of Trainor and Sabara! Check out this cute Instagram post of the duo dancing to "Foolish" in the studio. Ugh be still my heart!
Photo via @meghan_trainor on Instagram.