BWW Review: Lauren Jauregui Makes Crowd Go Wild at Pop-Up Performance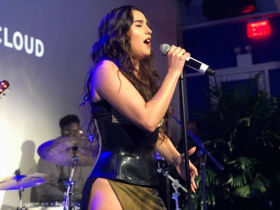 It was a loud and wild experience at Lauren Jauregui's pop-up show on Nov. 17 in New York City. Fans showed up quite early despite the cold weather conditions to make sure they got that front row spot.
The special show was hosted by Visible phone service and the pop-up appropriately titled #InVisibleNY was hidden inside a fake phone shop with Instagram-worthy photo ops.
I will admit, yes I did show up early because being short and general admission concerts don't mix. Plus it was limited to about 150 people whether if you RSVP'ed or not. Waiting outside in the cold was brutal but the show made it worth it of course. Although, it was comfortable during the day but once it got darker the temperature dropped and that's when it got tough.
The event coordinators were nice enough to bring branded beanies and gloves to everyone who waited outside so long- free swag? No complaints there!
The doors finally opened and fans were eager to get in to warm up. If concert-goers wanted, the opportunity was open to take photos inside the Instagram worthy spots which included a upside down subway station (hello Stranger things much?), an old office space, a living room and even a spot where if you scream loud enough the lights flicker.
Opening up the show was sound-cloud Rapper Armani Blanco. He played a fun set and got all of us even more pumped for the main event. After he finished, there was a short break before Jauregui arrived.
As soon as she walked through those doors, a shriek of screams occurred and she opened up her set with a new unreleased song "More Than That" which is definitely an ear-worm with relatable lyrics.
Other songs in her set included: the Steve Aoki collaboration "All Night", "Back To You" a collaboration with EDM duo Marian Hill, "In Your Phone" (Ty Dolla $ign collab), a cover of John Lennon's "Imagine" in which she described as a timely song to sing with everything happening in the world right now, another unreleased track titled "Freedom" - she described this track as her version of "Imagine", and her current single "Expectations." Let me tell you, the crowd was louder than her when she sang this one. I've never seen a crowd this hype before.
Jauregui is doing a fantastic job at separating herself from her former days with Fifth Harmony. I've been a fan since she started out in the girl group and it has been a pleasure to see her grow. This was my first solo Lauren show and it will not be my last. Her passion to music is unreal and she's such an advocate for the LGTBTQ community which means a lot to many of her fans.
I absolutely love what she stands for and how she isn't afraid to speak up when it comes to politics. It's truly important that celebrities have a voice too. They shouldn't have to stay quiet when it comes to these situations.
Be sure to stay tuned for more coming from this superstar on her social media platforms @LaurenJauregui.
Watch her performance of "Expectations" from the night below and be sure to stream/purchase the single here.
Related Articles View More Music

Stories