PJ Morton Drops Heartbreakingly Beautiful 'Say So' With JoJo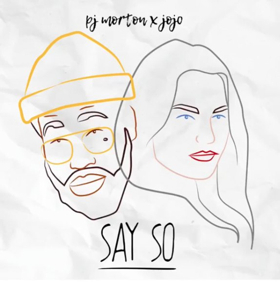 Who needs a special someone on Valentine's Day when there's music to comfort us always?
Maroon 5's PJ Morton surprised fans by dropping the heartbreakingly beautiful "Say So" with JoJo on the loved-filled holiday. The internet was buzzing with excitement when the news officially broke on February 12. Not to mention there were already rumors of these two collaborating when a photo went around on the internet of them in the studio.
In the enchanting collaboration, the duo urges their significant others to affirm their love to each other. It has the songstress contemplating the intention of falling deeply in love with someone. Even though she's ready to commit, she needs affirmation if this guy feels similarly.
The sleek R&B track opens with slight hums from Morton and JoJo and showcases their effortless vocals. They happen to harmonize wonderfully together. The piano-driven track gives a chance for their voices to shine without it being too overpowering. In time, the bass brings it to a new height and intensity. Morton's energy and intonation has an intense effect on making the account more convincing.
"If you love me, just say so/ cause I can't play these games with you no more," they sing to each other. Feeling lonely yet? It's okay, we're all in this together.
The release of "Say So" comes a few days after Morton's first huge Grammy win for "Best Traditional R&B Performance" for his live cover of "How Deep Is Your Love" featuring Yebba. Releasing this collaboration is the best way to celebrate and give thanks to his fans for the constant love and support.
It's safe to say that this single will keep both JoJo and PJ Morton's fans occupied until they both drop new albums.
JoJo is locked away in the studio working on the follow up to 2016's Mad Love and said the following in an Instagram post, "I am currently making the best music of my life for this new album and I wanted to make sure that I saged myself so I can enter 2019 with lightness and space to be TOTALLY FREE," she revealed about re-working her first two studio albums. This is the energy we need!
Listen to "Say So" below and be sure to stream/purchase the track on your favorite digital retailer.
Photo Credit: JoJo's Instagram Page.
Related Articles View More Music

Stories