Ben Cameron
Ben Cameron has appeared on Broadway in the original companies of Wicked, Aida and Broadway's Footloose and has toured with Sweet Charity, Fame, Tommy, Footloose and State Fair. He was a founding company member of Utah Contemporary Dance Theatre (Odyssey) and Dre.Dance (Taye Diggs, Andrew Palermo dirs). Most recently choreographing The Rockettes for a Jean Paul Gaultier fashion show at the Life Ball in Vienna, Ben continues to teach master classes around the world as well as writing and directing solo shows for Broadway talent. His own solo show, "Different Is Good," played sold out engagements in 2005 and 2010. He can be heard on the original cast albums of Wicked and Footloose and on Bobby Cronin's "Reach The Sky." As one of Broadway's most beloved personalities, Ben is the host of the long-running late night "Broadway Sessions," now in its 8th year. Other hosting include Mostly Sondheim at The Duplex (3-time MAC Award nominee), MainStage host for the inaugural BroadwayCon 2016 (returning 2017), Broadway Cares Grand Auction and Flea Market, Rockers on Broadway, Living For Today, The Broken Leg Podcast w/ Lena Hall and countless theatre community concert and benefits. Ben has written for the NYMF inaugural gala, The Lucille Lortel Awards, Defying Inequality and more. Ben recently hosted the New Year's Downton Abbey marathon on Masterpiece Classic for PBS Channel 13, along with airings of American Masters and Great Performances: Hamilton's America. Follow him on social media @BenDoesBroadway. Ben likes you. www.bencameron.nyc, www.broadwaybuddy.nyc
MOST POPULAR ARTICLES
LAST 30 DAYS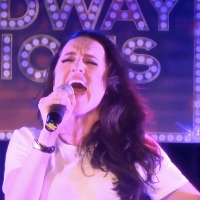 TV Exclusive: BAT OUT OF HELL Cast Gets All Revved Up at Broadway Sessions
Posted: Sep. 16, 2019


LAST 365 DAYS
TV Exclusive: DEAR EVAN HANSEN Stars Will be Found at the Latest Broadway Sessions!
Posted: Dec. 24, 2018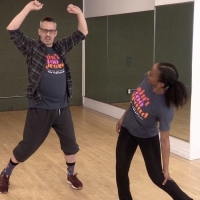 DANCE CAPTAIN DANCE ATTACK: Ben Does Fine on Cloud Nine with AIN'T TOO PROUD's Esther Antoine!
Posted: Jun. 28, 2019


BWW TV Exclusive: MY FAIR LADY Cast Has a Loverly Night at Broadway Sessions!
Posted: May. 10, 2019



Exclusive: MEAN GIRLS Cast Makes Nice at Broadway Sessions!
Posted: Apr. 21, 2019



TV Exclusive: KING KONG Cast Reigns Supreme at Broadway Sessions!
Posted: Feb. 19, 2019


TV Exclusive: Broadway Sings Out for Black History Month at Broadway Sessions!
Posted: Feb. 28, 2019


TV Exclusive: Broadway Sessions Raises a Glass (L'Chiam!) to Cast of Yiddish FIDDLER ON THE ROOF!
Posted: Oct. 16, 2018


BWW TV Exclusive: BAT OUT OF HELL Cast Gets All Revved Up at Broadway Sessions

September 16, 2019

The cast of Bat Out Of Hell came speeding into Broadway Sessions recently. Like...well... a bat out of hell! Just days before they ended their epic run at City Center cast members brought all the drama, passion and magic that the show embodies to the Broadway Sessions stage. Enjoy highlights from performances by Tony winner Lena Hall, Bradley Dean, Danielle Steers, Adam Kemmerer, Avionce Hoyles, Andres Quintero, Jessica Jaunich, Tiernan Tunnicliffe, Nick Martinez as well as Rising Stars Jesse Carrey and Aryn Bohannon. It's HOT in hell and we like it that way.
---
BWW TV Exclusive: Brigham Young University Alumni Bring It at Broadway Sessions

September 10, 2019

Broadway Sessions kicked off it's new season recently with a celebration of alumni of the formidable MDT (Music/Dance/Theatre) program at Brigham Young University. Clark Johnsen (The Book of Mormon, La cage), Tregoney Shepherd (Les Mis, Phantom), Erin Wilson (Wicked), Steven Fales (Confessions of a Mormon Boy), Jacob Ben Widmar (Xanadu), Peter Nelson (Chicago, Cinderella), Broadway wardrobe veteran Jake Fry, Don Alden (Open Jar Studios), Knikki Hess Roberts, recent graduate Ellora Lattin and host Ben Cameron (a Utah native) share songs and stories from the sincere to the spectacularly hilarious. Enjoy highlights here.
---
DANCE CAPTAIN DANCE ATTACK: Ben Does Fine on Cloud Nine with AIN'T TOO PROUD's Esther Antoine!

June 28, 2019

In this latest episode, Ben is doin' fine on Cloud Nine with the Tony-winning choreography of Ain't Too Proud and the help of Esther Antoine. Can you keep up?
---
BWW TV Exclusive: Broadway Sessions Says Goodbye to AVENUE Q

June 18, 2019

Broadway Sessions bid farewell to Avenue Q recently. Current cast members as well as Q alumni joined together to celebrate the Tony winning musicals 16 year run in NYC. And yes, there was plenty of puppet action! Enjoy these highlights featuring Rick Lyon, Jennifer Barnhart, Ben Durocher, Lisa Helmi Johanson, Maggie Lakis, Erin Quill, Carmen Ruby Floyd, Sharon Wheatley, Joshua Holden, Imari Hardon, Jed Resnick as well as our Rising Star Cassandra Giovinne.
---
BWW TV Exclusive: MY FAIR LADY Cast Has a Loverly Night at Broadway Sessions!

May 10, 2019

It was an absolutely 'lover-ly' night at Broadway Sessions recently with My Fair Lady. Cast members, former cast members and even members of the crew dazzled with lovely performances. Perhaps the moment we will all remember most is when one of our audience members took to the stage to sing his girlfriend's favorite song and then PROPOSED! Loverly, indeed. Enjoy these highlights.
---
BWW TV Exclusive: MEAN GIRLS Cast Makes Nice at Broadway Sessions!

April 21, 2019

The cast of Mean Girls made 'fetch' happen in a big way at Broadway Sessions recently. Cast members Rick Younger, Jonalyn Saxer, DeMarius Copes, Talya Rae Groves, Ashley De LaRosa, Riza Takahashi, Brittany Nicholas, Myles, McHale, Iain Young, Chris Medlin and Gianna Yanelli brought the talent and the funny til the wee hours of the morning. Mean? Maybe not. Fabulous? Absolutely! Enjoy these highlights here.
---
BWW TV Exclusive: Broadway Sessions Bids Farewell to KINKY BOOTS!

April 9, 2019

Broadway has bid farewell to Tony winning smash, Kinky Boots. Well, we weren't going to let that happen with out inviting the cast to Broadway Sessions for one final strut!!! Cast members gathered to tell stories from their runs in the show (some down right shocking!, ahem Mia Gentile), others so tender. Either way, every musical performance was simply amazing! Enjoy highlights from this closest of casts from the most fabulous of musicals! We love you, Kinky Boots!
---
DANCE CAPTAIN DANCE ATTACK: Ben Struts Down Hollywood Boulevard with PRETTY WOMAN's Renee Marino!

March 20, 2019

In this latest episode, Ben struts down Hollywood Boulevard with choreography from Pretty Woman, with the help of Renee Marino. Can you keep up?
---
BWW TV Exclusive: The Men of THE CHER SHOW Turn Up the Heat at Broadway Sessions!

March 20, 2019

We all know that women dominate in The Cher Show, and oh how we LOVE The Cher Show! Wait, you have't seen The Cher Show? OK, well, fix your life and go buy a ticket, right now... we'll wait... Good? Good.
---
BWW TV Exclusive: Broadway Sings Out for Black History Month at Broadway Sessions!

February 28, 2019

Broadway Sessions recently held its 3rd annual Black History Month celebration. We invited an all star roster of Broadway talent to share songs and stories reflecting the influence, impact and legacy of black artists on Broadway and beyond. HOLY MOLY! This was one of the most incredible nights of music we have enjoyed. Beyond that it was moving, hilarious and profound. Enjoy these highlights from Broadway vets Antoine L Smith, Soarer-Joye Ross, Storm Lever, Brennyn Lark, Judith Franklin, Phoenix Best, Elijah Ahmad Lewis, Tiana Okoye, Michel Demby Cain, Imari Hardon, Avery Smith, Nick Rashad Burroughs, Quentin Earl Darrington, Jennie Harney Fleming, John Edwards, Laurissa 'Lala' Romain, Shonica Gooden and Emme Kemp. We also enjoyed performances from 'Rising Stars' Richard Baskin Jr. and Aneesa Folds. OH, and maybe just an impromptu pre show performance by Tony-winning legend FAITH PRINCE! It was a good night.
---
BWW TV Exclusive: KING KONG Cast Reigns Supreme at Broadway Sessions!

February 19, 2019

We had a HUGE night at Broadway Sessions recently as we welcomed the cast of King Kong! Cast members Erik Lochtefeld, Jaquez Sims, Jennifer Noble, Nick Rashad Burroghs, Leroy Church, Casey Garvin, Kayla Davion, Rhaamel Burke-Missouri, Rory Donovan, Chloe Chambers and our Rising Star Ciana Micelli, proved just how BIG talent can be. Do I have time for more giant ape puns? No? OK, well, enjoy these ENORMOUSLY entertaining highlights.
---
BWW TV Exclusive: THE PROM Cast Brings All That Zazz to Broadway Sessions!

February 4, 2019

The cast of The Prom kick ball changed their way to Broadway Sessions recently and brought all the "Zazz"! Cast members Becca Lee, Mary Antonini, Teddy Toye, Joomin Hwang, Jack Sippel, Brittany Zeinstra, Gabi Campo, Courtney Balan, Vasthy Mompoint, Fernell Hogan, Kate Marilley, Jerusha Cavazos and more. Enjoy these highlights from our amazing Prom night along with performances by our Rising Star Lauren Gunn and open mice's Kyle Yampiro and Swedish songbird Ida Tobiasson.
---
BWW TV Exclusive: The Cast of CLUELESS Throws Back to the 90's at Broadway Sessions!

January 16, 2019

Broadway Sessions partied like it was 1999 recently as we welcomed the cast of The New Group production of Clueless, The Musical. Cast members took the stage to perform their favorite 90's jams, tapping into the song book of Whitney, Mariah, Celine, Cher, Christina, Britney and even Hanson. Enjoy highlights from performances by Zurin Villanueva, Katie Goffman, Justin Mortelliti, L'ogan J'ones, Jeff Kuhr, Talya Groves, Brett Thiele and more. Plus special performances by our Rising Star, 16 year old Fiona Scott.
---
BWW TV Exclusive: DEAR EVAN HANSEN Stars Will be Found at the Latest Broadway Sessions!

December 24, 2018

Super young, super hip, super talented cast members from Dear Evan Hansen joined us at Broadway Sessions recently. With a median age of about 20, they showed us just why they have scored some of the most coveted tracks on Broadway. Enjoy performances by Mallory Bechtel, Phoenix Best, Dan Macke, Diamond Essence White, Gabrielle Carrubba and Josh Strobl. Also enjoy performances by teenage powerhouses Robert Montano and Teagan Dye.
---
BWW TV Exclusive: Stars from CLUELESS, THE CHER SHOW & More Shine Bright at Broadway Sessions Holiday Edition!

December 19, 2018

The Holiday Stars shown bright this last week as Broadway Sessions presented it's annual All Star Holiday Show! Broadway vets and newcomers alike shared their favorite "holiday" tunes and nearly blew the garland off the tree with the power of their voices. Enjoy highlights of performances by Blaine Krauss (The Cher Show), Christine Cornish Smith (My Fair Lady), Harris Milgrim (Cats), Zurin Villanueva (Clueless), Ruby Lewis (Paramour), Anissa Felix ( Summer), Adam B. Shapiro (Yiddish Fiddler), Imari Hardon (Ave. Q), Jed Resnick (Ave. Q), Sean Bradford (The Lion King), Nick Godfrey, Katryna Marrtala, Julie Volk Jonathan Moussett and more.
---
BWW TV Exclusive: Off-Broadway Stars Come Out to Shine at Broadway Sessions!

December 11, 2018

Broadway Sessions recently had a full on Off-Broadway Extravaganza! We took a moment to shine a light on some of Off-Broadway's biggest, most hilarious hits, including The Book of Merman, Frankenstein, The Marvelous Wonderettes, The Hidden Ones and The Office. Check out the some of the fun now!
---
BWW TV Exclusive: Stars of Tomorrow Warm Up at Broadway Sessions Open Mic Party!

November 27, 2018

The cold never bothered them anyway! The boldest of the belters braved the storm to come and sing their faces off for our All Open Mic Party. The night was filled with dulcet tones from some of our favorite regulars and some new friends. We even had a few special guests, we'll call the Avenue Q-ties, Jamie Glickman, Lacretta and our very own Imari Hardon.
---
BWW TV Exclusive: Some Hot Stuff Arrives at Broadway Sessions with the Cast of SUMMER!

November 23, 2018

There was no shortage of HOT STUFF when the cast of Summer, The Donna Summer Musical visited Broadway Sessions recently. The multi faceted cast, including Storm Lever, Afra Hines, Wonu Ogunfowora, Anissa Felix, Jody Reynard, Ken Robinson, Kristin Yancy, Judith Franklin, Aaron Krohn shared their favorite tunes that went way beyond disco. Audience members had the opportunity to learn choreography from the hit show and to interact with the cast. One audience member even dazzled the cast with a custom gown made entirely of Summer 'fans'! But that's just the sort of thing that happens at Broadway Sessions.Enjoy these highlights, including our magnificently talented Rising Stars Caitlin Gallogly and Sarah Goodman.
---
DANCE CAPTAIN DANCE ATTACK: Ben Heaves Away with COME FROM AWAY's Josh Breckenridge!

November 14, 2018

In the episode below, Ben is heaving away with the Tony-nominated choreography from Come From Away, with the help of Josh Breckenridge. Can you keep up?jo
---
BWW TV Exclusive: Broadway Sessions Cools Down with the Cast of FROZEN!

November 13, 2018

Cast members from the Disney mega hit Frozen stopped by Broadway Sessions recently to show us just how hot Frozen can be! Enjoy highlights from these extremely talented performers, including, Robert Creighton, Ayla Schwartz, Ross Lekites, Ben Bogen, Zach Hess and more!
---
1