The Phenomenal Em Rusciano Has Announced A Special Live Filmed Event!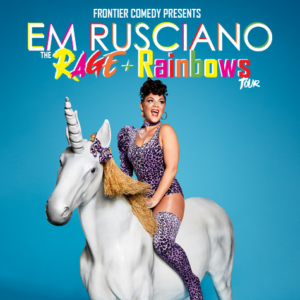 Just try holding Em Rusciano back. The absolute powerhouse of comedy is five shows into an eight-show run of her spectacular sell-out Rage & Rainbows Tour and has just announced her first ever Comedy Special!
Frontier Comedy is proud to be presenting this very special filmed event at Melbourne's Palais Theatre on Friday 8 November. Join the Frontier Members Pre-sale from Monday 5 August for access to tickets ahead of the general public on-sale on Thursday 8 August (12pm AEST). This past year Em had a baby, turned 40, left a high profile job and had a combined 45 minutes sleep. There's been next-level rage. There's also been love. There's been day drinking and breastfeeding... no, not at the same time. With The Rage and Rainbows Tour, Em is finally giving voice to that gnawing rage we all try to hide. She's unleashing the rage, dunking it in white wine, rolling it in glitter, and giving it an eight-piece back-up band and four costume changes. She's also going to tell you what you can do with it to send it on its way. Em has chosen Melbourne's iconic Palais Theatre for this landmark career moment, for delightfully sentimental reasons. Back in 2016 when she performed her first solo shows there with her Dad Vincie, Em had
this
to say about the venue, 'Almost exactly a year ago I performed in the Oxfam gala at the Palais Theatre. A huge prestigious venue, rich in musical and comedic history, seats 3000 people, at the time I was doing my show in a room that sat 100. Truth be told, the best part about being asked was that it had always been my Dad Vincie's dream to play there. He had seen his heroes gig at The Palais and I knew it had always been a secret goal of his. After the gala was recorded he told all his golf buddies and the family that he'd played the Palais Theatre! Evidence of that very fact could be viewed on the tellie the following week! Then, on the day it was to go to air, we got cut from the broadcast. I called him and he was typically stoic about it, he said not to worry, and that: "One day you and I will play our own show there. Your show. The room will be full of people there just to see you." He was right. In just over a week I am playing two shows at the Palais theatre. My own show, with a room full of people who are there just to see me. With my Dad. I'm tearing up just thinking about it, I'll probably spend most of the night just looking at his face. If you're coming, you'll be witnessing a little bit of magic on those nights.' As always, Vince Rusciano will be performing alongside Em when they record the Rage & Rainbows Comedy Special, and a little bit of magic doesn't even come close to describing what's in store for the night! There's a full eight-piece band, 'Gary the Unicorn', twelve dancing vulvas and who knows what else Em will pull out for this momentous occasion. Em's social media community is fierce, loud, passionately loyal and will bring new levels of glitter and comradery to the majestic Palais Theatre. With over half a million social media followers, you can bet the house will be full of Em's community and they will be as proud of her as Vincie was on that day in 2016.
Em has teamed up with MSquared Productions, as well as Australia's 2019 Eurovision representative, the ridiculously talented Kate Miller-Heidke, and her partner Keir Nuttall to write original, fabulous songs especially for The Rage and Rainbows Tour. The songs are available here, and learning all the words so that we can have a knee-trembling singalong is strongly encouraged. As Em puts it, 'Now, listen here: I want you to learn them before the show. Study them. Press play/pause on your stereo and write out the lyrics while lying on your bed with a lollipop, like the good ol' days. I want you to be able to sing along with me, lighter in the air, hand on your heart.' To celebrate filming Em's Special and to thank her loyal supporters for always turning up, seats at this show are all one price - so make sure you hit "best available" when booking!
Em wants you to see the show again and share this journey with her, Vincie, Olivia, the band... and of course Gary and the dancing vaginas as they film this super special show. It's first in, best dressed for seats so book early!
EM RUSCIANO
THE RAGE & RAINBOWS TOUR
AUSTRALIA
JULY - AUGUST & NOVEMBER 2019
Presented by Frontier Comedy
via frontiercomedy.com/emrusciano
THE RAGE & RAINBOWS TOUR
COMEDY SPECIAL FILMING
FRONTIER MEMBERS PRE-SALE
Runs 24 hours from: Mon 5 Aug (12pm AEST)
or ends earlier if pre-sale allocation exhausted
GENERAL PUBLIC ON SALE
Thu 8 Aug (12pm AEST)
Fri 8 Nov | 8.00pm SPECIAL FILMED EVENT!
Palais Theatre | Melbourne, VIC
ticketmaster.com.au | Ph: 13 61 00
THE RAGE & RAINBOWS TOUR
ON SALE NOW!
Fri 2 Aug | 8.00pm
Brisbane Convention & Exhibition Centre | Brisbane, QLD
ticketek.com.au | Ph: 13 28 49
Fri 9 Aug | 8.00pm
Enmore Theatre | Sydney, NSW
ticketek.com.au | Ph: 13 28 49
Sat 10 Aug | 8.00pm
State Theatre | Sydney, NSW
ticketmaster.com.au | Ph: 13 61 00


All shows all ages. Recommended for patrons aged 15+ (no babes in arms)
Show contains coarse language and adult themes. Patrons are advised to purchase tickets only through authorised ticket sellers.