Ponydog's Immersive Tarot Card Experience TATTLETALES Opens At Melbourne Fringe
Part campfire-style storytelling, and part choose-your-own-adventure, participants draw Tarot cards that influence their tale in unforeseen ways.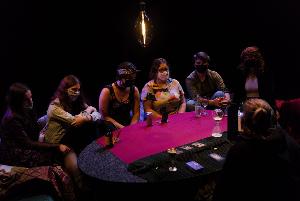 Following a critically-acclaimed season at Flight Path Theatre, and huge return season at Sydney Fringe, Ponydog Productions (Hotel Luna/">Bella Luna) is bringing TattleTales, the immersive tarot storytelling show, to Melbourne for the very first time. See it at Bard's Apothecary from October 7 to 15.
In this brand-new iteration of the popular experience audiences of up to 25 per show will venture underground into a candlelit cavern to meet the enigmatic Storyteller, who will guide them through a 60-minute interactive adventure. No two performances - and no two stories - will be the same.
Part campfire-style storytelling, and part choose-your-own-adventure, participants draw Tarot cards that influence their tale in unforeseen ways - but they can also wield these cards to determine how the story unfolds. Chance and agency collide as the audience collaborate to build a tale together.
"There's magic in storytelling, and I wanted to make something that lets you experience that magic in its most elemental form," said Davey Seagle, founder of Ponydog Productions, "There's a moment in every show where you can feel the audience realise how much power they have over the story, that there's no wrong answers, and it's all play. It's exhilarating."
The show was first performed at Sydney's Flight Path Theatre in late 2021 where it was brilliantly received by critics and audiences alike. The experience is a perfect fun fringe date night, but also one that young adults will love. And no need to worry if you're new to this type of thing - it is introvert friendly.
Creators Davey Seagle and Lachlan Ruffy will both reprise their role as the Storyteller, alternating the role each night.
Producer Aaron Cornelius, Production Designers Phoenix Mae, Alloquois Callaway-Hoilman and Amy Jackson, and Technical Designer Sophie Parker complete the team bringing this magical production to life.
TattleTales - Immersive Candlelit Tarot Card Storytelling
7-15 October, 8:00pm, 9:45pm, and10:30pm
Where: Bard's Apothecary, Shop 7, 24 Crossley St, Melbourne
Suitable For: Ages 12+
Tickets: $28 - $35
Running Time: Approx 60 mins, no interval
Bookings: TattleTales | Melbourne Fringe
More Hot Stories For You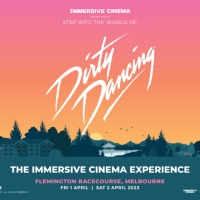 DIRTY DANCING: THE IMMERSIVE CINEMA EXPERIENCE Returns To Melbourne April 2023

November 23, 2022

One of the biggest cultural sensations in recent years is on its way back. The Mushroom Group's Immersive Cinema, in collaboration with Lionsgate, is excited to announce the highly anticipated return of its ground-breaking Dirty Dancing immersive cinema event series, exclusively in Melbourne.
---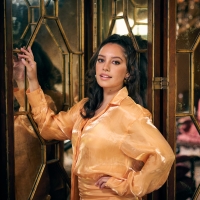 Lorinda May Merrypor to Lead & JULIET at Regent Theatre

November 20, 2022

The producers of West End and Broadway smash hit & JULIET have announced Lorinda May Merrypor will take on her first starring role as 'Juliet' when the Australian production premieres at Melbourne's Regent Theatre in March 2023. 
---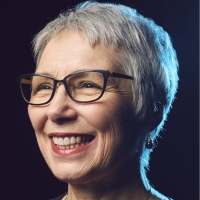 Lucy Guerin Inc. Announces Bequest From Chloe Munro OA

November 16, 2022

Ian McDougall, Chair of leading Australian dance company Lucy Guerin Inc (LGI) has announced that Chloe Munro OA, the former LGI Chair who passed away in June 2021 has made a bequest of two million dollars – the largest ever for Australian contemporary dance - to the company, with specific obligations to its usage.
---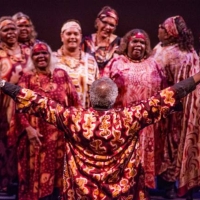 Central Australian Aboriginal Women's Choir Will Perform as Special Guests at This Year's Carols By Candlelight

November 16, 2022

For over 80 years, Vision Australia's Carols by Candlelight presented by AAMI has been supporting children who are blind or have low vision and this year. Andrew Kay AM and Desert Song Festival have announced that for the very first time the Central Australian Women's Choir will perform as special guests.
---
Musica Viva Australia's Melbourne International Chamber Music Competition Announces Competitors

November 16, 2022

Musica Viva Australia (MVA) has announced the 14 selected ensembles for the Melbourne International Chamber Music Competition (MICMC), which will be held live in Melbourne next year from 3rd to 9th July, bringing some of the world's most outstanding young chamber musicians to Australia.
---