Cast Announced For A MIDNIGHT VISIT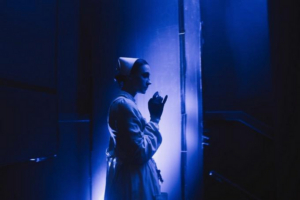 The Melbourne season cast for the epic, award-winning immersive theatre show A Midnight Visit has been announced, starring eleven multidisciplinary performers of scintillating local and national talent. With the show being praised for its dauntless innovation and visionary disruption of traditional theatre, the cast will be pushing at the frontiers of contemporary performance in Australia.
Cast members include Cameron MacDonald, who joins the show following an Australia-wide tour with Jersey Boys; Kristian Santic, who has worked on productions with Nick Cave and GOMA; and Saro Sawakchim, a former number one gymnast in Thailand.
Several fan favourites are also reprising their roles, including burlesque and theatre performer Hannah Raven and musical and theatre performer Bobbie-Jean Henning.
Beginning August 7, across 36 rooms in a two-storey warehouse the performers will be bringing audiences up close and intimate with the dark secrets at the heart of our humanity, staging unique encounters under an intricate, clockwork-timed choreography.
With the show inspired by the arch-priest of gothic, Edgar Allan Poe, each cast member embodies a real or imagined figment of his world, whether it be a character from his poetry (The Raven), his short stories (The Black Cat), or his fatefully short life (Virginia).
Enriching the multi-genre production, each performer brings a specialised skill to A Midnight Visit. These talents range from contemporary circus to physical theatre, burlesque to acrobatics, live music to text-based narrative.
This multidisciplinary range thrills the Broad Encounters power duo polymaths, Kirsten Siddle and Danielle Harvey. The two have imagineered the production into life from inception into its third upcoming season.
"The production embraces the diversity of Australian talent," says Siddle, a former director of programming at the Melbourne Recital Centre. "It's wonderful to have such a phenomenal cast with such diverse skills and backgrounds."
Harvey, a former head of contemporary programming at the Sydney Opera House, is also the show's director. She describes her role facilitating and directing the performers "to let their unique abilities shine through" as "a rare and wonderful opportunity".
Both new and returning cast members have themselves embraced the bold and unconventional nature of the show. The format gives audiences agency over their own experience, encouraging creativity, curiosity and play. In turn, this means that performers have no single stage, performing to a constantly shifting audience, across a multitude of different rooms.
"There's no other performance platform in Australia that allows each of our multidisciplinary artists the opportunity to play, explore and continually grow like A Midnight Visit does," says Stee Andrews, who returns to the role of The King after being cast in the Perth production.
While new cast member Cameron MacDonald believes the show is tapping into Australia's hunger for new forms of entertainment. "I'm hearing all about A Midnight Visit from friends of mine who wouldn't normally go to the theatre!" he says. "The idea of immersive theatre is exciting to the general public, and they're going to have a great time."
Megan Drury, who has been with the production since its premiere season in Sydney playing The Actress, says the show is "unlike anything else I've experienced in my work-life to date".
Related Articles View More Australia - Melbourne

Stories

Shows
More Hot Stories For You