Photo Flash: First Look at TexARTS' GUYS AND DOLLS
TexARTS presents the Broadway classic "Guys and Dolls" for the second production of the 2015-16 professional series. Gathering the best central Texas talent and veteran Broadway leadership, TexARTS will bring the spark and glamour of 1940s New York City to the Kam and James Morris Theatre. BroadwayWorld has a sneak peek at the cast onstage below!
At the helm is director Kasey RT Graham. Graham comes to TexARTS after serving as associate director of the Tony-nominated Broadway revival of "On the Twentieth Century" starring Kristen Chenoweth and Peter Gallagher. Joining Graham in bringing this classic musical to life are music director Robert L. Frost from the Eugene O'Neil Theater Center and choreographer Michael Clement from Disney Entertainment.
"Guys and Dolls" is considered the quintessential Broadway musical, and no production would be complete withoutFrank Loesser's beloved songs like "A Bushel and a Peck," "If I Were a Bell," "Luck be a Lady," and "Sit Down, You're Rockin' the Boat." TexARTS invites audiences to share in old memories and make new ones with this timeless classic.
The cast features: J. Quinton Johnson (Sky Masterson) recently appeared in the Zilker Hillside Theatre production of "Oklahoma" and was a featured soloist in Ramin Karimloo's "Broadway to Bluegrass" concert. In 2014, Johnson was nominated for a B. Iden Payne award for his portrayal of Benny in the University of Texas at Austin's production of "In the Heights." Opposite Johnson is Taylor Colleen Smit (Sarah Brown). Smit has performed in regional productions of "South Pacific" and "Catch Me If You Can" and has performed several shows with Disney Cruise Line. Smit was awarded best principle female in a musical in 2014 for her role as Nelly Forbush in "South Pacific" by the Theatre Bay Area Awards. Local stage favorite Jose Villarreal (Nathan Detroit) has appeared recently in "Heathers" and "Silence: the Musical" with Doctuh Mistuh productions and in the Zach Scott Theatre's recent production of "The 25th Annual Putnam County Spelling Bee." Amy Nichols (Miss Adelaide) returns to TexARTS where she was featured in "Midlife: the Crisis Musical." Nichols' other Austin credits include "The Drowsy Chaperone" at the Zach. Paul Sanchez (Nicely-Nicely Johnson) is an active performer and teacher in the Austin area whose credits include "Tommy" at the Zach and several productions with the Austin Lyric Opera. Also joining the cast are Timothy Ellis Riley (Benny Southstreet) - "Tommy" at the Zach, Rudy Roberson (Lt. Brannigan) - "The Lion King" national tour, Matt Buzonas (Rusty Charlie) - TexARTS' "Ring of Fire: The Johnny Cash Musical Show," and Scotty Roberts (Big Julie) - "Gypsy" at Southwestern University. The ensemble includes Jamie Shaw (General Cartwright), Curt Olson (Arvide Abernathy), Jordan Mersberger (Harry the Horse), Jake McVicker (Joey Biltmore/MC/Gambler), Harrison Cardwell (Gambler), Michael Wheeler (Gambler), and Emily Ott (Hot Box Girl). TexARTS is proud to present TexARTS Broadway Company members Reilly Cox, Maddy "Mac" McKowen, and Jade Milam as the Hot Box Girls.
"Guys and Dolls: A Musical Fable of Broadway" is based on a story and characters of Damon Runyon. The music and lyrics are by Frank Loesser, and the book is by Jo Swerling and Abe Burrows.
Individual tickets are now on sale and start at $40. Purchase tickets at www.tex-arts.org or call the TexARTS Box Office at 512-852-9079 x101. Showtimes: August 14-15, 21-22 at 7:30 p.m.; August 16, 23 at 2:00 p.m. All performances will be held at the intimate Kam andJames Morris Theatre at TexARTS' Erin Doherty Studios, 2300 Lohman's Spur, Suite #160, Lakeway, TX.
Photos by Karla Ent

Nathan Detroit (Jose Villarreal), Nicely-Nicely Johnson (Paul Sanchez), Benny Southstreet (Timothy Ellis Riley), and the Gamblers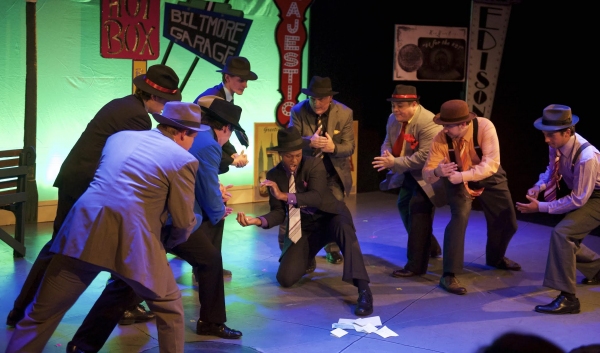 Sky Masterson (J. Quinton Johnson) and the Gamblers

Miss Adelaide (Amy Nichols) and the Hot Box Girls