BWW Interview: Stuart Moulton and Eighteen Years of Austin Cabaret Theatre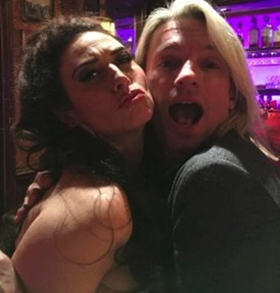 One of Austin's best kept secrets is Austin Cabaret Theatre, which quietly brings in the best of the New York cabaret scene for one night only performances. This is all due to one man, Stuart Moulton. Stuart lives in New York City, but his love of Austin is unmistakable. We recently sat down with him to talk about their upcoming eighteenth season.
BWW: Can you give our readers an overview of your background?
SM: I've been involved in musical theatre all my life--I have a BFA in Dance from University of Illinois, and have toured and performed across the country and on the cruise ship circuit worldwide. Part of that touring always took me through Arizona, where after several years and many shows I was offered a full time position with Southern Arizona Light Opera Company. While in Tucson, I started choreographing and directing for the Invisible Theatre, where I was made Associate Producer. From there, Austin beckoned, and I formed Austin Cabaret Theatre...eighteen years ago! I can't believe it's been that long...
BWW: What got you into cabaret?
SM: I've always loved the cabaret genre. Or, back when I was young, it was called a "club act," a term I still use and adore! The Invisible Theatre began a concert/cabaret series and that, as they say, was THAT. It became my obsession. What I particularly gravitated to was how personal the medium is. Of course, it doesn't have to be, but those are the acts I love--where the performer really lets us know what makes them tick. The best feeling ever is when an audience member tells me after the show "I feel like I've just spent 80 minutes in their living room--like I just made a new friend."
BWW: When was Austin Cabaret Theatre formed? What all can you tell us about how it began?
SM: We kicked off our first season in 2001 with Ann Hampton Callaway. She's incredible. We had become friendly through the years prior to ACT's formation, and my thinking was "If I'm gonna do this, let's blow them away from the start and see if this thing has legs to stand on!"
Well, it stood. And it's been a dream come true to produce the biggest and best names in cabaret--and Broadway. Lots of Tony Award winners have graced our stage, and so many Broadway babies have a club act for those times in between book shows.
BWW: What is the mission of ACT?
SM: Our mission is simply to present quality musical performance in an intimate setting.
BWW: Where and when does ACT perform?
SM: Our home is the beautiful Sterling Event Center, on the northeast side of Austin. We've been partnering with Sterling Affairs (a fantastic catering and event planning company) for over half of our existence. They beautifully handle all the food and beverage needs of our patrons. Dinner is offered pre-show, or you can do show only with a full bar and wait staff to take care of you.
BWW: Can you give us an in depth look at the cabaret offerings of the upcoming season and why you chose each one?
SM: We're headed into our 18th Season--which I've titled "Finally Legal!" It's one of our bigger seasons with some incredible offerings.
We kick off with Gunhild Carling. "Who?" you ask? Gunhild is from Sweden. She is an award winning performer and multi-instrumentalist, who has done more to promote the Great American Songbook throughout Europe than anybody. She legitimately plays over two dozen instruments, and her act showcases about 6 of those...including a finale playing three trumpets...in harmony...at once! It's truly not to be missed--and she sings like a dream!
Then we move on to a show that I would go anywhere, at anytime to see: Lesli Margherita in "Rule Your Kingdom!" Lesli is a Broadway veteran and Olivier Award winner. This show is perfection. The songs--the SINGING!--the patter...one of the most well-crafted cabaret acts I've ever seen. And funnier than I can even tell you. From there we bring Crystal Stark in "Great Ladies Of Song." Crystal made her ACT debut last season with an Ella Fitzgerald based show, and if I didn't bring her back my patrons would have shown up at my house with pitchforks and torches! They can't get enough of this charming, effervescent entertainer. Then we have a show that is for season ticket holders only! Andrew Dawson is a director and hand model (yes, a hand model!) and his two-part show consists of a brilliant soundtrack to which he depicts--with his hands--the lunar landing (2019 is the 60th anniversary), and then in act two, he recreates--with his hands--the entire Wagner Ring Cycle in 30 minutes. It is both brilliant and hysterical. From the ridiculous fun of Andy, to the sublime talents of Nicole Zuraitis in a show titled "Generations of Her," which celebrates female songwriters of the last century. Nicole delivers a gorgeous interpretation of song--her voice is spectacular, and her piano chops sublime. Her choices and arrangements blew me away when I saw it recently. So many surprises, but I'm not telling--you have to come see it! Then, we close out the season with the musical cult classic "Miss Gulch Returns" starring the incomparable Fred Barton as Elmira Gulch (from the Wizard of Oz, in case you live under a rock!), telling HER side of the story...it was 'Wicked" long before "Wicked!"

BWW: How can people get tickets since seating is limited and at the door doesn't seem to be a viable option.
SM: We do tend to sell out. The venue is an intimate 100 seats. A Season Ticket is the best bet, and an economical one since you get 20% off. Individual tickets go on sale about a month before each show, at www.austincabaret.org and you can also sign up for our email list (don't worry, we don't sell it to other entities!) on the site under the "Contact" tab.
BWW: Is there anything else you'd like to tell the rest readers of BWW?
SM: I'll tell your readers what I tell our guest artists all the time: Austin Cabaret Theatre has the best audiences they will ever perform for. I know every producer says that, but it's true. We presented the Tony Award winning "Elaine Stritch: At Liberty," and after the opening night, as I walked her out of the showroom she leaned in close and said to me--in that unmistakable gravel--"You were right. They're enthusiastic!"I
Having experienced one of their shows, I highly recommend Austin Cabaret Theatre for that New York club scene experience. Check them out at www.austincabaret.org for more information.
A Kansas native, Frank Benge has been involved in the Austin area theatre scene as a Director, Designer, Writer and Performer for the past 20 (read more...)