BWW Interview: Elizabeth Doss and Lisa Laratta on paper chairs newest Original Work THE REPENTANCE OF ST. JOAN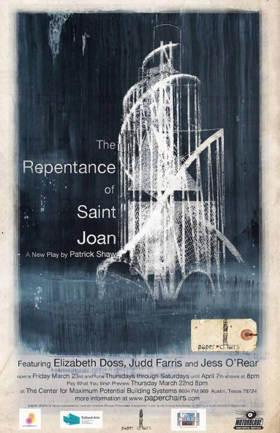 Austin theatre troupe paper chairs has been creating original works of theatre here for the past eight years that consistently push boundaries both verbal and visual. These fresh and exciting works are, in no small part, due to two women who were among the founding members, Elizabeth Doss and Lisa Laratta. Opening on March 23 is their latest offering, THE REPENTANCE OF ST. JOAN, a new play by Austin playwright Patrick Shaw. Broadway World recently had the opportunity to sit down with them to get a deeper look into both the company and their upcoming production.
BWW: For our readers who may not be familiar with you, can you give us a brief background of the company?
pc: paper chairs was founded in 2010 by a collection of artists in Austin who needed to work together. There were roughly eight of us. Over the years our numbers have slowly reduced as people have moved away, gone to grad school, become TV stars, etc. We're all still pals though.
BWW: So who is at the helm now, eight years on?
pc: These days Elizabeth Doss and Lisa Laratta are the founding members who grease the wheels on the paper chair wagon. We frequently collaborate with co-founders like
Dustin Wills
who's based in New York now but came to town to direct our last play
Catalina de Erauso.BWW: What do you feel is it about paper chairs that makes it different from other companies in town?
pc: I think we have a look and feel that is our own. We generally make our own plays and we spend years building them together. We share interests (like cooking) and a more abstract sense of what is beautiful, heartbreaking and funny (we love a lot the same authors, movies, Italian reds... you know). Our work, our friendship and our lives intersect. This personal connection to the process of making work and a long-term friendship informs the feel of paper chairs. I think our plays look and sound like us.
BWW: Since founded, how many productions has paper chairs mounted?
pc: A lot! Since 2010, we've produced 13 productions and several revivals and tours of our original pieces,
Murder Ballad Murder Mystery
and
Art Show/Model Show
. We've devised and/or written 10 original plays in 8 years. We've produced a host of devised/development workshops and presentations and site-specific performance installations through our development series
Reckonnoiter
. In addition, we've supported lots of local playwrights through our play reading series
Picnic Plays
.
BWW: This brings me to what you are currently doing. What is the name of your new show and when is it running?
pc: THE REPENTANCE OF ST. JOAN, which runs March 23rd - April 2nd on Thursday- Saturday at 8pm at the Center for Maximum Potential Building Systems.
BWW: Who is the playwright? Is this a world premiere like most of your shows?
pc: The play is a world premiere by local playwright and UT MFA alum Patrick Shaw.
BWW: What can you tell me about THE REPENTANCE OF ST. JOAN, without spoiling the experience for your audience?
pc: This is a small and intimate play in terms of its size, but its scale is vast and epic. Its creates an unusual blend of fact and fiction in the life and death of Joan of Arc.
BWW: Would you consider this a comedy or a drama?
pc: You would not call it comedy. I think it's a drama, but maybe not... To me, every good play is both one way or another.
BWW: I noticed this is your second show at Center for Maximum Potential Building Systems (CMPBS). Is this a new home for paper chairs?
pc: We are excited to keep collaborating with CMPBS. We're inspired by the ideas, ideals, aesthetics and values put forth by CMPBS. But we're also going to work in an actual theatre again one day. Definitely again but definitely not always. We love CMPBS and we love working outdoors. We do not love chiggers and mosquitoes. But we think that ringtails and raccoons are okay.
BWW: A great attitude to have when working outdoors! Who is directing THE REPENTANCE OF ST. JOAN and who is in the cast?
pc: We've experimented with a three-headed director process. Lisa (set designer/producer), Liz (actor/producer) and Pat (playwright) have worked collaboratively to direct the play. The other two performers, Judd Farris and Jess O'Rear, have also been contributing their ideas to the generative stew. We like to add different challenges to every process so we're not working the same way every time. It's been fruitful to have so much thoughtful input on a seemingly simple piece.
BWW: I've always loved the depth and detail of your shows. What was it that attracted you to this particular script?
pc: paper chairs loves plays that reexamine history, icons and iconoclasts. We love plays about strong women who are difficult to pigeonhole. We love complications regarding identity: Who are we to ourselves? Who are we to those that love us? Where is there overlap and where are there contradiction? These questions are very much alive in this play.
BWW: I'm certainly looking forward to this, as I've always found your shows to deliver entertainment while being thought provoking. Is there anything else you'd like to tell our readers?
pc: Make reservations EARLY. We have a only forty-four seats! We're expecting to sell out most (if not every night.) We strongly recommend you book tickets in advance.
THE REPENTANCE OF ST. JOAN by Patrick Shaw
Thursdays-Saturdays, March 23 - April 07, 2018 Performances are at the Center for Maximum Potential Building Systems (CMPBS), located at 8604 FM 969 (corner of Martin Luther King and Decker Lane, east of Austin)
9 performances. Thursdays, Fridays, Saturdays at 8 PM. Seventy minutes. No intermission.
Pay-What-You-Can Preview Thursday March 22 Tickets: $15-25 sliding scale, plus service fees, all general admission
Questions? Call or email: 512-686-6621 or
info@paperchairs.com
More info:
www.paperchairs.com