Shuler Awards Students Building Bright Futures With Georgia Lottery-Funded HOPE Scholarship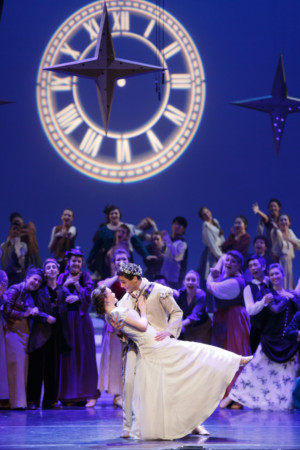 Each year thousands of Georgia high school students participate in the Georgia High School Musical Theatre Awards - Shuler Hensley Awards. The year-long program culminates in an awards show featuring the next generation of Georgia's musical theatre talent. Presented by the Georgia Lottery, this year's awards show will air on Georgia Public Broadcasting (GPB) over its nine-station statewide television network live from Cobb Energy Performing Arts Centre on April 19, 2018 from 7-9 pm.
Many of the students involved in the Shuler Hensley Awards also are making plans to attend college. Some are excitedly moving forward toward their dreams because they have the support of the HOPE Scholarship, fully funded by the Georgia Lottery. Here's an introduction to a few Shuler Awards students who are benefiting from the HOPE Scholarship and a look inside the bright futures they are building.
Emma Crumbley participated in the Shuler Hensley Awards in 2016 as a cast member of Johns Creek High School's production of The Addams Family in the Best Overall Performance category. In 2017, she performed at the Shulers as a member of Johns Creek's production of Cinderella when they were nominated for Best Overall Performance, and she received the Shuler Award for Best Supporting Actress for her role as Madame. Emma graduated from high school in 2017 and enrolled with an unusual double major, entomology and theatre, at the University of Georgia in Athens.
"Performing at the Shuler Awards was an important mark in my theatre career," says Emma. "Last year before we went on stage, I could feel everyone's positive energy and the camaraderie we shared. Doing a scene from Cinderella with a message of kindness and acceptance reinforced the inspiring power of theatre, and I knew I didn't want to give it up.
"Receiving the HOPE Scholarship has allowed me to take two majors at UGA, so I don't have to decide between my two passion, theatre and insects," Emma continues. "Entomology will help me because I would love to work at the CDC and study infectious diseases around the globe. Performing gives me a fuller life, making me more articulate and teaching me about collaboration. I look forward to exploring both fields and am thankful for this incredible opportunity."
Michael Tidwell was a member of the Shuler Student Ensemble in 2016, performing in both the opening and finale numbers at the awards show. He graduated from Woodland High School in 2016 and is currently a biology major at Valdosta State University.
"Participating in the Shuler Awards helped me with confidence," Michael states. "Being in the middle of our school's third musical of the year, working hard to keep my grades up, and learning two huge numbers for the Shulers was intense. It hit home that if I put my mind to something and really dedicate myself, I can do it.
"A motivating force for me during high school was working toward getting a HOPE Scholarship," Michael adds. "It has allowed me to go to Valdosta State which has fantastic professors and small classes. With the support of HOPE I don't have to work extra jobs, so I can focus on my studies. I'm pre-med and eventually want to go into critical care or cardiothoracic surgery, so there's a lot of work to do. But I have a clear vision of what I want, and I am going for it."
Nyadirah Stephens participated in the 2015, 2016 and 2017 Shuler Awards as a member of the Shuler Student Ensemble, performing in the opening and finale numbers at the awards show. She graduated from Newton High School in 2017 and is currently a music major at Spelman College in Atlanta.
"I loved being in the Shuler Awards program," Nyadirah enthuses. "It gave me a chance to see how it feels to perform in front of a large audience and it confirmed that I want a career in the arts.
"To pursue my dream, I needed more experience and education," Nyadirah continues. "Until I knew I had the HOPE Scholarship, I thought I might have to take time off to save up for college, and I thought I might lose momentum and have to put my plans on hold. But receiving HOPE helped me go straight from high school to college. Now I'm part of the Glee Club at Spelman, which is amazing. I'm taking classes in music theory and digital recording and working toward my dream of a singing career."
Luke Brown received an Honorable Mention for Best Supporting Actor for his role in Glynn Academy's production of Shrek The Musical and performed as a member of the Shuler Student Ensemble at the 2017 Shuler Awards. This year he is nominated for Best Performance by a Leading Actor for his role as Clyde in Glynn Academy's production of Bonnie and Clyde. Luke is in his last year at Glynn Academy and is dual enrolled at the College of Coastal Georgia. In the fall he will go to LaGrange College where his major will be musical theatre with a minor in music production.
"For me the magic of theatre is not only performing and telling great stories, it's about learning and growing," Luke says. "Rehearsing for the Shuler Awards and being with people of all ages and professional skill levels who share a love for theatre made me want to stay on my path.
"I enjoy learning, and I have a passion to educate myself," Luke adds. "Getting the HOPE Scholarship allowed me to know I can definitely go to college and continue my studies. In addition to honing my acting and singing skills, I hope to expand my hobby of music production into another career opportunity."
Grace Diamond was in the 2017 Shuler Student Ensemble, performing in the opening and finale numbers at the awards show. She graduated from Lowndes High School in 2017. Grace is currently studying for a Bachelor of Arts in theatre performance at Columbus State University.
"Being involved in the Shuler Awards was one of the best experiences of my life," Grace states. "It was cool watching the professionals backstage who were so organized and confident. Knowing we were all working toward a goal together was wonderful.
"Without the HOPE Scholarship I'm not sure I would have been able to go to college," Grace says. "I knew that to get HOPE, I had to keep my grades up and that helped me stay focused and on track.
"I love the classes I'm taking," Grace continues. "I'm learning so much about acting, the technical side of theatre like lighting design, and even directing. Once I graduate I want to work at Disney in the Disney College program, and ultimately head to New York to pursue my career."
Since its first year, the Georgia Lottery Corp. has returned more than $19.2 billion to the state of Georgia for education. All Georgia Lottery profits go to pay for specific educational programs, including Georgia's HOPE Scholarship Program and Georgia's Pre-K Program. More than 1.8 million students have received HOPE, and more than 1.6 million 4-year-olds have attended the statewide, voluntary prekindergarten program.
The Georgia High School Musical Theatre Awards - Shuler Hensley Awards - celebrate excellence in high school musical theatre and are modeled after Broadway's Tony Awards. They are named in honor of actor/singer and Georgia native, Shuler Hensley, winner of the prestigious Tony Award, Outer Critics Circle Award and Drama Desk Award. The Shuler Hensley Awards are a part of the National High School Musical Theatre Awards - The Jimmy Nederlander Awards. Click here for more information about the 2018 Shuler Hensley Awards: artsbridgega.org/programs/shuler-awards.
ArtsBridge Foundation is dedicated to providing quality arts education and community programs that engage, motivate, inspire, and elevate the next generation of artists and arts supporters. ArtsBridge provides arts education opportunities to students in grades K-12 through programs at the Cobb Energy Performing Arts Centre including Field Trips, Master Classes, a Family Series, and the annual Georgia High School Musical Theatre Awards - Shuler Hensley Awards. Since inception in 2007, ArtsBridge has served more than 300,000 students and educators from 58 Georgia counties, plus students from Alabama, Tennessee, Florida and South Carolina. ArtsBridge Foundation is a 501(c)(3) non-profit organization. To learn more about their programs and how you can get involved, visit artsbridgega.org.