BWW Interview: Josh Grisetti of SOMETHING ROTTEN! at Fox Theatre Talks Shakespeare and Giggling Onstage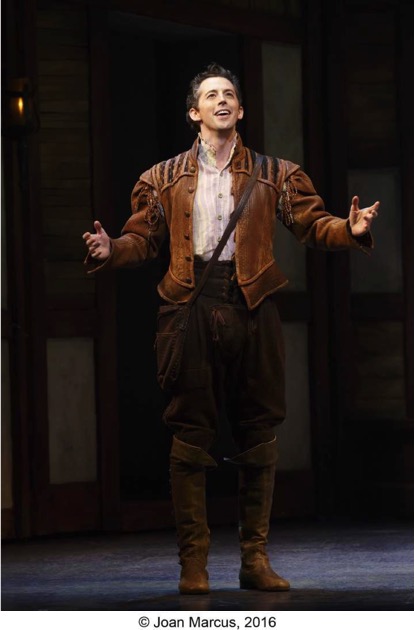 Straight from Broadway, Something Rotten! is currently on tour across the country, and is coming to the Fox Theatre in Atlanta this week. Something Rotten! is a musical filled with laughs, it is a "valentine to the theatre", and one not to be missed by musical theatre fans.
BroadwayWorld spoke with Josh Grisetti who plays Nigel Bottom in Something Rotten! on tour, and played the same role in the Broadway production. Read what Josh had to say about Something Rotten! below!
---
Thank you so much for chatting with us! How is the tour going?
Good, but it's almost over! We launched in January of last year, so it has been a long run, and we only have around 50 shows left.
What is it like being on tour, as opposed to being on Broadway?
I actually prefer [being on tour]! When many people go to see a Broadway show it is because they feel like that's something you have to do when you're in New York, whereas on tour, you're playing these houses that have subscribers... those subscribers see everything and they love theatre. So for a show like this; that is so funny and is so based in the theatre community, it is great to play just to the people who you know are going to love it the most.
Was it nice to have some of the closing Broadway cast to be going on tour with you, so you knew people?
Oh, 100%! The three main guys; me, Rob McClure who plays Nick Bottom, and Adam Pascal who plays Shakespeare, we all literally stepped off the Broadway company and joined the tour. The timing worked out to do that, and that's so rare. Most of the time, for the shows I've been apart of, the tour and the Broadway [show] overlap, so you can't just go on tour! Or, they are so far apart that you've moved on to other jobs. So, the ability to keep the company intact like that was pretty spectacular and unique.
Yeah! Also, this show seems like a great show to be apart of. The music and the humour are wonderful.
Yeah, it's definitely a valentine to the theatre, so people who love the theatre, this show is basically written just for them; that's the most fun part of it all.
There are references to other shows in Something Rotten!, do you know how many there are?
When the show first opened, the New York Times did an article about that exact thing, and they counted 83 references in one song alone! Not all of them are in dialogue, or in lyrics, but some of them are in the choreography, and some of them are in the music, in the underscoring. It's a great game to play while you're watching the show, to find all the references. I think part of what makes the show so successful is that it's not just spoofing all of these shows; there is a plot device where although the show takes place in the 1500's, there's a fortune-teller who sees the future, and he sees these little bits and pieces, these glimpses of the future of Broadway, and the future of musical theatre. Through this plot device, all of those references come organically; they are not just jokes for the sake of making jokes. It's really not spoofing, it's meddling in the campiness! Letting all of those jokes come out in the plot, I think is so much more fun than just jokes for the sake of jokes.
I agree! Do you have a favorite number in the show?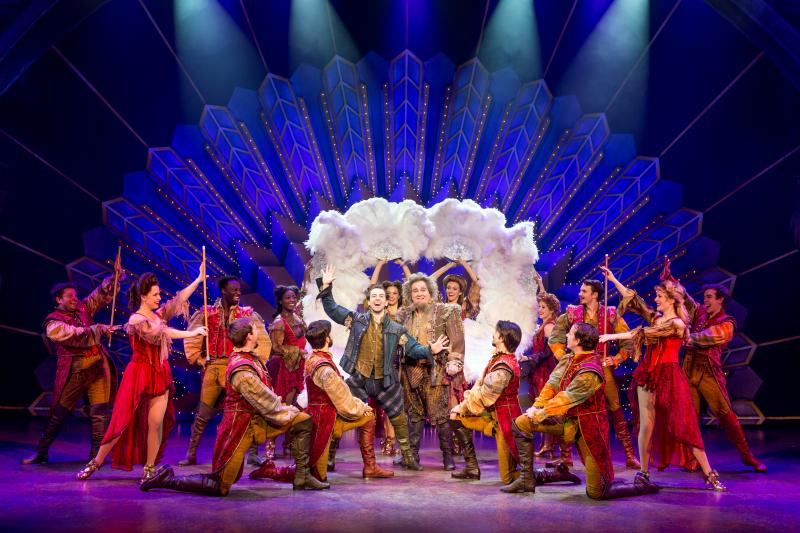 I mean, the best song in the show is just called "Musical", and it's the song I was just talking about that has the most references all at once. It's just such a well-crafted piece, and we've gotten standing ovations in the first act, because of that number. It's such a crowd-pleasing moment; it's just so well done. So, it's hard to argue that that's not the best number in the show.
I have to ask this question, what are your opinions on Shakespeare?
(Laughs) Well, he's brilliant. The stuff that he wrote set a template and a bar for everything that came behind him. But that said; it was of a different era, and very hard to access today. [It is] especially [difficult] to do any of his plays in their entirety, unabridged. I think they can be really surprisingly accessible when they're cut down, because in a lot of his plays the characters repeat themselves, or they say what's going to happen in the scene that comes next and then you see it happen, or they say what just happened in the scene that you just watched. I don't know if that's because back in that time period peoples' attention spans were different and they zoned out and they needed someone to tell them every plot point twice. But if you cut all that out, and just give them to us once, modern audiences have a much better time following them.
I just saw a production of Hamlet at the National Theatre in DC, while we were on tour there, and it was just brilliant. Part of it is who you cast, part of it is the direction, but the play still holds up! It's a fascinating, intriguing, gripping play if it's done right, if you can follow it. It's really pretty great. So that's amazing that after hundreds of years that that can still be said. Half of the shows on Broadway in the 70's are unwatchable now. It's amazing that it has been hundreds of years since Shakespeare, and we are still seeing his plays.
Totally! So, back to Something Rotten!, it's a very funny show. Do you ever find yourself still laughing when the audience laughs?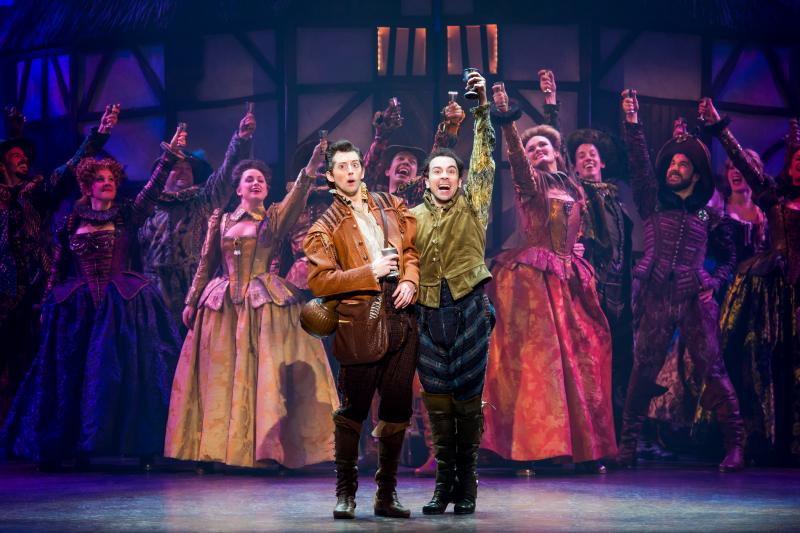 Well, it's sort of the reverse now because we know where all of the jokes are; we've done them seven hundred times! (Laughs) So for us, we're not going to be caught off guard and laugh at something the audience are laughing at. We get caught off guard when something goes wrong, and the audience probably would never notice, but we notice. Anything that goes slightly off-track, we are hyper aware of, and if we are in a giggly-mood, which is all too likely (laughs) that's where it becomes dangerous, because we start giggling at things knowing that they are off.
Or, sometimes the audience will do something unexpected, like the other day, literally a week ago, there was one guy in the back of the theatre who had this huge reaction to this moment in the show where I finally stand up to my brother, and just let out this sort of... it sounded like a football fan when a quarterback gets tackled, like "OOHHH!!" and nobody else in the audience made a sound, because they normally don't, and everybody on stage just lost it at this guy having this huge reaction. We were trying to hide it from the audience, and usually we do a good job at hiding it... but that time it was pretty obvious to the audience, and so the audience started laughing at us laughing, it was one of those moments. It is not likely to happen and we can count on one hand the number of times that it has happened in the run, but those are the most dangerous moments (laughs).
I do kind of hope that happens at the Fox!
That's kind of one of the fun things about live theatre; and as an audience member, you do kind of hope you're there for one of those moments; you know you're seeing something unique, that nobody else saw because it's not a normal part of the show. It's one of the thrills of watching live theatre.
---
Josh Grisetti - Credits include: Broadway: Something Rotten!, It Shoulda Been You (Derwent Award), Broadway Bound. Off-Broadway: Enter Laughing (Theatre World Award), Rent, Peter & the Starcatcher, Red Eye of Love, Candida, After the Ball. Favorite Regional: Prince of Broadway (Tokyo), Diner (Signature Theatre), Camelot (Kennedy Center), How to Succeed... (LA, Ovation Award), Spamalot (Vegas). TV: "The Gates", "Nurse Jackie", "The Knights of Prosperity". Film: The Immigrant, The Namesake and others. Twitter/Instagram: @joshgrisetti
SOMETHING ROTTEN! is set in the '90s - the 1590s - this hilarious smash tells the story of Nick and Nigel Bottom (Tony® nominee Rob McClure and Broadway's Josh Grisetti), two brothers who are desperate to write their own hit play while the "rock star" Shakespeare (Tony® nominee Adam Pascal) keeps getting all the hits. When a local soothsayer foretells that the future of theatre involves singing, dancing and acting at the same time, Nick and Nigel set out to write the world's very first musical!
SOMETHING ROTTEN! is playing at the Fox Theatre in Atlanta from Apr 17 - 22, 2018. Tickets can be found here.
Related Articles