BWW Interview: Jen MacQueen Returns for Another 'Magical' CHRISTMAS CANTEEN at Aurora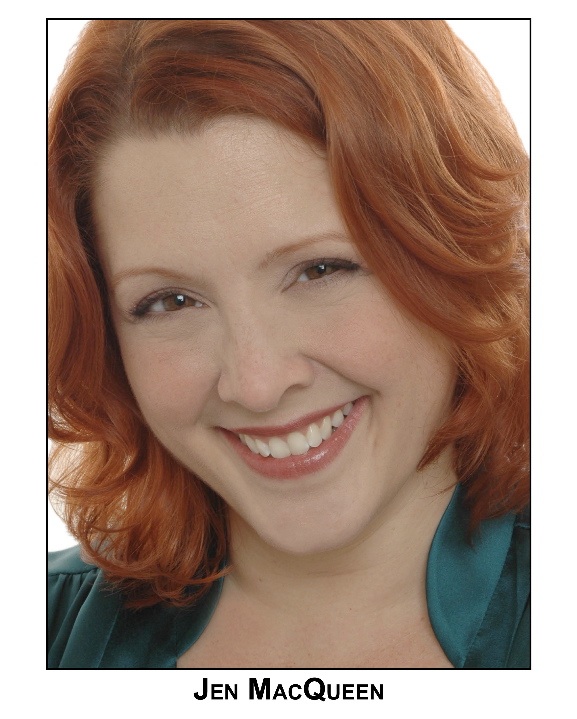 Pentatonix says it best:
The fireplace is burning bright, shining along me
I see the presents underneath the good old Christmas tree
And I wait all night 'til Santa comes to wake me from my dreams
Oh, why? 'Cause that's Christmas to me
-"That's Christmas to Me" (featured in Aurora Theatre's CHRISTMAS CANTEEN)
For Atlanta theatre mainstay Jen MacQueen, Christmas looks like hours of collaboration and rehearsal with the talented cast of Aurora Theatre's CHRISTMAS CANTEEN. Taking on the roles of choreographer, co-director (with Anthony Rodriguez), and cast member, MacQueen has immersed herself in this show for the second year in a row. And she wouldn't have it any other way. Below, check out what she has to say about what makes Aurora's 21st annual CHRISTMAS CANTEEN extra-special!
---
The format of the Christmas Canteen is quite different from regular musicals Aurora Theatre does throughout the year. Will you briefly describe for our readers what Christmas Canteen is like?
Canteen is more of a musical revue. Instead of a telling someone else's story through music and scene work, Canteen is a collection of songs that are performed simply to celebrate the music of the season. The audience doesn't see characters portrayed by actors; instead, they get to know the performers themselves throughout the evening. It's a show full of feel-good music and fun suitable for the entire family.
How many years have you been involved with the Christmas Canteen?
Technically this is my second year directing (though I co-directed with Anthony Rodriguez this year). I'm also performing in the show, so I definitely need a second person on this! [laughs]
What is it that has brought you back?
The love. There is so much love in this theatre. Tony [Anthony Rodriguez] and AC [Ann-Carol Pence] are absolutely amazing people, and they have collected an entire staff of equally amazing people at the Aurora. Everyone from the box office staff to the stage managers to the actors they hire are incredibly kind and loving people. Add to that the fact that everyone associated with the Aurora Theatre loves what they do, and the combination is magical.
That love also comes through on stage. Every person on that stage both loves each other and loves what they do. The Aurora consistently produces top notch productions, and I think it is largely due to the love and respect every single person associated with the theatre has for both the material and each other.
What's unique about this year's Canteen?
This year is different than years past. Last year, the Aurora Theatre celebrated its 20th year anniversary, so for Canteen 2015 we performed audience favorites from the past 20 years. This year the Canteen turns 21, so we have introduced a good bit of new material to the show: circus acts, an a capella section, and a few other surprises that BroadwayWorld readers will have to come see for themselves (I don't want to spoil the surprises!). The feelings of fun and love certainly still exist as in past years, so people who have loved the past shows should love this one as well.
What can audiences expect from this year's Canteen?
Expect to forget your troubles for a couple hours and have a good time. You'll laugh, possibly cry (sometimes we do...), you'll clap and sing along, and you will thoroughly enjoy yourselves. People young and old leave filled with love and happiness and the true spirit of Christmas.
What effect does participation in this show have on the cast?
[Laughs] We have become incredibly close. I have the honor of performing alongside some of my closest friends, and they humble me with their talent and their kindness. The cast and crew basically become a second family to us all. We spend every single day together (except Mondays) during one of the most beautiful and emotional times of year, and half the time we still talk with each other on our day off.
During the rest of the year, we all still see each other often and talk even more often. We can't wait until the next Canteen when we can all share what we do onstage together. It's a wonderful feeling to be able to bring joy to people every evening, and when you get to do that with your friends...well, it's one of the best feelings in the world.
What kind of audience response have you seen at this show?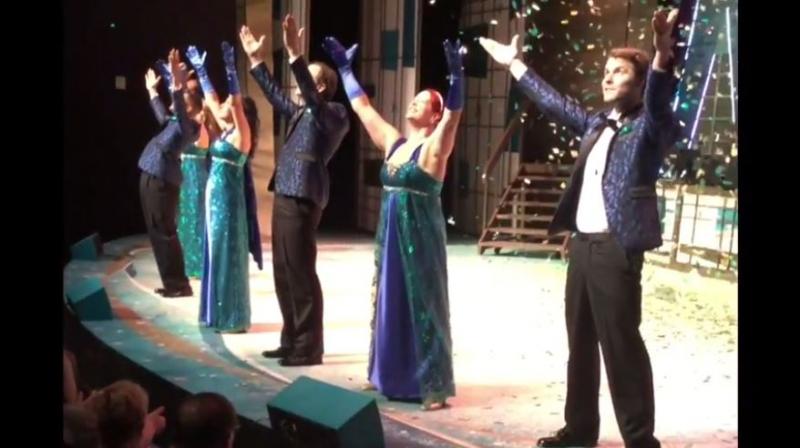 The audiences have been amazingly enthusiastic. Many days we have two standing ovations: one during the show, and one at the end. Two days we have had three "standing Os," and once we had four. We kind of knew that people would enjoy the show- I mean, it's a super fun and funny evening full of Christmas cheer- but we weren't expecting anything like that kind of response. We have families who have made this show a holiday tradition and see it every year, and this year some of those families are seeing the show two to three times. So yeah, the audience response has been very positive.
What do you think is special about this show?
It's rare that a show can truly appeal to all ages in a variety of ways. This one does. Kids 5 years old are laughing alongside parents who are 35 and grandparents who are 75. The holiday music is timeless and can be enjoyed by all. The cast is top notch. The live band is amazing. All in all it's a perfect evening out at Christmas, and that is a truly special thing.
Follow Sally Henry on Twitter @BwayGinger for more fun Atlanta theatre adventures!
---
An Aurora Theatre original and Gwinnett's longest-running theatrical holiday tradition, CHRISTMAS CANTEEN 2016 returns to the Aurora stage this November for its 21st season run! An audience favorite, this nostalgic musical revue is a Winter Wonderland that just keeps getting better! Sketch comedy mixed with theatrical numbers and singing galore, CHRISTMAS CANTEEN 2016 is a variety show that should be on every person's Christmas list.
Recommended for all ages, Christmas Canteen 2015 is presented November 19-December 20. Tickets range from $30-$65 with discount matinees on Wednesday, December 9 and 16 at 10 a.m. starting at $20. Tickets can be purchased online at tickets.auroratheatre.com or by calling the box office at 678-226-6222.