Alliance Presents Premiere Of Award-Winning Play GOODNIGHT, TYLER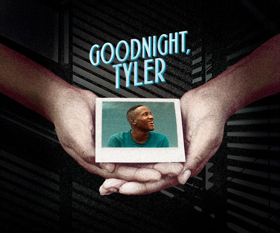 The Alliance/Kendeda National Graduate Playwriting Competition continues to spotlight the best emerging playwrights with a full production for the competition winner and staged readings for four competition finalists. The 15th competition winner, GOODNIGHT, TYLER is the story of Tyler Evans, a young Black man who wants to be remembered for who he was rather than how he died. GOODNIGHT, TYLER is written by B.J. Tindal who completed his MFA in writing for screen and stage at Northwestern University in 2018. Directed by Kent Gash, GOODNIGHT, TYLER will have its world premiere on the Hertz Stage Feb. 16 - March 10, 2019. Opening night is Thursday, February 21, at 7:30 p.m.
GOODNIGHT, TYLER is a contemporary and unexpectedly humorous drama. Depending on who you ask, Tyler Evans was "a beloved best friend, grandson, mentor, and fiancée," or, "Tyler Evans was a young Black man killed by a police officer." Desperate to control the contradicting narratives of his untimely passing, Tyler haunts his best friend as his other friends and relatives argue over his legacy, seeking an elusive common ground.
"I started writing GOODNIGHT, TYLER after the non-indictment of Darren Wilson regarding the murder of Michael Brown," said Tindal. "I felt like I didn't have any access to grieve this person, these people, who I didn't and couldn't know. There's a bell hooks quote that I love that I think sums up why working on this show has helped me process that. She says, 'Love invites us to grieve for the dead as ritual of mourning and as celebration. As we speak our hearts in mourning we share our intimate knowledge of the dead, of who they were and how they lived. We honor their presence by naming the legacies they leave us.'"
The cast of GOODNIGHT, TYLER includes Danielle Deadwyler (Alliance: The Temple Bombing), Alexandra Ficken (Alliance: Hand to God), Andrea Frye (True Colors: Guess Who's Coming to Dinner), Alex V. Gibson (Broadway: Natasha, Pierre & the Great Comet of 1812), Chris Harding (Aris Theatre: Not About Heroes), and Travis Turner (Alliance: A Midsummer Night's Dream) as Tyler.
The creative team of GOODNIGHT, TYLER is led by Director Kent Gash, founding director of NYU's New Studio on Broadway and former Alliance Theatre Associate Artistic Director. Gash's recent Alliance directing credits include the 2015 Alliance/Kendeda Competition winner, The C.A. Lyons Project and the Alliance's 2012 production of God of Carnage. The design team includes Set Designer Jason Sherwood (TV: RENT LIVE, Alliance: The C.A. Lyon's Project), Costume Designer Kara Harmon (Alliance: Ethel), Lighting Designer Liz Lee (Alliance: Sheltered), Sound Designer David Lamont Wilson (Alliance: The C.A. Lyons Project), and Projection Designer Shawn Duan (Broadway: Chinglish).
The Alliance/Kendeda National Graduate Playwriting Competition solicits plays from the leading MFA graduate programs in the United States and then conducts a rigorous selection process to find four finalists and one winning play. The winner receives a full production as part of the Alliance Theatre regular season. The winner and four finalists also receive development opportunities for their works including staged readings with industry professionals. A one-of-a-kind opportunity for emerging playwrights, the Competition transitions student playwrights to the world of professional theatre.
Past winners of the Alliance/Kendeda National Graduate Playwriting Competition have become some of today's most exciting playwrights and writers, including Tarell Alvin McCraney, whose play In Moonlight Black Boys Look Blue inspired the 2017 Academy Award-winning film for Best Picture, Moonlight; Kenneth Lin (Warrior Class), a playwright and writer for the second and third seasons of the Netflix hit original series "House of Cards," Susan Smith Blackburn Prize finalist Meg Miroshnik (The Fairytale Lives of Russian Girls), and Mike Lew (Tiger Style!), 2018 winner of the PEN/Laura Pels International Foundation for Theater Award for an Emerging American Playwright.
"Having this piece specifically make it to the Hertz Stage at the Alliance Theater really feels like a collective victory for everyone who has believed in this play since I started it in college," said Tinday. "Everyone who helped build it then. Everyone who work-shopped it since. Everyone who heard the story in some capacity and tried to push it forward. We've all worked really hard to get this story in front of a larger audience, and I couldn't be more excited for what's to come next."
Performances of GOODNIGHT, TYLER are Wednesdays and Thursdays at 7:30 p.m., Fridays at 8:00 p.m., Saturdays at 2:30 p.m. and 8:00 p.m., and Sundays at 2:30 p.m. and 7:30 p.m., February 16 - March 10, on the Alliance Theatre's Hertz Stage. There will be no 2:30 pm performance on Sunday, February 17 and no 7:30 p.m. performance on Sunday, March 10. There will be an extra performance on Tuesday, February 19 at 7:30 p.m. Opening night is Thursday, February 21, at 7:30 p.m.
Three matinee performances for students will take place on Thursday, February 28; Tuesday, March 5; and Thursday, March 7 at 10:30 a.m. This performance is recommended for grades 9-12 and supports curriculum standards: ELAGSE8RL3, ELAGSE8RL7, ELAGSE9-10RL2, ELAGSE9-10RL3, ELAGSE9-10RL5, ELAGSE11-12RL3, SSSocC1, SSSocIC1. For ticket information, contact allianceschoolday@woodruffcenter.org or call 404.733.4661.
Tickets start at $25 and are available at the Woodruff Arts Center Box Office in person or by calling 404.733.5000. Tickets are available online at www.alliancetheare.org/tyler.