Stage Actor and SEX AND THE CITY Star Lynn Cohen Passes Away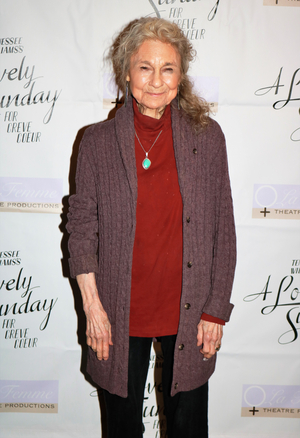 The actress Lynn Cohen who gained fame in "Sex and the City" and "The Hunger Games" died on February 14th at her home on Manhattan's Upper West Side. A prolific performer, she appeared in over 120 movies as well as a string of Broadway and Off-Broadway plays and television appearances. The death was confirmed by her husband, the actor and writer Ronald Cohen. She was 86.
An inspiration for women seeking a second act, Ms. Cohen, born in Kansas City, Missouri, arrived in New York, with dreams of success on the stage like many others. The plot twist was that the tiny dynamo with striking, unconventional looks was in her mid-40s.
Her stage career included appearing opposite Vanessa Redgrave in Peter Hall's Orpheus Descending in 1989. She helped develop the legendary Vanya on 42nd Street, which grew from a workshop led by Andre Gregory, including Julianne Moore and Wallace Shawn - the project eventually was adapted by David Mamet and filmed in 1994 with director Louis Malle. Appearing in many Off-Broadway shows, she received the Lucille Lortel Best Featured actress award for her gender reversal performance in the all-women production of I Remember Mama directed by Jack Cummings III.
Ms. Cohen appeared for ten years as Judge Elizabeth Mizener in Law and Order but became a household name with her memorable performance as Magda in Sex and the City. Miranda (Cynthia Nixon) was terrified by the tiny maid who discovered her sex toys, but ultimately, they forged a loving bond. She appeared in dozens of television shows, among them The Marvelous Mrs. Maisel, Blue Bloods, The Affair, Chicago Med, Damages and Nurse Jackie.
Movie directors eventually discovered her quirky persona when Woody Allen cast her as the victim in "Manhattan Murder Mystery". Steven Spielberg saw her strength as Golda Meier in Munich. A new generation discovered her as Mags in The Hunger Games: Catching Fire, a role she said she took upon the recommendation of her granddaughter. She appeared in movies opposite Liev Schreiber, Daniel Craig, Kevin Kline, Peter Dinklage, Helen Hunt, Paul Dano among many others. Ms. Cohen appeared in 121 movies, 13 in 2019 alone. She departed with four productions in development.
Ms. Cohen studied with Alvina Kraus at Northwestern University and in New York with Michael Howard and took acting classes throughout her life and was known for her generosity in mentoring and encouraging other actors.
Besides her husband, Ms. Cohen is was survived by her son Laurence Frazen of Kansas City, Missouri, and her grandchildren Sam and Kathryn "Kit" Frazen.