Works & Process At The Guggenheim Presents ONE OF SIXTY-FIVE THOUSAND GESTURES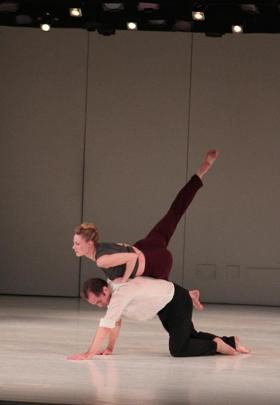 Works & Process, the performing arts series at the Guggenheim, presents an encore of choreographer Jodi Melnick's sold-out 2016 commission, NEW BODIES. This Works & Process commissioned work weaves together dance, spoken text, and moderated discussion with live music, featuring New York City Ballet dancers Jared Angle, Sara Mearns, and Taylor Stanley in a role originated by Gretchen Smith, with harpsichord by composer György Ligeti, violin by composer Heinrich Biber, and commissioned music by Robert Boston. Also, Melnick, who enjoyed a performance career with Twyla Tharp (among many others), will perform One of Sixty-Five Thousand Gestures, a solo work created in collaboration with the late Trisha Brown.
Works & Process announces two of its recent commissions, Battleground by Ryan McNamara and NEW BODIES by Jodi Melnick, will be available for touring in 2018 and onwards. One of Sixty-Five Thousand Gestures -- a solo Melnick co-choreographed with Trisha Brown -- will be added to the NEW BODIES bill. To inaugurate this touring initiative, Works & Process will present encore performances of these two programs at the Guggenheim in January 2018. The first touring engagement will be for NEW BODIES/One of Sixty-Five Thousand Gestures from June 7-10, 2018 at Spoleto Festival USA in South Carolina. Additional touring plans will be announced in the near future.
Tickets are $45, $40 for Guggenheim Members and Friends of Works & Process
Box Office (212) 423-3575 or worksandprocess.org
Solomon R. Guggenheim Museum Rotunda 1071 Fifth Avenue, New York