VIDEO: First Look at KALEVALA, The Upcoming Musical Inspired By The Finnish National Epic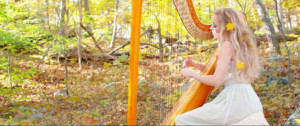 The creative team of Kalevala the Musical has launched a mesmerizing promotional video highlighting their cast, production, and concept inspired by the national epic poem of Finland. Kalevala The Musical is a story of ancient legends, told by the spirits of the haunted forest of Kalevala. Passed down from generation to generation, these tales were collected in a book of poems by Elias Lonnrot in 1835, widely cherished across the world. Kalevala has been a source of inspiration to many fantasy authors, including J.R.R. Tolkien.
The production got started in 2017 as an idea initiated by the composer Johanna Telander in celebration of the 100th Anniversary of the Republic of Finland. Since then the production has grown to an unimaginable size involving diverse cast and crew. Some notable names include Raissa Katona Bennett (Phantom of the Opera, Cats, Parade), Conor Ryan (Desperate Measures, Jesus Christ Superstar), Estonian-born actress-singer Kristi Roosmaa, and a Finnish actress-singer Reeta Vestman.
In 2018 the production team presented various concerts across New York City to raise awareness and build a community of support around the project. On December 16, 2018, the team presented a concert version of the production to the Finnish audience. This was the first time when people in Finland had an opportunity to enjoy a concert version, at the Musiikkiteatteri Kapsäkki, performed by a star-cast Reeta Vestman, Nina Tapio, Jussu Pöyhönen, Mikael Saari, Mikael Haavisto, Petrus Kähkönen, Heljä Heikkinen, Tuukka Raitala, and Anssi Valikainen. In 2019, the production has already confirmed an array of events taking place in New York City, across the West Coast, and an additional concert in Finland, due to popular demand.
The first official promotional video highlights Kalevala's unique story-line, music, and gives the viewers a little glimpse into what to expect once the production reaches theaters in New York City. The video is produced by Tyler Milliron from Milliron Studios and features current creative team members - Johanna Telander (Composer), John Koski (Co-Producer), Kristi Roosmaa (Co-Producer), Valev Laube (Creative Marketing Director), and Dep Kirkland (Creative Consultant).
Watch the full promotional video on Youtube, and get in touch to find out more about the production.
---
Shop BroadwayWorld

Shop this season's new musicals! Get dressed up for a night at the theatre, or just a night at home, with merch from some of Broadway's biggest hits including SOME LIKE IT HOT, KIMBERLY AKIMBO, and more!
---
Related Stories