Update: Broadway League Threatens Lawsuits Against Campaigning Casting Directors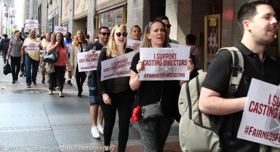 As BroadwayWorld reported earlier this month, Broadway might be celebrating a successful season, but casting directors still are not pleased with their standing in the theatre community. After weeks of campaigning for healthcare and other benefits, The Teamsters Local 817 has reportedly received threatening letters from the Broadway League. The union just released the following statement:
As support grows for Broadway casting directors' call for healthcare, retirement, and a union contract, Broadway producers are threatening casting directors and their supporters with legal action. In letters to the union representing casting directors, Teamsters Local 817, and other unions on Broadway that support them, the Broadway League calls casting directors a "cartel" and threatens lawsuits against individual casting directors and the unions if they continue their campaign.

Writing to the lawyers of unions representing actors, stagehands, and other Broadway unions, the League said "... to the extent they participate in activities supportive of Local 817 - your clients stand in the shoes of that union, which means that any interruption of work ... would subject your clients to significant monetary liability."

"What sustained me through a theater career of long evenings and weekends in the office and working for months without pay, was that I thought I was working for progressive people who supported social justice and human rights," said Tara Rubin, casting director for Jersey Boys, Dear Evan Hansen, and other shows. "Now I find that because I have spoken up for my rights as an American worker - and the future of my profession - I am in receipt of the equivalent of a Donald Trump tweet: a threatening and bullying letter. It didn't work. Casting directors won't give up this fight until we have the benefits that all other Broadway workers receive."

"The 3,000 members of Local One stand firmly with all workers on Broadway, including its casting directors in their fight for union representation, health coverage, and the right to a dignified retirement," said James J. Claffey Jr., President, Local One I.A.T.S.E. "We believe the Broadway League has an obligation to engage and bargain with Local 817, and our union will not be intimidated or afraid of threats while offering our full support. The membership of Local One are trade unionists, and we will continue to support Broadway's casting directors for as long as it takes for them to find justice."

Broadway casting directors joined Teamsters Local 817 in 2016, but the Broadway League has refused to negotiate a union contract with them. As the only Broadway workers without a union contract, casting directors are left to find expensive health insurance on their own, or go without it. Their employers - the producers - also make no contributions toward their retirement.

While producers threaten lawsuits, Lin-Manuel Miranda, Bette Midler, and other top stars are joining the casting directors' cause. Major actors are posting their support on Facebook, Instagram, and Twitter with the hashtag #FairnessForCasting.

Bette Midler, fresh off her Tony win for Hello Dolly!, wrote, "Go unions! I support Casting Directors. #FairnessForCasting." Bryan Cranston said, "I'm surprised that this incredibly important body of professionals to storytelling isn't already represented."

"I support Broadway Casting Directors. Everyone on Broadway deserves health insurance and pension," said Alec Baldwin. Whoopi Goldberg, Debra Winger and Arliss Howard, and Paul Giamatti made their own signs for pictures.

Award winning television and film actors also joined the cause, including Matthew Perry, David Schwimmer, Jennifer Morrison, Uzo Aduba, Carrie Coon, Allison Janney, Krysten Ritter, and TR Knight. Uzo Abuda said, "As an artist, I believe it is our social responsibility to stand united with those involved in all areas of the theatrical creative process. And so, I stand with Fairness for Casting and their pursuits; and, I hope for a day where their craft and contributions, like my own, are given the equal support of our entire community."

Nineteen Tony winners, past and present, have supported the casting directors. Ben Platt, Rachel Bay Jones, Billy Porter, Tracy Letts, Nathan Lane, Christine Ebersole, Jessie Mueller, Patti LuPone, Sara Ramirez, Debra Monk, Cynthia Nixon, Gavin Creel, Brian MacDevitt, Michael Mayer, and John Benjamin Hickey, joined Midler, Miranda, Goldberg, and Cranston.

"The Broadway community has never been more important to me than it is today," said Cindy Tolan, a Broadway casting director for shows including The Curious Incident of the Dog in the Night-Time and Rodgers + Hammerstein's Cinderella. "We asked for our colleagues' support, and they have come through stronger than we ever imagined. We will keep pushing until we get the union contract and the fair treatment we deserve."

Cast members from 20 current Broadway shows have also posted #FairnessForCasting photos on social media. Among them are Book of Mormon, Hamilton, Indecent, Dear Evan Hansen, Beautiful, Hello Dolly!, Sweat, Kinky Boots, Cats, Sunday in the Park with George, Waitress, Six Degrees of Separation, Miss Saigon, The Little Foxes, Anastasia, Falsettos, Bandstand, A Bronx Tale, Phantom of the Opera, and Come from Away. All of the photos can be seen by searching #FairnessForCasting on Instagram, Twitter, and Facebook.

"Just like Donald Trump, Broadway producers need to learn that you can't threaten to sue everyone who disagrees with you," said Tom O'Donnell, president of Teamsters Local 817. "We are talking about healthcare and retirement for 40 people in an industry that grossed $1.5 billion last year. It's time for Broadway producers to come to the table and treat the casting directors who work for them with respect."

Unlike Broadway, the film and television industries have negotiated union contracts with casting directors for more than a decade. Many of the entertainment companies - like Disney, Warner Brothers, and Universal - produce both films and Broadway shows, leaving many to wonder why union casting directors are acceptable to the companies in the first instance, but objectionable in the later.

Casting directors are the creative vision behind the dynamic casts that make Broadway shows a success. They are involved in a production from the beginning, assembling actors for readings or workshops, to the end, recasting roles and scouting new talent. Casting directors can work for months or years on a show before they get a formal contract from the producer.
Click here for the full letter, sent to the unions and provided to BroadwayWorld.
The Broadway League has released a statement in response:
The Broadway League has great respect and deep appreciation for the work of casting directors and their valuable contributions to our Broadway productions. Casting directors that are owners or employees of casting companies, however, are not employees of our shows. Like other outside agencies, including general managers, advertising agencies, accountants and lawyers, who are also intimately involved with a show and whose collaborations we also value, casting companies are engaged as independent contractors. They are separate businesses with their own employees and typically work on more than one show at a time within and outside our industry.

We have had a respectful dialogue in the past year with Teamsters Local 817 but do not believe it would be appropriate for the Broadway League or its producing members to recognize a union as the bargaining representative of professionals who are not employees of our productions. To the extent that Local 817 or the casting companies themselves disagree, we have encouraged them to seek a determination from the National Labor Relations Board, which is the appropriate forum to resolve disputes of this nature. We have even made clear to the union that we are prepared to expedite an NLRB process.