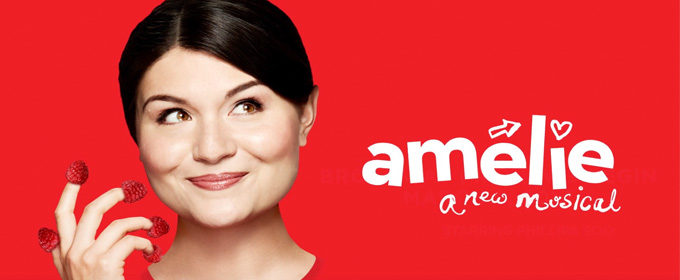 Click Here for More Articles on AMELIE
Times Are Hard for Dreamers... AMELIE Announces Broadway Closing
Just announced, the new Broadway production of AMÉLIE, A NEW MUSICAL will play its final performance on Sunday, May 21, 2017 after playing 27 preview and 56 regular performances at the Walter Kerr Theatre (219 West 48th Street).
Directed by Tony Award winner Pam MacKinnon (Who's Afraid of Virginia Woolf?), with a book by Pulitzer Prize and Tony Award nominee Craig Lucas (The Light in the Piazza), music by Daniel Messé and lyrics by Nathan Tysen & Messé, AMÉLIE, A NEW MUSICAL began performances on March 9, 2017 and officially opened on April 3, 2017.
"It has been an honor and privilege to work with the brilliant, talented team of writers, actors and creatives who have brought AMÉLIE to life for the past two years, from Berkeley Rep, to Center Theatre Group, to Broadway. We'd like to express our gratitude to all of them, as well as the audiences who have shared the experience with them and with us," said the show's producers.
The Original Broadway Cast Recording for AMÉLIE, A NEW MUSICAL will be released by a new imprint of the Warner Music Group, and will be available digitally on Friday, May 19, 2017 and in-stores on Friday, June 9, 2017. The original cast album is now available for pre-order at w.lnk.to/amelie.
The cast of Amélie, A New Musical features Phillipa Soo, Adam Chanler-Berat, Emily Afton, David Andino, Audrey Bennett, Randy Blair, Heath Calvert, Alison Cimmet, Savvy Crawford, Trey Ellett, Manoel Felciano, Harriett D. Foy, Alyse Alan Louis, Maria-Christina Oliveras, Destinee Rea, Jacob Keith Watson, Paul Whitty and Tony Sheldon.
With a book by Tony Award nominee Craig Lucas, music by Daniel Messé and lyrics by Nathan Tysen & Messé, AMÉLIE, A NEW MUSICAL is directed by Tony Award winner Pam MacKinnon, musical staging and choreography by Sam Pinkleton, music direction by Kimberly Grigsby, scenic and costume design by Tony Award winnerDavid Zinn, co-lighting design by Tony Award nominee Jane Cox and Mark Barton, sound design by Tony Award nominee Kai Harada, projection design by Peter Nigrini, puppet design by Amanda Villalobos, hair and wig design by Charles G. LaPointe, vocal arrangements by Kimberly Grigsby and Daniel Messé, and orchestrations by Tony Award winner Bruce Coughlin.
In 2015, AMÉLIE, A NEW MUSICAL had its critically acclaimed world premiere at Berkeley Repertory Theatre, which topped "Best Theater of 2015" lists in the Los Angeles Times and the San Francisco Chronicle. AMÉLIE is the new Broadway musical based on the beloved five-time Oscar-nominated film.
Amélie is an extraordinary young woman who lives quietly in the world, but loudly in her mind. She covertly improvises small, but surprising acts of kindness that bring joy and mayhem. But when a chance at love comes her way, Amélie realizes that to find happiness she'll have to risk everything and say what's in her heart. Come be inspired by this imaginative dreamer who finds her voice, discovers the power of connection and sees possibility around every corner. In these uncertain times, Amélie is someone to believe in.
AMÉLIE, A NEW MUSICAL is produced on Broadway by Aaron Harnick, David Broser, Triptyk Studios, Spencer B. Ross and Harbor Entertainment.