Amelie - Broadway
Tony nominee Phillipa Soo returns to Broadway in AMELIE, a new musical based on the beloved five-time Oscar-nominated film, and "an enchanting act of theatrical reinvention" (The Los Angeles Times).
Amelie is an extraordinary young woman who lives quietly in the world, but loudly in her mind. She covertly improvises small, but surprising acts of kindness that bring joy to those around her. But when a chance at love comes her way, Amelie realizes that to find happiness she'll have to risk everything and say what's in her heart. Come be inspired by this imaginative dreamer who finds her voice, discovers the power of connection and sees possibility around every corner. In these uncertain times, Amelie is someone to believe in.
Directed by Tony winner Pam MacKinnon (Who's Afraid of Virginia Woolf?), with a book by Pulitzer Prize and Tony nominee Craig Lucas (The Light in the Piazza) and an original score by Daniel Messe and Nathan Tysen, AMELIE "proves that the world is better when we're all in it together" (Paste Magazine).
Video preview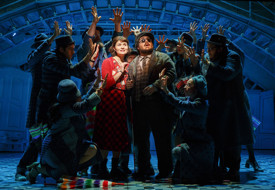 Photo preview
Featured Reviews For Amelie
Theater Review: Amélie and the Limits of Whimsy - Vulture
...Which brings us to Soo. No surprise to those who know her from Hamilton or the pre-Broadway versions of Natasha, Pierre and the Great Comet of 1912, she's effortlessly lovely and a superior singer. But traits that have helped her bring Eliza and Natasha to life - simplicity, transparency - can't do much for Amélie, who remains, like the girl in her neighbor's forever-unfinished Renoir, an outline of a figure at the heart of the story. All of Soo's skill, and all the craft of the authors, have produced this final paradox: The more Amélie is revealed, the less we see. Like its title character, Amélie is a show that has very nearly willed itself into obscurity.
Amélie, A New Musical review: this Broadway translation of the French hit film lacks the original's je ne sais quoi - The Telegraph
"Times are hard for dreamers," sings Amélie Poulain, as she leaves behind her solitary childhood for Paris in the quirky, occasionally charming new Broadway tuner based on the 2001 French comedy. Times aren't so easy for those who dare to musicalize great movies, either, especially when they show excessive fidelity to the source. Despite plenty of talent onstage and off, Amélie, A New Musical is a series of playful moments that don't add up to a memorable musical.