Amelie - 2017 - Broadway
Tony nominee Phillipa Soo returns to Broadway in AMELIE, a new musical based on the beloved five-time Oscar-nominated film, and "an enchanting act of theatrical reinvention" (The Los Angeles Times).
Amelie is an extraordinary young woman who lives quietly in the world, but loudly in her mind. She covertly improvises small, but surprising acts of kindness that bring joy to those around her. But when a chance at love comes her way, Amelie realizes that to find happiness she'll have to risk everything and say what's in her heart. Come be inspired by this imaginative dreamer who finds her voice, discovers the power of connection and sees possibility around every corner. In these uncertain times, Amelie is someone to believe in.
Directed by Tony winner Pam MacKinnon (Who's Afraid of Virginia Woolf?), with a book by Pulitzer Prize and Tony nominee Craig Lucas (The Light in the Piazza) and an original score by Daniel Messe and Nathan Tysen, AMELIE "proves that the world is better when we're all in it together" (Paste Magazine).
Video preview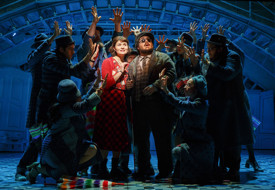 Photo preview
Featured Reviews For Amelie
C'est triste, Broadway's 'Amelie' can't recapture the movie's charm - Chicago Tribune
That truth surely explains why it's so painful to watch the very determined Soo, who is both an exceptionally capable actor and completely miscast here, trying to replicate what surely was a one-time discovery, inextricably linked to a very different, much more vulnerable actress. If you watch the film "Amelie," you'll see it was filled with risk-taking and suffused with a veritable explosion of ideas - aesthetic, formative, emotional, philosophical. There were many reasons why it should not have worked, but work it did. In that moment. In that form.
'Amelie' review: Phillipa Soo shines in weirdly original show - Newsday
The Broadway season has many openings left before the late-April cutoff, but it seems safe to say that none is likely to be weirder than "Amelie." Given the bushels of imagination in director Pam MacKinnon's staging and the radiant presence of Phillipa Soo in the title role, I wish that were more of a compliment. For much of the musical based on the enduring 2001 French film, the fantasy appears to be aimed at the not-exactly-underserved audience of bright 11-year-old girls. But that is before the jolly cautionary rock song about STDs and before we find out that Amelie's love interest is a salesman in a porn store.