The Pond Theatre Company Presents World Premiere Of Jaki McCarrick's THE NATURALISTS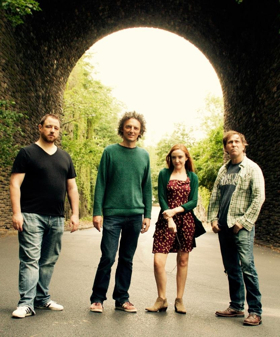 The Pond Theatre Company, an American home for contemporary British and Irish playwrights, presents the world premiere of The Naturalists by Irish writer Jaki McCarrick. Directed by The Pond co-founders Colleen Clinton and Lily Dorment, The Naturalists marks the professional New York debut of McCarrick, best known for her play Belfast Girls, which was developed at the National Theatre Studio in London and was shortlisted for the 2012 Susan Smith Blackburn Prize. McCarrick's play, Leopoldville, won the 2010 Papatango Prize for New Writing.
Set in a rural hamlet in County Monaghan, Ireland, The Naturalists follows the story of brothers Francis and Billy Sloane, whose isolated existence is shaken by the arrival of a mysterious young woman. It is a story of secrets, atonement, and how we can be healed by the land, by each other and, maybe, by the perfect stranger.
The Naturalists marks the third presentation by The Pond Theatre Company, whose 2016 sold-out debut, a revival of Mike Leigh's Abigail's Party, a co-production with The Barrow Group, was declared a New York Times critic's pick. The women-led company is dedicated to bringing some of the most exciting new theatrical voices from the U.K. and Ireland to the U.S., many for the first time.
"Introducing the work of playwrights like Jaki McCarrick to American audiences is one of the guiding principles of The Pond," said founding co-artistic directors Colleen Clinton, Lily Dorment, and Sarah Street. "We are privileged to not only present the world premiere of her beautiful unhurried play, The Naturalists, but to also bring her distinct voice to New York for the first time in this professional debut."
"At the heart of The Naturalists is how individuals, both familiar and new, can find solace both in the world and with each other," said playwright Jaki McCarrick. "It's been a joy getting to know the women behind The Pond and I feel so fortunate to be making my New York debut with them."
The cast for The Naturalists includes John Keating (TFANA, Irish Rep) as Francis Xavier Sloane, Tim Ruddy (Irish Rep's The Seafarer & The Weir) as Billy Sloane, Sarah Street (The Pond's Abigail's Party & Muswell Hill) as Josie Larmer, and Michael Mellamphy (Irish Rep's The Seafarer) as John-Joe Doherty.
The creative team for The Naturalists includes Chika Shimizu (scenic design),
Grier Coleman
(costume design),
Caitlin Smith
Rapoport (lighting design), Christopher Ross-Ewart (sound design),
Carrie Mossman
(prop design), Garrett Markgraf (production stage manager), Josiah Parsons (production manager) and Madeleine Goldsmith (producer).
Performances of The Naturalists will take place September 7-23 at Walkerspace, located at 46 Walker Street in Manhattan. Critics are welcome as of September 9 for an opening on Wednesday, September 12 at 7:30pm. Tickets, priced at $45 general admission, can be purchased by visiting thepondtheatre.org or by calling 212-279-4200.