Click Here for More Articles on Podcasts
The Maxamoo Podcast Returns to Talk EVERYTHING, BEARDO, GIRL X, Neo-Futurists, Repertorio Español, BLURRED LINES, and More
We're baaaaack and so excited to be here! Liz, Jose and Lindsay discuss six new shows from beyond Broadway in New York City.
After a brief hiatus, we discuss EVERYBODY by Branden Jacobs-Jenkins, BEARDO by Dave Malloy, The Neo-Futurists, Repertorio Español, GIRL X, and BLURRED LINES.
LISTEN TO THE EPISODE HERE:
---
What we saw:
The Great American Drama, created by Connor Sampson, The New York Neo-Futurists (00:59)
En El Nombre De Salomé, written by Marco Antonio Rodríguez, Repertorio Español (12:45)
Girl X, written by Suguru Yamamoto, Japan Society (20:43)
Beardo, book and lyrics by Jason Craig, music by Dave Malloy, Pipeline Theatre (25:07)
Everybody, written by Branden Jacobs-Jenkins, Signature Theatre (32:33)
Blurred Lines, created by Girl Be Heard, HERE Art Center (45:26)
What we're looking forward to seeing (51:55):
Much Ado About Nothing, Shakespeare Exchange
Omega Kids, by Noah Mease at Dixon Place
Sundown, Yellow Moon, a nightime play with songs by Rachel Bonds and music and lyrics by The Bengsons at McGinn/Cazale Theater
The Moors, written by Jen Silverman from The Playwrights Realm
Pool Party 2.0, conceived by Erin Mee from This is Not A Theatre Company
Performeteria, TDF's first-ever immersive festival, Baruch Performing Arts Center
All the Fine Boys, written by Erica Schmidt from The New Group
The Light Years, written by Hannah Bos and Paul Thureen from The Debate Society at Playwrights Horizons
International Human Rights Art Festival at Dixon Place
Nibbler, written by Ken Urban from The Amoralists at Rattlestick Playwrights Theatre
Villa, written by Guillermo Calderón from The Play Company
---
We have merch! Buy it here, all proceeds go to improving the sound quality of our podcast.
Subscribe to Maxamoo's Theater and Performance Podcast for free on iTunes, Google Play, or Stitcher.
Comments? Feedback? Find us on Facebook and Twitter.
---
About Maxamoo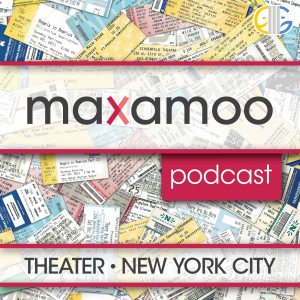 On Maxamoo's New York City Theater Podcast we cut through that chaos and just tell you: what's good, what's bad, and what we recommend.
We base our recommendations on the quality and characteristics of the production, not theater size. So the terms Broadway, Off Broadway, and Off Off Broadway (which are all technical terms describing the location and number of seats in a theater) are not important to us.
We strive to include diverse, interesting, and innovative productions, shows you're probably missing if you rely on mainstream publications like the New York Times, The New Yorker, and Time Out New York, which cover only a tiny fraction of the arts, culture, and theater world.
The best way to stay up-to-date about New York City theater is to subscribe to our podcast on iTunes or Stitcher. Maxamoo covers New York City theater through our podcast programing, including roundtable discussions on Maxamoo's New York City Theater Podcast and artist interviews on the Playwrights & Performers Podcast.