The Left Wing, In Association With John Turturro, Presents IMPERFECT LOVE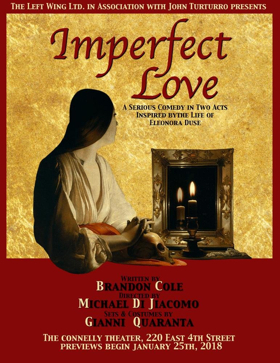 The Left Wing, in association with John Turturro, presents the world premiere production of Brandon Cole's Imperfect Love, a serious comedy in two acts. Directed by Michael Di Jiacomo, Imperfect Love is inspired by the tumultuous life of the great Italian actress Eleonora Duse (1858-1924) and her nine-year love affair with the poet and playwright Gabriele D'Annunzio (1863-1938). The production, which runs January 25-February 18 at The Connelly Theater, features costume and set design by the Academy Award-winning Italian designer Gianni Quaranta (Merchant-Ivory's A Room with a View, Zeffirelli's Romeo and Juliet) and is scheduled to open on February 4. Turturro's 1998 film, Illuminata, which was co-written by Cole and Turturro, was based on Cole's Imperfect Love.
A story of love and betrayal set just over 100 years ago, Imperfect Love centers on the volatile relationship between leading actress Eleonora Della Rosa and her playwright lover Gabriele Torrisi. They, along with a classically trained actor (Domenica) and two Comedia dell'Arte clowns (Beppo and Marco), are artists at the crossroads of a theatrical epoch. As they work diligently to salvage their current production, the troupe grapples with changing times and evolving tastes as the psychological realism of Ibsen and Strindberg grow in popularity. In the end, matters of theater and matters of the heart come together to a climax both affirming and bitter-sweet. The play's the thing. At least, until the curtain falls.
The cast forImperfect Love includes Cristina Spina (Martha Clarke's Kaos), Rodrigo Lopresti, Aidan Redmond (The Cripple of Inishmaan), Ed Malone (Irish Repertory Theatre), and David O'Hara.
In addition to set and costume designer Gianni Quaranta, the creative team includes Jon DeGaetano (lights) and Lawrence Schober (production stage manager).
Imperfect Love was first presented in 2000 with a cast that included Peter Dinklage. Since that time, the play has been reconceived and significantly re-written for this world premiere production at The Connelly Theater.
Performances of Imperfect Love will take place runs January 25-February 18 (see schedule above) at The Connelly Theater, located at
220 E 4th Street
in Manhattan. Critics are welcome as of Wednesday, January 31 for an opening on Sunday, February 4 at 3pm. Tickets, priced at $49 general/$25 student and rush, can be purchased by visiting
imperfectlove.net
or by calling
800-838-3006
. Brandon Cole (playwright) is an established playwright and director. Born in Chicago and raised in New York, he co-wrote the Cannes Camera d'Or winner Mac with
John Turturro
. He has written a dozen theatrical productions which have been performed worldwide, including Nothing Works; as well as the feature films OK Garage, Divine Mercy and Pete Smalls is Dead.
Michael Di Jiacomo (director) is a director and writer living in New York City. He started his career working with MacArthur Genius Award-winning dance theater and opera director Martha Clarke. His first feature film, Animals, starred Tim Roth, John Turturro, and Rod Steiger. His second feature, Somewhere Tonight, starring John Turturro, premiered at Karlovy Vary and won awards in Europe and the US. In the fall of 2015 his play, The Man Who Isn't There, had a critically acclaimed four-month run in Holland and starred Johanna ter Steege.
Gianni Quaranta (sets & costumes) is an Academy Award-winning Italian production designer and art director who has worked with Bernardo Bertolucci (1900); Franco Zeffirelli (Romeo and Juliet), and Paul Schrader (The Comfort of Strangers). He was given an Academy Award for his work with Merchant-Ivory on A Room with a View. He has also won numerous awards for his set design in opera, both internationally and in his native Italy.
Cristina Spina
's (Eleonora
Della Rosa
) off-Broadway credits include Texts&beheadings / ElizabethR by
Karin Coonrod
(Bam Next Wave /
Folger Theatre
) The Threepenny Opera directed by
Martha Clarke
(
Atlantic Theater Company
) and Kaos by
Frank Pugliese
, directed by
Martha Clarke
(New York Theatre Workshop). Credits in Italy include War, Bizzarra, The Brothers Karamazov, An Inspector Calls, My Name is
Rachel Corrie
, The Trojan Women, Orestes, The Holiday Trilogy, Orgy, Il Candelaio, That Terrible Mess in Via Merulana, The Wedding, A Midsummer Night's Dream, The Tempest, and Measure for Measure. Film appearances include La Via Degli Angeli, Cuore Altrove, Hecuba, The Italian Race, AND Father. She received the Premio Stampa Teatro award for best actress in 2006. In 2016, she directed her first short film So Be It. The film went on to win first prize at the RIFF Rome Independent Film Festival and at the Smita Patil Film Festival in Pune, India.
Rodrigo Lopresti (Gabriele Torrisi) is an award-winning Actor, Director, Musician, & New York Filmmaker. Theatre: Stephen Hancock's 4am Redmond & Meda, Force Majeure (InViolet Rep), Untying Love, The Ninth Circle. Just wrapped shooting The Man In The Woods directed by Noah Buschel and stars in Miguel Ortega's Multi-Award Winning Film The Ningyo. Past Film: Women Who Kill, A Song Still Inside, 4am Redmond & Meda (Winner Best Short LAAFF), I'm Not Me, wrote/directed (Winner Zero Film Fest/Audience Choice Award & Grand Jury Prize), You're Gonna Feel Funny After written by Noah Buschel, Gus Van Sant's Last Days, The Imperialists Are Still Alive, Tom DiCillo's Delirious, The Missing Person. TV: Heart Brakers stars/directs, Castle Rock, The Sinner, Vinyl, Blindspot, Blue Bloods, Pan Am, The Black Donnellys.
Aidan Redmond (Domenica) is originally from Ireland. Favorite roles include Dr. McSharry in The Cripple of Inishmaan at the Cort Theatre on Broadway, Laius/Laurence/Langos in Sam Shepard's last play, A Particle of Dread (Oedipus Variations) with Signature Theatre Company, and an ongoing exploration of the works of Teresa Deevy with The Mint Theatre Company including Wife To James Whelan, Temporal Powers and The Suitcase Under The Bed. Also, Harold Pinter's Betrayal with Mile Square Theatre in Hoboken. Film and television work includes '79 Parts, Daylight, I Sell The Dead, and the popular Netflix show, Daredevil.
Ed Malone (Marco) is a playwright, director, actor, clown and buffoon who was born and raised in Cork City, Ireland. He graduated from L'École Internationale de Théâtre Jacques Lecoq and the celebrated clown school of Phillppe Gaulier in Paris, before moving to New York in 2007. He is also a Member of the Dramatists Guild. He has appeared in at the Irish Repertory Theater in New York, Theater for a New Audience, and has given several solo performances at Stage Left. His solo play The Three Irish Widows Versus The Rest of the World received three sold-out runs in New York City in 2010. For television, Malone recently co-starred in Lipstick Jungle on NBC.
David O'Hara (Beppo) played the role of Jerry Devine in the Irish Repertory Theatres critically acclaimed production of Juno and the Paycock. He trained at the Atlantic Theater Company in New York City with the tutelage of David Mamet and Giancarlo Esposito et al.
---
Shop BroadwayWorld

Shop this season's new musicals! Get dressed up for a night at the theatre, or just a night at home, with merch from some of Broadway's biggest hits including SOME LIKE IT HOT, KIMBERLY AKIMBO, and more!
---
Related Stories