The Dessoff Choirs Presents A Trio Of Holiday Concerts This December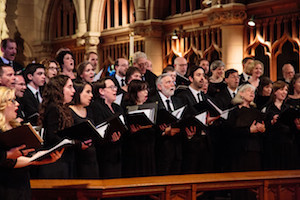 Hailed as "one of the great amateur choruses of our time (New York Today) for its "full-bodied sound and suppleness (The New York Times)," The Dessoff Choirs today announced its annual holiday concert series. Now in its 94th year, The Dessoff Choirs continues to wow audiences with its seasonal repertoire performed in some of New York City's most beautiful churches. This season's offerings include a sing-in of Handel's Messiah, contemporary arrangement of carols, and a rare performance of the nine-movement Christmas cantata The Ballad of the Brown King with music by African-American composer Margaret Bonds and text by writer Langston Hughes. (Program details are below.)
Led by music director Malcolm J. Merriweather, The Dessoff Choirs comprised of 60 amateur singers joins with audience members of all ages to welcome the holidays with the singing of carols. "Our holiday concert series is always a highlight of the season for both our singers and audience members," says Malcolm J. Merriweather, Dessoff's ninth Music Director. "In addition to ushering in the winter solstice with warm, festive carols, our Welcome Yule! concerts will include choral settings of poetry inspired by American poet and journalist Walt Whitman (1819-1892) as part of our season-long dedication to him. As always, a set of popular carols will complete the concerts including a candlelit rendition of Silent Night and 'Hallelujah Chorus' from Handel's Messiah for all to sing."
The program's capstone is a rare performance of Margaret Bonds's The Ballad of the Brown King (1954), a holiday cantata focusing on Balthazar of the Three Kings. The text was written by Langston Hughes, her long-time collaborator, and the entire work was written in honor of Martin Luther King, Jr. Written around the time of desegregation and the stirrings of the early civil rights movement in the mid-1950s, this was a way in which Hughes could reflect an African-American consciousness into the famous biblical story. "Hughes's text recognizes that one of the three kings is the brown king, the dark-skinned king," says Merriweather. "This symbolism served as a source of African-American cultural pride at a time when that demographic might have felt alienated."
The concert will be introduced with a pre-concert talk by Dr. Ashley Jackson who as a recipient of the Theodore Presser Award, pursued her doctoral research on composer Margaret Bonds and her collaboration with Langston Hughes. Dr. Jackson enjoys a multifaceted career as a highly sought-after harpist and collaborator in New York and beyond and appeared with Dessoff in last year's performance of David Lang's the little match girl passion.
Dessoff's sing-in of Handel's Messiah is the quintessential classical music highpoint of the Christmas season. Dessoff invites all singers and non-singers alike to join with the choir on the work's many choruses. According to NewYorkArts.net, "you'll tingle down to your toes. If you enjoy choral music or simply want to see an up-and-coming conductor/performer with a great future, check out the Dessoff Choirs. Hallelujah!"
About The Dessoff Choirs
The Dessoff Choirs, one of the leading choruses in New York City, is an independent chorus with an established reputation for pioneering performances of choral works from the Renaissance era through the 21st century. Since its founding in 1924, Dessoff's concerts, professional collaborations, community outreach, and educational initiatives are dedicated to stimulating public interest in and appreciation of choral music as an art form that enhances the culture and life of our times. With repertoire ranging over a wide variety of eras and styles, Dessoff's musical acumen and flexibility has been recognized with invitations from major orchestras for oratorios and orchestral works. Past performances include Britten's War Requiem and Mahler's Symphony No. 8 with Lorin Maazel in his final performances as Music Director with the New York Philharmonic.
Over the course of its 94-year history, Dessoff has presented numerous world premieres, including pieces by Virgil Thomson, George Perle, Paul Moravec, and Ricky Ian Gordon, as well as the first American performance in nearly 100 years of Montemezzi's opera La Nave with Teatro Grattacielo; and the American premieres of Philip Glass's Symphony No. 5, and Sir John Tavener's all-night vigil, The Veil of the Temple. Dessoff's recent discography includes REFLECTIONS, featuring music by Convery, Corigliano, Moravec, and Rorem; and GLORIES ON GLORIES, a collection of American song featuring composers ranging from Billings to Ives. The Dessoff Choirs is supported, in part by public funds from the New York City Department of Cultural Affairs in partnership with the City Council. Please visit dessoff.org for more information.
About Malcolm J. Merriweather
Conductor Malcolm J. Merriweather is Music Director of New York City's The Dessoff Choirs, known for performances of choral works from the pre-Baroque era through the 21st century. An Assistant Professor, he is Director of Choral Studies and Voice Department Coordinator at Brooklyn College of the City University of New York, Artist in Residence at Union Theological Seminary, and Artistic Director of Voices of Haiti, a 60-member children's choir in Port-au-Prince, Haiti, operated by the Andrea Bocelli Foundation. In the summer of 2017, Merriweather led Voices of Haiti in performances with Andrea Bocelli at Teatro del Silenzio in Lajatico, Italy, and for Pope Francis at the Vatican. Merriweather is also in demand as a baritone soloist, often performing throughout the eastern United States.
Conducting highlights of the 2017-18 season include: conducting the West Chorus in the world premiere of John Luther Adams's In the Name of the Earth, as part of Lincoln Center's 2018 Mostly Mozart Festival; David Lang's the little match girl passion, Vaughan Williams's Dona nobis pacem, Bach's Singet dem Herrn, BWV225, and Komm, Jesu, komm, BWV 229, with Dessoff; Handel's Messiah at Brooklyn College and the Harvard Club of New York; and Leonard Bernstein's Mass (Concert Selections) and Honegger's King David at Brooklyn College. Recent conducting highlights have included Mozart's Requiem, Vivaldi's Gloria, Bernstein's Chichester Psalms, and Orff's Carmina Burana.
Merriweather holds a Doctor of Musical Arts degree in Conducting from the studio of Kent Tritle at the Manhattan School of Music, where his doctoral dissertation, Now I Walk in Beauty, Gregg Smith: A Biography and Complete Works Catalog, constituted the first complete works list for the composer and conductor. He received Master of Music degrees in Choral Conducting and in Vocal Performance from the studio of Rita Shane at the Eastman School of Music, as well as a Bachelor of Music degree in Music Education from Syracuse University, summa cum laude.
Merriweather's professional affiliations include membership in Pi Kappa Lambda, the American Choral Directors Association, and Chorus America, and he sits on the Board of Directors of the New York Choral Consortium. Please visit malcolmjmerriweather.com for more information. Connect with him on Twitter and Instagram @maestroweather.