THE GHOSTLIGHT PROJECT Will Light the Way for the Future at Stages Across the U.S.; Details on This Month's Pledge!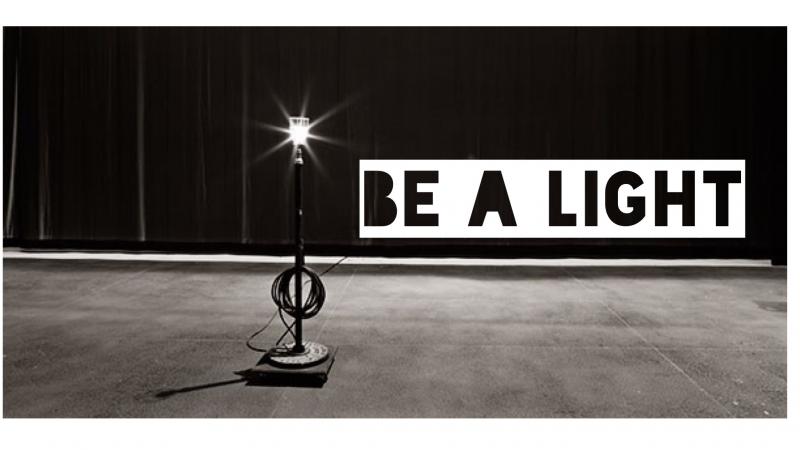 THE GHOSTLIGHT PROJECT (previously announced as "The Sanctuary Project") will bring the theatre community together from coast to coast on January 19, 2017 at 5:30 p.m. in each time zone to light a light and make a pledge. Inspired by the theatrical tradition of keeping a "ghost light" on in a darkened theater, we create light for the challenging times ahead.
More than 100 theaters from around the country will light up their spaces around the shared values of the Ghostlight Project:
- In New York City, downtown a group will gather on the steps of The Public Theater. In Times Square, hundreds of artists and workers from across the Broadway community, as well as others from across the city, will gather.
- HowlRound will be live streaming an event outside of the Cutler Majestic Theater in Boston.
- And every theater (all 9 of them) in Lansing, MI is participating.
If you are interested in participating in The Ghostlight Project, visit theghostlightproject.com. Contact wearetheghostlightproject@gmail.com to either add your theater to the growing list of partner theaters, or to find a theater near you to stand with the project on January 19th. Stream your event with Facebook Live, and share pictures and videos of the event via Twitter @GhostlightProj. All are welcome!
A STATEMENT ON THE NAME CHANGE:
"In the past weeks we've been engaged in dialogue regarding the intent and connotations of our name, 'The Sanctuary Project.' We've received many wise questions about whether we are co-opting the name, mission, and specificity of the Sanctuary Movement, an activist movement we greatly admire and in no way want to ignore or rob of its power. We took a long, hard look at the mission of our network, its platform of inclusivity, and whether our name was essential in light of ongoing concerns. Creating activated art spaces that include all voices is our goal. The name with which we encompass our actions is less important and in no way changes or stalls our mission.
"So, we've decided to change our name. Returning back to our original imagery of the theater's ghostlight, we easily found it: 'The Ghostlight Project.' Not only does it capture the metaphor of a light of safety in the darkness, but it centers our movement in our form's own traditions. Our website, email address, and social media platforms have been changed, but we will still be reachable at old contacts."
Participating theaters and organizations include 24th Street Theater, CA; The Actors' Gang, CA; Actors Theater of Louisville, Louisville KY; Arena Stage, Washington DC; Arizona Broadway Theater, Peoria AZ; Arkansas Repertory Theater, Little Rock AR; Artists Repertory Theater, Portland OR; ArtsEmerson, Boston MA; ATG Theater Group; Bag & Baggage Productions, Hillsboro OR; Berkeley Rep, Berkeley CA; Bonstelle Theatre, Detroit MI; Borderlands, Tucson AZ; Boston Center for the Arts, Boston MA; Bushwick Starr, Brooklyn NY; Campo Santo, San Francisco CA; Cherry Lane, NYC NY; Chicago Opera Theater, Chicago IL; Cloverdale Playhouse, Montgomery AL; Community College of Aurora Theatre Department, Aurora CO; Cotuit Center for the Arts, Cotuit MA; Connecticut College, New London, CT; Crowded Fire Theater Company, San Francisco CA; Culture Clash; Dallas Theater Center, Dallas TX; Danielle Georgiou Dance Group, Dallas TX; Detroit Public Theater, Detroit MI; Eugene O'Neill Theater Center, Waterford CT; The Fountain Theater, Los Angeles CA; The Garage Theatre, Long Beach CA; Greenbrier Valley Theater, Lewisburg WV; Hilberry Theater, Detroit MI; Housatonic Musical Theater Society, Fall Village CT; Houston Shakespeare Festival, Houston TX; HowlRound; IAMA Theater Company, CA; InterAct Theater Company, Philadelphia PA; Ixion Theatre, Lansing MI; Kim Maxwell Studio, Ojai CA; Kansas City Rep, Kansas City MO; Kent State University School of Theatre and Dance, Kent, OH; Kent Trumbull Theater, Warren OH; Lansing Community College Theatre Department, Lansing MI; Lost Nation Theater, Montpelier VT; Magnetic Theatre, Asheville NC; Ma-Yi Theater Company, NYC NY; MCC Theater, NYC NY; McCarter Theatre Center, Princeton NJ; Michigan State University Department of Theatre, E. Lansing MI; Mixed Blood Theatre, Minneapolis MN; Mu Performing Arts, St Paul MN; NAATCO, NYC NY; National Black Theatre, Inc., NYC NY; Nazareth College of Rochester Theatre and Dance Department, Rochester NY; New 42nd Street, NYC NY; New Georges, NYC NY; The Nomad Playhouse, Boulder CO; Oregon Cabaret Theatre, Ashland OR; Oregon Children's Theater, Portland OR; Oregon Shakespeare Festival, Ashland OR; Original Practice Shakespeare Festival, Portland OR; Over The Ledge Theatre Company, Lansing MI; Owosso Community Theatre, Owosso MI; Page 73 Productions, NYC NY; Pasadena Playhouse, Pasadena CA; Peppermint Creek Theatre Company, Lansing MI; Pike High School, Indianapolis IN; Pillsbury House Theatre, Minneapolis MN; Pittsburgh Public Theater, Pittsburgh PA; Playmakers Rep, Chapel Hill NC; Porthouse Theater, Kent OH; Project Y Theatre Company, NYC NY; PSU Stage at Portland State University, Portland OR; The Public Theater, NYC NY; Repertory Theater of Iowa, Des Moines, IA ; Riverwalk Theatre Company, Lansing MI; The Road Theater Company, Los Angeles CA; Round Lake High School, Round Lake IL; Samuel French Inc.; Seattle Repertory Theater, Seattle WA; Second City Chicago, Chicago IL; Signature Theater, NYC NY; Siti Company, NYC NY; Steppenwolf Theater Company, Chicago IL; Starlight Dinner Theatre, Lansing MI; Symphony Space, NYC NY; Syracuse Stage, Syracuse NY; The TEAM, Brooklyn NY; Tectonic Theater Project, NYC NY; The Fire This Time Festival, NYC NY; Theater 444, Geneva NY; Theatre for a New Audience, Brooklyn NY; Theaterworks (Hartford), Hartford CT; Think Pink Productions, Evansville IN; Tradewind Arts, Kansas City MO; Triangle Productions, Portland OR; Two River Theater, Red Bank NJ; UC Santa Cruz's Barn Theater, Santa Cruz CA; University of Central Oklahoma Theater Arts, Edmond OK; University of Houston School of Theatre & Dance, Houston TX; University of Michigan Department of Theatre & Drama, Ann Arbor MI; University of Washington School of Drama, Seattle WA; Victory Gardens, Chicago IL; The Vineyard Theatre, NYC NY; Whidbey Island Center for the Arts, Seattle WA; Williamston Theatre, Williamston MI; The Women's Project, NYC NY; Urban Theater Chicago, Chicago IL; Yale Rep, New Haven CT; Youth Speaks, San Francisco CA; Z Space, San Francisco CA, and artists from companies across Broadway.
The Steering Committee for The Ghostlight Project has expanded to include leading voices of the theater community: Claudia Alick (OSF Community Producer), Saheem Ali (The Booty Call), Daniel Beaty (Emergence-See!), Alexandra Billings (Transparent), Sammi Cannold (Ragtime on Ellis Island), P. Carl (HowlRound and Arts Emerson), Rachel Chavkin (Natasha, Pierre & The Great Comet of 1812), Lear deBessonet (creator of Public Works, Good Person of Szechwan), Sarah Flamm (Creative Producer, Ragtime on Ellis Island), Rachel Hauck (Hadestown), David Hwang (Chinglish), Christine Jones (Harry Potter and the Cursed Child), Mia Katigbak (National Asian American Theatre Company, Awake and Sing), Moisés Kaufman (The Laramie Project), Jenny Koons (Curator of Creative Collisions Residency at SPACE on Ryder Farm), Lisa Kron (Fun Home), Tina Landau (The SpongeBob Musical), Lorin Latarro (Waitress), Zhailon Levingston (Words on White), Gavin Lodge (Annie), RebeccA Martinez (Sojourn Theatre, Milagro Theatre), Jennifer McGrath (American Ballet Theatre, Alvin Ailey), Okieriete "Oak" Onaodowan (Hamilton), Lisa Peterson (An Iliad), Sam Pinkleton (Natasha, Pierre & The Great Comet of 1812), Clint Ramos (Eclipsed), Randy Reyes (Mu Performing Arts), Leigh Silverman (Violet), Kristyn Smith (Local One Stagehands), Jeanine Tesori (Fun Home), Liesl Tommy (Eclipsed), Stephanie Ybarra (Director of Special Artistic Projects at The Public Theater), and David Zinn (The Humans).