Stage Actress and Recording Artist Rebecca Spencer to Release STILL, STILL, STILL Album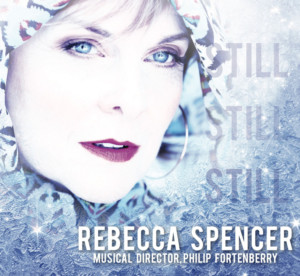 Backstage Bistro Award-winning recording artist and Broadway actress Rebecca Spencer (JEKYLL AND HYDE, PHANTOM OF THE OPERA) has announced a September 22, 2017 release date for her third recording on the LML Music label, entitled STILL, STILL, STILL.
The album, celebrating the spirit of Christmas, is currently available for pre-order on ITunes, Amazon.com, and numerous music retailers.
The album, for which Ms. Spencer served as Executive Producer as well, was recorded in Hollywood at both East West Studios and the historic Studio A at Capitol Studios, working with Sound Engineer and co-Producer Michael Stern (THE SHACK), with additional instrumental arrangements recorded at UNLV Recording Studios in Las Vegas. The recording was mastered at venerable Bernie Grundman Mastering by Patricia Sullivan (John Williams scores). As an LML Vocal Artist, the recording also marks her third collaboration with Musical Director, Broadway conductor and impressionistic concert pianist, Philip Fortenberry (HBO's Behind the Candelabra). Featured guest artists are cellist Moonlight Tran (Las Vegas Phil) and Eric Tewalt (Celine Dion) on the soprano saxophone.
The album description reads: A CHRISTMAS COLLECTOR'S FANTASIA! A panoramic landscape of timeless hymns and classic melodies from the 1800's to the 21st Century, scored by composers from around the world, celebrating the spirit of Christmas and of renewed enlightenment. Revealed as a chamber piece set in a cathedral soundscape, each arrangement is created as a tone poem; painting sentimental celestial winter scenes expressed through the voice and piano in harmony with the cello and soprano saxophone. At the heart of the listen is Mary's Soliloquy, a through-composed celestial journey marking Mary's quest to Bethlehem that reimagines the 1933 Christian folk song, I Wonder As I Wander with Amy Grant's contemporary Breath of Heaven. Featured is the premiere recording of Peace For Christmas Time This Year, newly penned by Keith Thompson.
Ms. Spencer is recognized both nationally and internationally in the recording, cabaret and concert worlds for her signature contemporary art song, lyric driven interpretations that seamlessly fuse classical and contemporary composers. Her self-produced debut recording, WIDE AWAKE AND DREAMING, was honored with the BackStage Bistro Award for Most Outstanding Recording. Her New York City solo appearances include the venerable Birdland Jazz Club and Town Hall. Her Las Vegas debut at the Flamingo Theatre was named as the top concert event of the month by Las Vegas Magazine. More recently since moving to Los Angeles, she has performed concerts at Vitello's, and last year at The Sorting Room, LA's newest nightclub in Beverly Hills at the Wallis Annenberg Center for the Performing Arts.
STILL, STILL, STILL is on the LML Music Label and is available on ITunes, Amazon, and all major music retailers. The recording is distributed by The Orchard. The Executive Producer for LML Music is Lee Lessack. For more information, visit www.rebeccaspencer.com and www.lmlmusic.com.
With a stage career based out of New York for three decades, Rebecca recently starred as Madame Giry in the 25th anniversary world tour of THE PHANTOM OF THE OPERA, and stood by last season for Broadway legend Betty Buckley in GREY GARDENS at the Ahmanson Theatre in LA. She debuted singing in German as Carlotta in the Hamburg, Germany company, and premiered the role of Madame Giry in PHANTOM: THE LAS VEGAS SPECTACULAR, under the direction of Hal Prince. She is an original Broadway cast member of JEKYLL AND HYDE (assumed Principal dueling roles of Lady B and Gwennie), and created the role of Lisa (Emma) Carew in the world premiere of the Wildhorn musical at the Alley Theatre in Houston. As a crossover Artist Rebecca has been a guest soloist with numerous American opera companies, and American symphony engagements that include Carnegie Hall's "Gershwin Centennial" recorded for PBS. She also toured as guest soloist with Marvin Hamlisch. Her many NYC solo concerts include The Laurie Beechman Theatre at The West Bank, NYC Cabaret Convention appearances at Town Hall and Rose Hall/Lincoln Center, Encore Panache!, La Belle Epoque, Green Street Cafe, B. Smith's and the historic Don't Tell Mama's. Her follow up CD, FAIR WARNING, marked her Las Vegas concert debut presented by the Performing Arts Society of Nevada, and was named the top concert event of the month by Las Vegas Magazine. She was featured on the cover of the Las Vegas Review Journal's NEON Entertainment Magazine.