See An EXCLUSIVE VIDEO CLIP From "Songs You Don't Know By Writers You Love"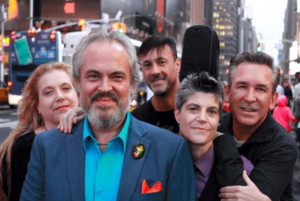 After a successful opening at Don't Tell Mama for Mischa Kischkum's Solo Cabaret Debut, a new montage has been offered only to Broadway World, with video highlights from the show.
It features footage not seen anywhere else, showing some of the different musical styles in the review, as well as the varying instrumentations that audiences have been enjoying at "Songs You Don't Know By Writers You Love."
"The audience response has been so wonderful" said the show's creator Mischa Kischkum. "Audiences have been talking back - in a good way - and feeling that they're a part of the show, which, when you're recording a live album with two mics on the audience, they definitely are!"
To explain how rare these lesser-known songs are, some of them had to be transcribed from recordings while others were found on microfiche at the Lincoln Center Library of the Performing Arts. One hidden gem has the audience discovering a jazzy bossa nova with funny lyrics by Johnny Mercer, in a one-of-a-kind arrangement by Kischkum.
Packed houses have been laughing and crying, standing and cheering for two performances so far, and are expected to do the same at the final performance Thursday December 20th at 7:00 p.m. at Don't Tell Mama NYC.
Make plans to be part of the original cast album, and join the closing show of "Mischa Kischkum is OFF THE CHARTS (Songs You Don't Know By Writers You Love)" Thursday December 20th 7:00 p.m. at Don't Tell Mama 343 W 46th Street (between 8/ 9th Aves) with an $18 cover and a two drink minimum, CASH ONLY (MAC AEA SAG AFTRA AFT 802 IATSE $15), by calling 212.757.0788 after 4:00 p.m. or online at www.donttellmamanyc.com
Director: Jason Ellis | Conductor/ Keyboards: Steven Ray Watkins | Musical Director: Mischa Kischkum | Vocals: Mischa Kischkum, Steven Ray Watkins, Dan Busa, Sandra Lagerstrom | Baritone Guitar, Piano: Mischa Kischkum | Bass: Matt Scharfglass | Percussion: Don Kelly | Sound: JP Perreaux