SPRINGSTEEN ON BROADWAY to Hold Special Performance for SiriusXM Subscribers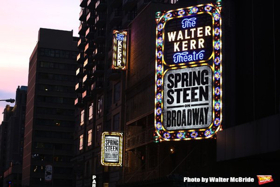 SiriusXM announced today that Bruce Springsteen will perform "Springsteen on Broadway," his critically-praised Broadway show, at Jujamcyn's Walter Kerr Theatre for a selected audience of SiriusXM subscribers including faithful E Street Radio channel listeners on Wednesday, March 14.
Fans of E Street Radio, the commercial-free channel dedicated to the music of Bruce Springsteen and the E Street Band launched more than a decade ago, have an opportunity to attend this intimate performance from Bruce Springsteen. "Springsteen on Broadway," which opened in October 2017 and is sold out for its entire scheduled run, features a solo acoustic performance written and performed by Bruce Springsteen under the lights of Broadway. It is a night with Bruce, his guitar, a piano, and his stories.
"SiriusXM's E Street Radio is the ultimate home on radio for Bruce fans and this will surely be a very special night for E Street fans and all our subscribers. We are ecstatic Bruce Springsteen's historic Broadway run will be opened up to E Street Radio's passionate listeners," said Scott Greenstein, President and Chief Content Officer of SiriusXM. "For more than a decade, the listeners of E Street Radio have had a special bond to Bruce and his music. This is a one-of-a-kind live performance and a moment that only E Street Radio can deliver."
Bruce Springsteen's E Street Radio will host a pre-show and post-show, where SiriusXM hosts Dave Marsh and Jim Rotolo will be discussing Bruce Springsteen's many contributions to music including his Broadway Show and talking to SiriusXM subscribers in attendance. The "Springsteen on Broadway" pre-show will air on Wednesday, March 14 at 6:00 pm ET and the post-show will begin at 10:00 pm ET, on channel 20 and on satellite radios and on the SiriusXM app.
Subscribers will have the opportunity to win tickets to this private SiriusXM performance through giveaways on E-Street Radio and through an invitation sent by e-mail. Plus subscribers since January 23, 2018 will be able to enter for the chance to win a trip to New York City including airfare, hotel stay and a pair of tickets to SiriusXM's private performance of Springsteen on Broadway show. See Official Rules for complete details at siriusxm.com/Springsteen.
Bruce Springsteen's E Street Radio is an example of SiriusXM channels created with iconic and leading artists, including Eminem's Shade 45, The Beatles Channel, Jimmy Buffett's Radio Margaritaville, Garth Brooks' The Garth Channel, Willie Nelson's Willie's Roadhouse, Kenny Chesney's No Shoes Radio, Tom Petty Radio, Pearl Jam Radio, B.B. King's Bluesville, Elvis Radio, Siriusly Sinatra, and Ozzy Osbourne's Ozzy's Boneyard.
Photo Credit: Walter McBride