SCHOOL OF ROCK & More Broadway Shows Set for CBS's THANKSGIVING DAY PARADE; Full Lineup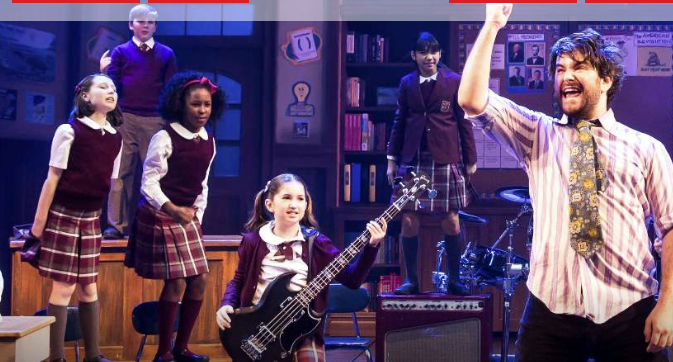 THE THANKSGIVING DAY PARADE ON CBS, featuring performances by 16-time GRAMMY Award-winning musician Sting and GRAMMY Award-winning singer-songwriter Miranda Lambert, will be anchored by "Entertainment Tonight" host KEVIN FRAZIER and "The Insider's" Keltie Knight live from New York City Thursday, Nov. 24 on the CBS Television Network. The parade will be broadcast 9:00 AM-12:00 PM, live ET/8:00-11:00 AM, live CT/7:00-10:00 AM, live MT/1:00 PM-4:00 PM, delayed PT.
A
CBS
Thanksgiving tradition in its 56th year, the special will feature portions of the 90th Annual
MACY'S THANKSGIVING DAY PARADE
live from New York City. Additional performances during the parade will include the casts of the Broadway hit musicals THE COLOR PURPLE, ON YOUR FEET and SCHOOL OF ROCK.
More information on the performers follows:
Composer, singer-songwriter, actor, author and activist Sting was born in Newcastle, England, before moving to London in 1977 to form The Police with
Stewart Copeland
and Andy Summers. The band released five studio albums, earned six
GRAMMY AWARDS
and two Brit Awards, and was inducted into The Rock and Roll Hall of Fame in 2003. As one of the world's most distinctive solo artists, Sting has received an additional 10 GRAMMY Awards, two Brit Awards, a Golden Globe Award, an Emmy Award, three Oscar nominations, a TONY nomination, the "Billboard Magazine" Century Award and MusiCares 2004 Person of the Year. Also a member of the Songwriters Hall of Fame, in December 2014 he received the
KENNEDY
Center Honor, one of the most prestigious cultural prizes in the United States. Later this month,
THE AMERICAN MUSIC AWARDS
will bestow him with their Award of Merit. His new pop/rock album, 57th & 9th, will be released on Nov. 11. Throughout his enduring career, Sting has sold close to 100 million albums from his combined work with The Police and as a solo artist. GRAMMY Award-winning singer-songwriter
Miranda Lambert
is the reigning seven-time Academy of Country Music (ACM) and six-time CMA Female Vocalist of the Year. She has released five studio albums, including Kerosene (2005),
CRAZY EX-GIRLFRIEND
(2007), Revolution (2009), Four the Record (2011) and Platinum (2014). The latter earned Lambert a GRAMMY Award for Best Country Album, in addition to her previous GRAMMY win for Best Female Country Vocal Performance in 2010 for "The House That Built Me." The Texas native is set to release her sixth album, The Weight of These Wings, on Nov. 18, under her own imprint, Vanner Records/
RCA Records
Nashville. The project is comprised of 24 songs, disc one, "The Nerve," and disc two, "The Heart." The first single released from The Weight of These Wings, "Vice," hit the Country Radio airwaves on July 18, with over 109 stations playing the new song. In addition to her award-winning music, Miranda dedicates much of her time to her MuttNation Foundation (www.muttnationfoundation.com) that she founded with her mother, Bev Lambert. MuttNation's mission is to fund rescue and shelter adoption programs and has raised over $2.6 million since its inception in 2009. Frazier and Knight will anchor from a site along the parade route in New York City. The beloved parade is famous for its gigantic balloons of cartoon character favorites, fantastic floats and lively marching bands from across the country. This will mark the sixth consecutive year Frazier has hosted. Knight is hosting for the second time. Frazier co-hosts "Entertainment Tonight" with Nancy O'Dell. The two-time Emmy Award-winning entertainment news program is in its 36th season. Prior to joining "Entertainment Tonight" as co-host, Frazier co-anchored its sister show, "The Insider." He has appeared as an entertainment expert on news and entertainment programs, including
CBS
THIS MORNING, "The
Oprah Winfrey
Show," "
Larry King
Live," "
Nancy G
race" and "The
Joy Behar
Show." Frazier began his broadcasting career as a local sports reporter. Prior to first joining "Entertainment Tonight" in 2004, he served as host of "SportsCenter," "NBA Shoot Around" and "NBA Fastbreak." Also, he served as a sideline reporter for the "NFL on Fox" telecasts. Knight is a former classical ballerina and Radio City Rockette. A two-time Emmy Award nominee, Knight is currently a correspondent and fill-in anchor on CBS's "The Insider." Also, she is the co-creator and co-host of the #1 new podcast for women, "Ladygang." She was a guest advisor on "Project Runway" and Us Weekly's Emmy Awards pre-show, "Live from the Red Carpet." Knight has appeared on THE TALK, "Huffington Post Live," "Weekend Express" and "Dr. Drew." Also, she has been a guest moderator for various panels for
Vanity Fair
and a judge for the 2016
MISS USA
pageant. Keltie is a budding fashionista with best-dressed mentions in Vogue, Elle, Harper's Bazaar, Glamour, Just Jared, Us Weekly, The Daily Mail, People Stylewatch and The New York Times. Emmy Award-winning producers Ricky Kirshner and
Glenn Weiss
("The Tony Awards") are executive producers for THE THANKSGIVING DAY PARADE ON CBS. Weiss will also direct.