Click Here for More Articles on FROZEN
Review Roundup: What Did The Critics Think of Broadway-Bound FROZEN in Denver? Updating LIVE!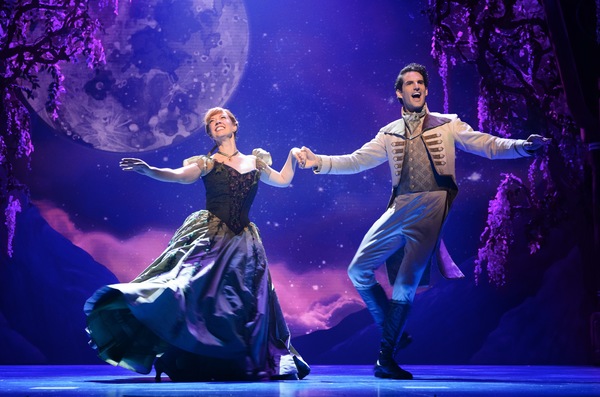 Disney's Frozen's pre-Broadway engagement had is opening night in Denver tonight, and is now playing through October 1, 2017 at the Buell Theatre.
Following its out-of-town tryout, Frozen will join Disney hits Aladdin and The Lion King on Broadway, beginning performances at the St. James Theatre on Thursday, February 22, 2018 and opening mid-March 2018. Tickets for Broadway performances are on sale now. Visit FrozenTheMusical.com for more information.
This Broadway-bound Frozen, a full-length stage work told in two acts, is the first and only incarnation of the tale that expands upon and deepens its indelible plot and themes through new songs and story material from the film's creators; in fact, this new stage production features more than twice as much music as the film. Like the Disney Theatrical Broadway musicals that have come before it, it is a full evening of theatre and is expected to run over two hours.
Based on the 2013 film written by a trio of Oscar® winners, Frozen features music and lyrics by the creators of the film scoreKristen Anderson-Lopez (Up Here, Winnie the Pooh, In Transit) and EGOT-winner Robert Lopez (Avenue Q, The Book of Mormon, Up Here) and a book by Jennifer Lee (Zootopia, Wreck-It Ralph), the film's screenwriter and director (with Chris Buck). Frozenwon 2014 Oscars for Best Song ("Let It Go") and Best Animated Feature.
Frozen stars Broadway veterans Caissie Levy as Elsa and Patti Murin as Anna. The two women are joined by principal cast members Jelani Alladin (Kristoff), Greg Hildreth (Olaf), John Riddle (Hans), Robert Creighton (Weselton), Kevin Del Aguila(Oaken), Timothy Hughes (Pabbie), Andrew Pirozzi (Sven), Audrey Bennett (Young Anna), Mattea Conforti(Young Anna),Brooklyn Nelson (Young Elsa), Ayla Schwartz (Young Elsa), Alyssa Fox (Elsa Standby), Aisha Jackson (Anna Standby) andAdam Jepsen (Sven Standby).
Let's see what the critics have to say!
---
Jesse Green, New York Times: This is no disaster. Mr. Grandage, who staged rivetingly dour productions of "Frost/Nixon" and "The Cripple of Inishmaan" on Broadway, has five months to revise and refine the show. Some of his work will be done for him by the St. James itself, which seats 1,600 instead of the Buell's 2,800, and will help focus the audience on the less generic, more psychological tale he apparently wants to tell. And already much is right: The supporting cast is charming, the singing spectacular, the simpler effects - including the crystal curtain for Elsa's palace and the part-puppet, part-human reindeer and snowman - successful.
Lisa Kennedy, Variety: The musical's reported development budget of $25 million to $30 million has been well-spent on grand gestures like the "Let It Go" metamorphosis, and on more nuanced details like the pillowy clouds that float past when the gloomy palace's doors are flung open to reveal beautiful skies. The scale of Arendelle's wooden palace is imposing, as is Elsa's mountain refuge.
Joanne Ostrow, Denver Post: More derivative and less daring than previous Disney screen-to-stage transfers, "Frozen" is fun but not transporting. It does best in minimalist moments, when relying on smart choreography rather than lavish devices. Creative lighting on an array of linked torsos effectively suggests bodies suddenly turned to ice, whereas a glittery curtain of crystals is more Vegas.
Chris Jones, Chicago Tribune: Although expansive, spectacular and intriguing, the set and costume designs by Christopher Oram are an uneasy aesthetic blend of Tivoli Scandinavian, "Game of Thrones" Nordic and cosmic art inspired by satellite; it is as if Oram wanted to run away with both Ned Stark and Stephen Hawking but there was a bungee cord, always snapping him back to Epcot. The setting for "Let it Go" is very much its own thing: it feels like a performance at the Video Music Awards, and a very effective one it is, too, what with digital ice and 3-D-bergs sprouting from Levy's mitts as she sings her face off. Few are disappointed. This song is a star of the show in its own right; it needs to reappear in Act 2, for it is so, so loved. And, to Levy's great credit, so well sung.
Deborah Wilker, The Hollywood Reporter: The girl-power message still runs deep in Disney's Broadway-bound version of its 2013 animated blockbuster Frozen. What's notably different are at least 10 new songs, the addition of full-fledged musical numbers, a more subdued color palette, and of course the characters are now played by humans who must tread the line between caricature and reality. The diverse, well-trained cast does all this and more. While not everything works perfectly, the production that opened Wednesday at Denver's Buell Theatre (en route to the St. James in New York in February) is a generally faithful adaptation that appeared to delight the sold-out audience, including several groups of very young school children who attentively "oohed" and squealed in all the right places.
Mark Shenton, The Stage: It's like a cross between Wicked and Harry Potter. Husband-and-wife songwriting team Kristen Anderson-Lopez and Robert Lopez have augmented their score for the original film - which featured just eight songs to 20 songs in all now. There are occasional moments that feel padded, especially an over-extended comedy song in a sauna that opens the second act, but the surging power ballads that are the score's signature are stunningly delivered by Caissie Levy as Elsa and Patti Murin as her sister Anna.