Review Roundup: Disney's FROZEN Opens on the West End!
The production is led by Samantha Barks as Elsa and Stephanie McKeon as Anna.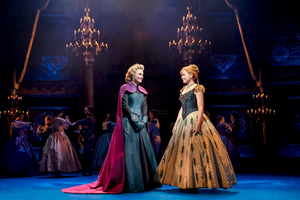 The West End production of Frozen has officially opened at the newly refurbished Theatre Royal Drury Lane on 8 September 2021. Read the reviews for the show's UK debut below!
Frozen features music and lyrics by Kristen Anderson-Lopez and Robert Lopez, and book by Jennifer Lee, Frozen is directed by Michael Grandage.
The full cast for the production is Samantha Barks (Elsa), Stephanie McKeon (Anna), Obioma Ugoala (Kristoff), Craig Gallivan (Olaf), Oliver Ormson (Hans), Richard Frame (Weselton), and alternating the role of Sven, Mikayla Jade and Ashley Birchall; with Jeremy Batt, Cameron Burt, Lauren Chia, Laura Emmitt, Emily-Mae (Bulda), Hannah Fairclough, Danielle Fiamanya, Chris Fung, Matt Gillett, Joe Griffiths-Brown, Emily Lane, Justin-Lee Jones, Jason Leigh Winter, Jacob Maynard, Leisha Mollyneaux, Gabriel Mokake (King Agnarr), Sarah O'Connor, Jemma Revell, Joshua St. Clair (Pabbie), Jacqui Sanchez (Queen Iduna), Jak Skelly (Oaken/Bishop), Jake Small, Kerry Spark, Isabel Snaas, Monica Swayne, and Anna Woodside.
Frozen, a full-length stage work told in two acts, expands upon and deepens the tale's indelible plot and themes through new songs and story material from the film's creators; in fact, this new stage production features more than twice as much music as the film.

Based on the 2013 film written by a trio of Oscar winners, Frozen features music and lyrics by the creators of the film score Kristen Anderson-Lopez (Up Here, Winnie the Pooh, In Transit) and EGOT-winner Robert Lopez (Avenue Q, The Book of Mormon, Up Here) and a book by Jennifer Lee (Zootopia, Wreck-It Ralph), the film's screenwriter and director (with Chris Buck). Frozen won 2014 Oscars for Best Song ("Let It Go") and Best Animated Feature.
---
Charlie Wilks, BroadwayWorld: "A lot of us in the room probably expected this show to be great, but I'm not sure we were prepared for how special it would be. The entire evening is filled with nothing but joy and smiles. The company have knocked it right out of the park and this musical is sure to have a long-lasting legacy in the West End."
Arifa Akbar, The Guardian: "It grows to become its own magical thing, with some charming inventions and a few new songs (the best of which is an audacious comic number, appearing out of nowhere to satirise the Nordic notion of hygge as naked characters conga out of a sauna). What is more surprising than the uniformly storming singing voices and the theatrical razzmatazz is the sense of a real, beating heart in the relationship between the two tortured sisters."
Sarah Crompton, WhatsOnStage: "In the centre of all this busy action, of course, are Stephanie McKeon and Samantha Barks. Barks' is a beautiful Elsa, the crystal clarity of her voice cutting through the soaring "Let It Go", but also bringing a tender wistfulness to songs such as "Dangerous to Dream". McKeon is terrific fun, her wide-eyed Anna coloured with exactly the right sense of adventure and determination. Together the sisters - who now have a song where they reflect their feelings for each other - power the show, bringing warmth to its frozen heart. Which is exactly as it should be. It isn't art, but it isn't a cartoon either."
Stefan Kyriazis, Daily Express: "Three years after Frozen exploded onto the Broadway stage, British fans are finally getting their chance to visit the magical kingdom of Arendelle. There has been a Theatre Royal on the same site since 1663 but it's doubtful the various resident theatre ghosts (four at the last count) have seen anything quite as spectacular as this latest musical."
Ava Wong Davies, The Independent: "Summer may have only just ended, but winter is undoubtedly here. Frozen, the global juggernaut and cultural phenomenon, has made its long-awaited West End debut in a show of such eye-wateringly high production values that it might make your teeth chatter. As a spectacle, it is a sight to behold: a show dedicated to pure escapism that has the velocity of a bedazzled freight train, leaving you dazed, breathless, and covered in confetti, if perhaps a little hollow."
Nick Curtis, Evening Standard: "Fans of the hit 2013 Disney film will doubtless love it, but this musical stage adaptation of Frozen left me cold. On the plus side it's full of dazzle and wit, with powerhouse central performances by sharp-edged Samantha Barks and winningly goofy Stephanie McKeon as sisters Elsa and Anna. Puppet snowman Olaf - operated and voiced by Craig Gallivan - is a joy, and the refurbished Drury Lane looks ravishing."
Chris Omaweng, LondonTheatre1: "It has the 'wow' factor in terms of stagecraft. A seemingly impossibly long ice bridge fills the stage in the second half. The key moments from the motion picture are recreated remarkably well, with Elsa (Samantha Barks) using her (albeit unwanted) ability to create ice and snow quite convincingly as the production goes into the interval with the musical's best-known number, 'Let It Go'."
Sam Marlowe, iNews: "Can this 2018 Broadway musical ever match it for charm or fairytale magic? Michael Grandage's production tries too hard to do just that, delivering everything you'd expect - and few surprises. So we get wisecracking dialogue in chirpy American accents, and action that carefully mirrors the screen version. It's the theatrical equivalent of vanilla ice cream: smooth, sweet and a bit bland."
Suzy Evans, LondonTheatre.Co.UK: "Grandage's storied background in Shakespeare and opera have helped create a spectacle on a new level a??a??- the effects are bigger, the jokes land harder, and the emotions are heightened. Along with choreographer Rob Ashford, Grandage has created a series of tableaus through dance and movement that keep the show pulsating and coursing."
Andrzej Lukowski, TimeOut London: "The simple act of casting actual humans changes it a lot: Barks may be togged up like a fairytale princess, but she doesn't have the cartoon Elsa's bug-eyed cutesiness, and she tackles Elsa's pain, rage and loneliness as if it's real. The whole thing has a much more adult sense of emotional trajectory. It's a more satisfying arc, and the largely melancholic or narrative-centric new songs - while perhaps disappointingly lacking in bangers à la 'Love Is an Open Door' or 'Do You Want to Build a Snowman?' - further deepen the sisters' relationship."
To read more reviews, click
here
!
---
Shop BroadwayWorld

Shop this season's new musicals! Get dressed up for a night at the theatre, or just a night at home, with merch from some of Broadway's biggest hits including SOME LIKE IT HOT, KIMBERLY AKIMBO, and more!
---
Related Stories