Review Roundup: Critics Weigh in on DIANA at La Jolla Playhouse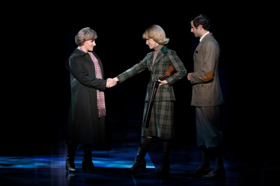 The new Broadway-bound musical, DIANA, celebrated its official opening this past weekend at the La Jolla Playhouse in San Diego!
The creative team for DIANA features Tony Award winner David Zinn (Broadway's SpongeBob SquarePants, Playhouse's A Dram of Drummhicit, Peer Gynt), Scenic Designer; Tony Award winner William Ivey Long (Broadway's Cinderella, Grey Gardens; Playhouse's Herringbone), Costume Designer; Tony Award winner Natasha Katz (Broadway's An American in Paris, Frozen), Lighting Designer; Tony Award nominee Gareth Owen (Playhouse/Broadway's Come From Away), Sound Designer; John Clancy, Orchestrations; Telsey + Company- Rachel Hoffman, CSA, Casting; Gabriel Greene, Dramaturg; and Martha Donaldson, Stage Manager.
"What a gift to have assembled such an extraordinary cast and creative team to launch this new musical," said Ashley. "I can't think of a better way to wrap up our season than with Joe and David's stunning work about a truly remarkable woman."
In 1981, an assistant kindergarten teacher married the Prince of Wales and, overnight, became the most famous woman in the world. But behind the fairytale, there was a troubled marriage and a young woman struggling to find her voice. Facing an entrenched monarchy and unprecedented media scrutiny, Princess Diana surprises everyone - including herself - as she grows into a global phenomenon and manages to change the world. Playhouse Artistic Director Christopher Ashley and the writers behind the Tony Award-winning musical Memphis create this highly-anticipated musical, featuring an epic and sweeping contemporary score.
Let's see what the critics had to say!
E.H. Reiter, BroadwayWorld: The show does attempt to tell the story of the other people impacted by this relationship but in trying to present all sides evenly, it ends up feeling unfocused. So much time speeds by and many things get touched upon but no real depths are revealed about Diana, Charles, or their marriage. The only thing the show does know and oft repeats is that Diana was a "pretty girl in a pretty dress." Her only power and value is derived from her being a woman in connection to a man- whether that is her husband and his belief everything she did was purely in defiance of his will, the sons she has and how they impacted her desire to stay married, or the confidence she acquires when she has an affair with a handsome soldier. Overall, this show could have benefited from getting some notes from the female perspective when working on the story.
Charles McNulty, LA Times: "Diana," built around superficial musical comedy triggers, is designed for Anglophiles who don't want to get on a plane. The performers manage that modern Broadway paradox of being supremely competent and completely unconvincing. Ashley marshals his cast with reliable finesse, though his direction shamelessly panders. Babies have been conceived in less time than it takes a shirtless Gareth Keegan playing Diana's paramour James Hewitt to strut his six-pack abdominal stuff. Kelly Devine's choreography is a panting commotion. When Diana's shocking ending comes, it has no more emotional weight than an old CNN news clip. We already know the story. Sad, sad, sad - but wasn't she glamorous! "Diana" turns a complicated life into light entertainment. In today's degraded theatrical marketplace, the show should give fish and chips a run for its money.
James Herbet, San Diego Tribune: There's plenty else to like about "Diana": Writer-lyricist Joe DiPietro gets comic mileage out of such inspired touches as dropping the romance novelist Barbara Cartland (a real-life relative of Diana's) into the story for some pulpy fun, and the matchless Broadway icon Judy Kaye manages the neat trick of playing both that flamboyant figure and the stuffy but not unsympathetic Queen Elizabeth ... Above all, de Waal pours her heart and soul into the role, even when the piece plays on Diana's surfaces. She earns the tiara she wears at curtain call. But "Diana," for all its full-throttle commitment to its elusive subject, could still use a crowning touch or two.
Christopher Smith, OC Register: While the first act songs convey Diana's dreams for a prince, the evils of the paparazzi stalking her, as well the thoughts of the other principals - stuffy Charles (a suitably inert Roe Hartrampf), coolly scheming rival Camilla (Erin Davie the tonally ideal combo of logic and self-interest), diffident Queen Elizabeth (veteran Tony winner Judy Kaye, always a treat) - the numbers have a B-side arrangement's lack of impact.
Deborah Wilker, The Hollywood Reporter: Despite its flaws - and there are many that need to be worked out before this show goes any further - there is an earnestness about Diana. In the able hands of La Jolla artistic director Christopher Ashley (a 2017 Tony Award winner for Come From Away), we are reminded of the subject's plight and her humanitarian work in a way that seems historically necessary.
Check back for more reviews as they come in!
---
Shop BroadwayWorld

Shop this season's new musicals! Get dressed up for a night at the theatre, or just a night at home, with merch from some of Broadway's biggest hits including SOME LIKE IT HOT, KIMBERLY AKIMBO, and more!
---
Related Stories