Photo Flash: White, Bessette & Iman in TRU's WILD AND WILLFUL WOMEN Reading
On Monday, January 13th, 2014 producers Kimberly Loren Eaton and Alan Swanke presented a reading of Wild and Willful Women to a full house at Baruch Performing Arts Center's Engelman Recital Hall, as the kickoff event the 13th Annual TRU Voices New Musicals Reading Series. This new musical is a tale of love, lust and witchcraft with book and lyrics by Bill Rogers and music by Daniel Doss. It was directed by Kimberly Loren Eaton, and music directed by Daniel Doss (national tours, The Addams Family and The Color Purple). Scroll down for photos!
This was the first time a New York audience had the opportunity to experience this story of an intolerant Puritan minister who suspects women in his small New England village are becoming too free and independent, and launches anauthoritarian campaign to make them behave. His strict religious reformation quickly runs into trouble. Three "wild and willful" women defy his authority by choosing for themselves who to love and how to live. The minister's son, Peter, is caught in the middle. His father is convinced that the girl he loves is a witch... Does he dare defy authority to follow his heart?
Those in attendance included noted members of the theatre industry, including producers Corey Brunish, Douglas Denoff, Neal Danoff, Jeremy Handelman, Patrick Blake, Tom Polum, Erica Rotstein, Bob Ost, Gerald vanHeerden, and Broadway performers, including Tony award-winner Joanna Gleason, Chris Sarandon, Bill Weeden, Julius C. Carter, Curtis Moore, and actress and former Miss America Susan Powell.
The stellar cast included Richard White (voice of "Gaston" in Disney's Beauty and the Beast movie, Jekyll & Hyde, Michael Feinstein's American Songbook Series at Carnegie Hall), Mimi Bessette (Bonnie & Clyde, On the Twentieth Century), Natalie Roy (The Last Five Years, The Following), Cole Burden (Les Miserables, A Christmas Carol, Applause) Amber Iman (Soul Doctor- 2013 Clive Barnes award nominee, RENT), Tony LePage (Rock of Ages, The Boy From Oz), Al Foote III (Jesus Christ Superstar, Hair, Godspell, Merry Wives of Windsor), Aaron David Gleason (The Sublet, 30 Rock, 54 Below with Joanna Gleason), Timatha Kasten (has sung with Styx & The Eagles), and Ann Talman (The Women, The House of Blue Leaves, Some Americans Abroad, The Little Foxes)
The purpose of the TRU Voices New Musicals Reading Series is to help develop new musicals, help producers develop the skills needed to produce new works, and foster the producer-writer relationship for future development beyond the series. The reading was followed by a reception, and a "Dollars and Sense" panel discussion with prominent New York producers, general managers and artistic directors, focusing on potential venues, marketing and budgeting of the work presented.
Photo Credit: Amanda Taraska Photography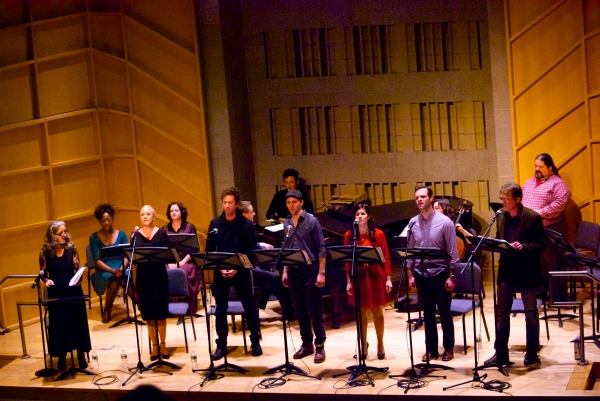 WILD AND WILLFUL WOMEN Cast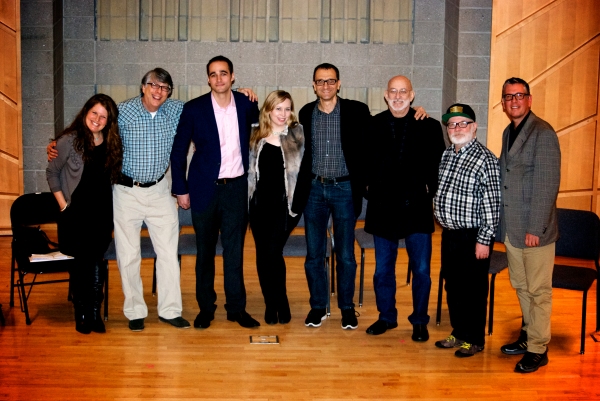 WILD AND WILLFUL WOMEN - TRU Reading Series Panel- left to right- Producers Erica Rotstein, Bob Ost, Alan Swanke, Kimberly Loren Eaton, Jeremy Handelman, Neil Danoff, Patrick Blake, and Tom Polum