Photo Flash: Sing for Hope's AIDS Quilt Songbook @ TWENTY on World AIDS Day
On World AIDS Day, December 1, 2012, Sing for Hope marked the twentieth anniversary of the classical music world's first organized response to the AIDS crisis with the celebratory concert "AIDS Quilt Songbook @ TWENTY." The evening featured impassioned performances by many of the country's leading classical vocalists, including
Amy Burton
,
Adrienne Danrich
,
Heather Johnson
, Suzanne Mentzer,
Sidney Outlaw
,
Randall Scarlata
,
Michael Slattery
,
Monica Yunus
,
Camille Zamora
, and two of the baritones of the 1992 premiere,
Kurt Ollmann
and
William Sharp
. Scroll below for photos from the concert!At the keyboard were renowned composers
John Musto
and
Fred Hersch
, contemporary music champion Marcus Ostermiller, and artistic director
Thomas Bagwell
. The event was directed by Lorca Peress, assisted by Heidi Lauren Duke, with a seamlessness achieved through adept pacing and poignant use of three projection screens. In addition to
John Musto
and
Fred Hersch
onstage, the evening's composers in attendance included
Ned Rorem
, David Del Tredici,
Robert Aldridge
,
Herschel Garfein
, Gilda Lyons, Scott Gendel, Stephen Dembski, Drew Hemenger, and Lawrence Axelrod. The concert opened with the late Chris DeBlasio's "The Disappearance of Light," delivered with beautiful, burnished tone by baritone
Randall Scarlata
. Soprano
Amy Burton
brought her trademark crystalline sound to
John Musto
's quietly devastating premiere, "Sarah's Song," with Mr. Musto providing rich sound at the keyboard. Scarlata and Burton joined forces for Conrad Cummings's "Soon," a duet with an elegant, quasi-Baroque ground bass underpinning searing lyrics by Vikram Seth. Powerhouse soprano
Adrienne Danrich
channeled a drag queen's farewell in the premiere of Drew Hemenger's potent "Her Final Show," and gently illuminated Gilda Lyons' mystical Pueblo Indian text in "Hold On."
Leonard Bernstein
protégé and original AIDS Quilt Songbook baritone
Kurt Ollmann
brought ravishing sound and intensity to
Ned Rorem
's "The Man with the Night Sweats" and Juhi Bansai's "I've Looked for You."
Ricky Ian Gordon
's "I Never Knew," was given a beautifully controlled, laser-focused performance by baritone
Sidney Outlaw
. In Kevin Oldham's "Across the Sea," and Wolfram Wagner's "On the Pulse of Night," the radiant mezzo
Susanne Mentzer
sang with profound beauty of tone and a commitment that brought to life both Oldham's hopefulness and Wagner's despair.
Heather Johnson
brought a sparkling wit and luscious mezzo sound to works by Robert Chesley and Eric Reda. The iconic pianist/composer
Fred Hersch
and clarion-voiced young tenor
Michael Slattery
invoked a "pharmaceutical rosary" in Hersch's "Ordinary." Slattery also joined baritone Outlaw for a powerful reading of Stephen Dembski's hypnotic, complex duet, "In the Fast Lane".
In David Del Tredici's sparkling "After the Big Parade," and Jack Perla's ruminative "Across a Table," baritone
William Sharp
- like Ollmann, a veteran of the 1992 premiere - sang with unerring beauty and compelling emotional focus. In
Herschel Garfein
's "No Giggly Time,"
Monica Yunus
displayed silvery tone and a glistening high E-flat in a narrative of a female sex worker explaining safe sex, in no uncertain terms, to her young colleagues.
Camille Zamora
brought richly spinning sound and endless legato line to Scott Gendel's transcendent setting of Wendell Barry's poem "At Last." And Yunus and Zamora joined forces for the premiere of "Away, But Not Far Away," written for them by composer
Robert Aldridge
and librettist
Herschel Garfein
- a tour de force scena for the two exquisite sopranos that made clear why this composer/librettist duo received the recent Grammy for their opera Elmer Gantry.
The evening's one solo pianist, Marcus Ostermiller, gave a compelling performance of Lawrence Axelrod's virtuosic soundscape inspired by the Quilt, entitled "Common Threads." Throughout the evening, acclaimed collaborative pianist
Thomas Bagwell
was a beautifully sensitive partner to the singers, playing with a warmly singing tone. That this important, moving evening of song ended with standing ovations for all involved was a surprise to no one.
Photo Credit: Shawn Hoke


Thomas Bagwell, Adrienne Danrich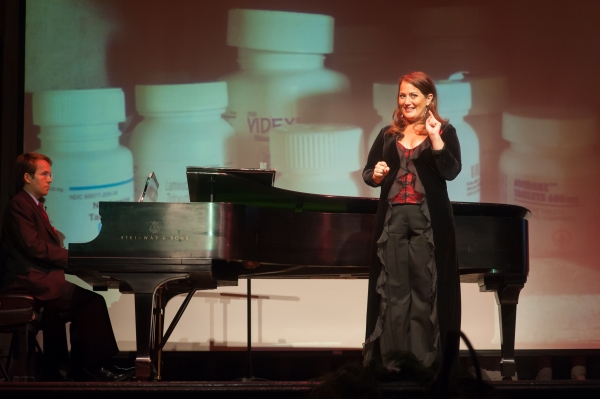 Thomas Bagwell, Heather Johnson

Thomas Bagwell, Susanne Mentzer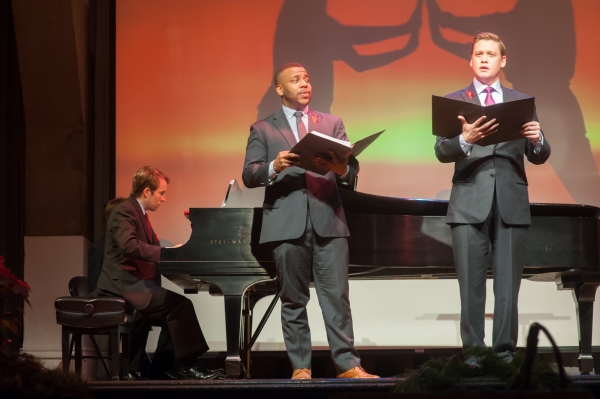 Thomas Bagwell, Sidney Outlaw, Michael Slattery

Thomas Bagwell, Randall Scarlata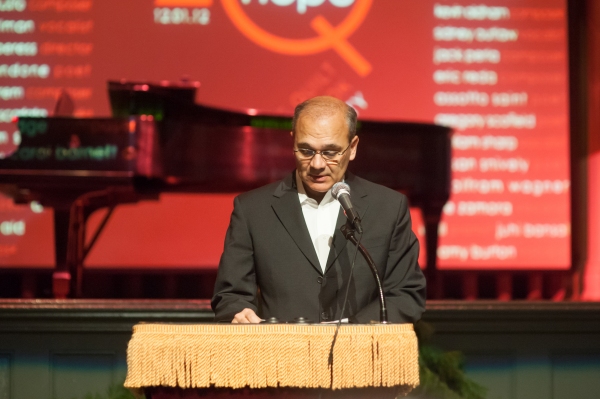 Cooper Union President Jamshed Bharucha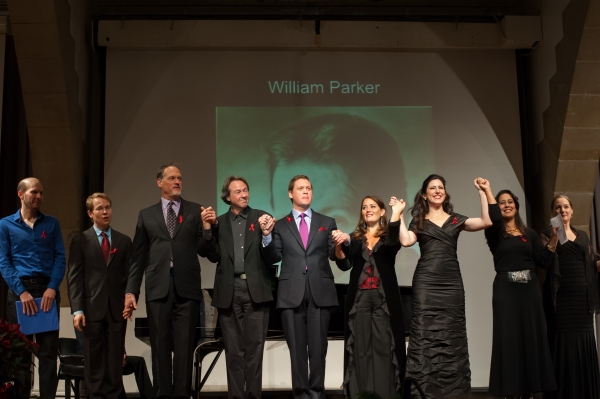 Cast members of "AIDS Quilt Songbook @ TWENTY"