Photo Flash: NYMF Celebrates 2013 Awards for Excellence, Closing Night
The New York Musical Theatre Festival (NYMF) has announced the winners of the NYMF 2013 Awards for Excellence and celebrated its closing night yesterday, July 28, 2013. Scroll down for photos of the winners and the closing festivities!
The NYMF 2013 Awards for Excellence are as follows: Excellence in Writing - Music: Ira Antellis (Julian Po); Excellence in Writing - Lyrics: Omri Schein (Gary Goldfarb: Master Escapist); Excellence in Writing - Book: Joe Slabe (Crossing Swords); Excellence in Direction: Igor Goldin (Corssing Swords); Excellence in Choreography: Richard Stafford (Castle Walk); Excellence in Production Design: Kacie Hultgren, set design; Lee J. Austin, costume design; Zach Blane, lighting design (The Awakening of Angel DeLuna); Outstanding Orchestrations or Arrangements: Larry Pressgrove (The Awakening of Angel DeLuna); Outstanding Musical Direction: Micah Young (Crossing Swords); Outstanding Ensemble Performance: The cast of Volleygirls (PJ Adzima, Susan Blackwell, Juliane Godfrey, Benjamin Howes, Jennifer C. Johnson, Charles Karel, Julia Knitel, Gerianne Pérez, Allison Jill Posner, Dana Steingold, and Allison Strong); Outstanding Individual Performances: Onalea Gilbertson, Mata Hari, Steven Hauck, Crossing Swords, Michael Thomas Holmes, The Awakening of Angel DeLuna, Natalie Joy Johnson, Natalie Joy Johnson: Full Bush, Jared Loftin, Gary Goldfarb: Master Escapist, Jillian Louis, Marry Harry, Luba Mason, Julian Po, Patty Nieman, The Awakening of Angel DeLuna, Darren Ritchie, Standby, Lynn Wintersteller, Castle Walk; Theater for the American Musical Prize: Crossing Swords (Book, music & lyrics by Joe Slabe); "Best of Fest" Audience Prize: Volleygirls (Book by Rob Ackerman, music by Eli Bolin, lyrics by Sam Forman); and Most Promising Musical Award: Volleygirls (book by Rob Ackerman, music by Eli Bolin, lyrics by Sam Forman).
This year's NYMF Jury included: Dev Bondarin (Associate Artistic Director, Prospect Theatre Company), Chris Caggiano, (EverythingMusicals.com), Seth Christenfeld (Reading Series Coordinator, The York Theatre Company), Michael Dale (BroadwayWorld.com), Roger Danforth (Deputy and Artistic Director, The Drama League), Larry Davis (NYMF Patron),Frank Evans (Producing Director, Musical Mondays Theatre Lab and Steering Committee BMI Musical Theatre Workshop), Lily Fan (Producer), Peter Filichia (Theatre Critic), Jeff Griffin (Managing Director, Classic Stage Company), Jen Hoguet (Ambassador Theatre Group), Lily Hung (New York University), Dana Ivey (Actor), Tim Jerome (Actor), Elizabeth Lucas (Director), Matthew Murray (TalinBroadway.com), Michael Parva (Artistic Director, The Directors Company), Hillary & Jonathan Reinis (Producers), Lynn Spector(Dramaturg), Richard Termine (Photographer, The New York Times), Michael Wolk (Producer, Gorgeous Entertainment).
The New York Musical Theatre Festival (NYMF) exists to revitalize musical theatre culture by discovering and promoting new musical theatre artists, producers and projects; nurturing a vibrant and innovative artistic community; and connecting one of America's greatest art forms with a diverse, contemporary audience.
Now in its tenth year, the Festival is the largest musical theatre event in America. The preeminent site for launching new musicals and discovering new talent, the Festival provides an affordable platform for artists to mount professional productions that reach their peers, industry leaders, and musical theater fans. More than 85 festival shows have gone on to productions on and off-Broadway, in 48 states, and more than 20 countries worldwide, and Festival alumni have received a wide array of awards including the Tony and the Pulitzer Prize. In 2013, NYMF received a special Drama Desk Award in recognition of its work "creating and nurturing new musical theater, ensuring the future of this essential art form."
NYMF is the flagship program of National Music Theater Network, Inc., a 501(c) (3) not-for-profit organization. NYMF 2013 is presented in association with Dunkin' Donuts, BroadwayWorld.com, Production Resource Group, TheaterMania.com, New World Stages, Fox 5 New York, Tilson Consulting, The Out NYC, King Displays, Times Square Squared, Thomson Reuters, Nasdaq OMX, Backstage, Next Magazine, Ironpaper, BroadwayInsider.com, TheMenEvent.com, and Yelp. NYMF is supported, in part, by an award from the National Endowment for the Arts, and by public funds from the New York City Department of Cultural Affairs, and from the New York State Council on the Arts, a state agency. Major supporters include The ASCAP Foundation, BMI Foundation, Inc., The BWF Foundation, Con Edison, TheNathan Cummings Foundation with the support and encouragement of Jamie Mayer Phinney, The New Musical Development Foundation, The Jerome Robbins Foundation, The Rodgers & HammersteinFoundation, The Shubert Foundation, and The Theater League.
Photo Credit: Seth Walters

Omri Schein (Book / Lyrics for Gary Goldfarb: Master Escapist) for Gary Goldfarb with Isaac Hurwitz

Jonathan Stahl (Associate Director/Choreographer/Lew Fields/Ensemble/Dance Captain) for Castle Walk accepts the Excellence in Choreography award on behalf of Richard Stafford (Director/Choreographer) for Castle Walk

Neil Patrick Stewart (Director), Eli Bolin (Composer), Sam Forman (Lyricist), Rob Ackerman (Book)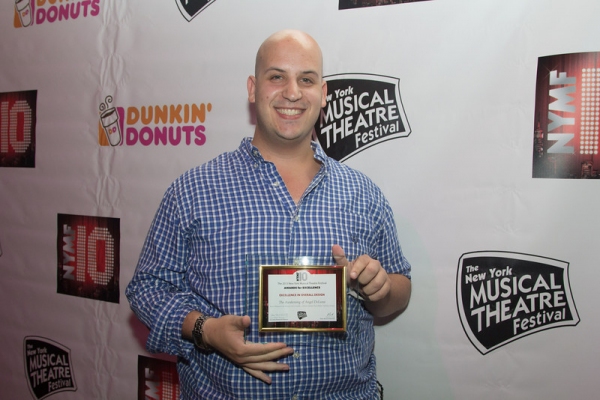 Zach Blane (Lighting Designer) accepts the Excellence in Design Award on behalf of The Design Team for The Awakening of Angel DeLuna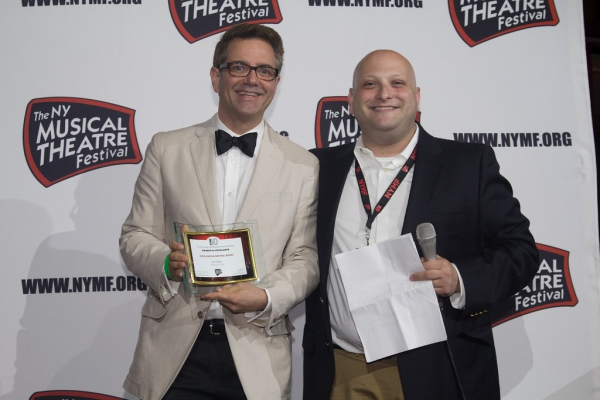 Zach Blane (Lighting Designer) accepts the Excellence in Design Award on behalf of The Design Team for The Awakening of Angel DeLuna

Jacob Porter, Producer Julian Po accepts on behalf of Ira Antelis (Composer) for Excellence in Music

Jillian Louis (Marry Harry), Jared Loftin (Gary Goldfarb), Steve Hauck (Sir/Older Jeremy), Onalea Gilbertson (Mata Hari in 8 Bullets), Patty Nieman (The Awakening of Angel DeLuna ), Michael Thomas Holmes (The Awakening of Angel DeLuna )

The cast of "Volleygirls" accepts the award for Outstanding Ensemble, "Best of Fest" Musical prize, and Most Promising Musical Award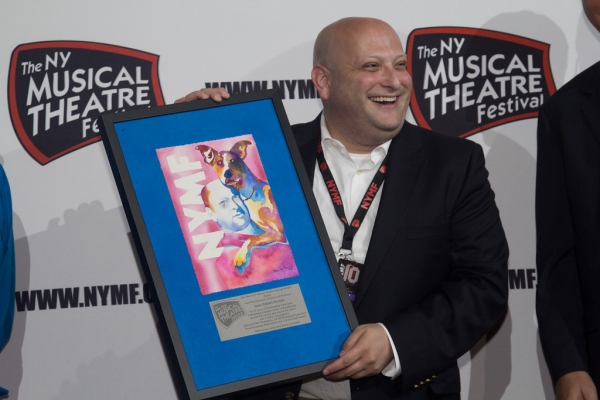 Issac Robert Hurwitz accepts a special gift for recognition of 10 years of being Executive Director and Producer of the New York Musical Theatre Festival