Click Here for More Articles on MOTOWN
Photo Flash: 'MOTOWN Serves Mapplethorpe' Supports Broadway Serves for World AIDS Day
On Thursday, December 5th, BROADWAY SERVES presented 'MOTOWN Serves Mapplethorpe,' a brief review of the currently running show, Motown the Musical, in honor of World AIDS Day (December 1st). Narrated by Motown consultant, Dick Scanlan, members of the cast performed at Beth Israel Medical Center's Podell Auditorium for patients at the Robert Mapplethorpe Residential Treatment Facility, Peter Krueger Center for Immunological Disorders, and VillageCare. All three organizations provide health and social services for people living with HIV/AIDS. Scroll down for a photo!
Audience members were overjoyed by the performance; and were often singing along and dancing in the aisles. The patients gave the cast a hand-drawn thank you card, but they were not the only ones moved by the day of service.
"To be able to share our work and art with a group for whom coming to a Broadway show is not an easy reality, to have them open their hearts in appreciation of our gift and in turn share their own stories made for an afternoon that I'll not soon forget," said Motown's star, Brandon Victor Dixon. Scanlan added, "As a PWA and a member of the Broadway community, I can think of no better way to celebrate World AIDS Day than to serve with BROADWAY SERVES to bring some love and music to others living with HIV/AIDS... their emotional and spiritual health got a big boost from the many classic Motown hits, performed by these dazzling artists. It certainly did me a world of good."
BROADWAY SERVES is a service organization comprised of members of the theater community who are looking to "be the change we want to see in the world." An affiliate of Broadway Cares Equity Fights AIDS, their mission is to provide a forum for open discourse on issues that affect us all, and to provide opportunities for community service to Broadway and theater professionals.
For more information about BROADWAY SERVES and volunteer opportunities, visit www.broadwayserves.org.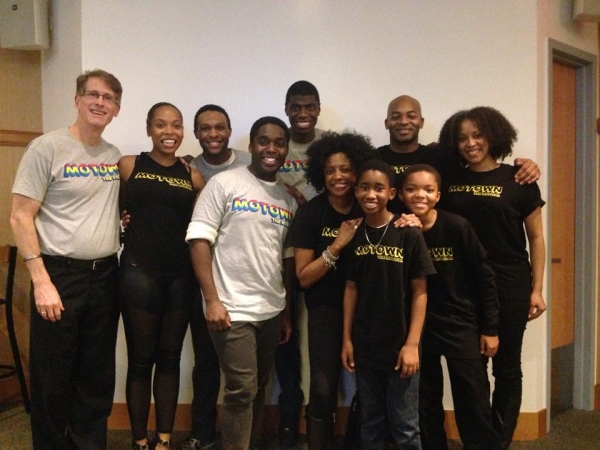 The Cast of MOTOWN with BROADWAY SERVES