Click Here for More Articles on MARY POPPINS
Photos: MARY POPPINS Celebrates 2000 Performances on Broadway
Broadway's most magical musical MARY POPPINS celebrated its 2000th performance at the New Amsterdam Theatre on Sunday, September 4. A co-production by Disney and Cameron Mackintosh, MARY POPPINS is the third Disney Theatrical Productions show (following Beauty and the Beast and The Lion King) and the fifth Cameron Mackintosh show (joining Cats, Les Misérables, The Phantom of the Opera and Miss Saigon) to play 2000 or more Broadway performances. Below, BroadwayWorld brings you a look backstage during the celebration!
The Broadway production of MARY POPPINS officially opened on November 16, 2006, recouping its initial Broadway investment within 52 weeks of its premiere. MARY POPPINS is the only show from the 2006-2007 theatrical season still running.
MARY POPPINS currently stars Olivier Award winner Laura Michelle Kelly in the title role, and Tony Award nominee Gavin Lee as Bert. The cast also features Karl Kenzler as George Banks, Megan Osterhaus as Winifred Banks, Valerie Boyle as Mrs. Brill, Ann Arvia as Bird Woman, Andrew Keenan-Bolger as Robertson Ay, Ruth Gottschall as Miss Andrew and Jonathan Freeman as Admiral Boom. Alternating in the role of Jane Banks are Rozi Baker, Brigid Harrington and Kara Oates; alternating in the role of Michael Banks are Lewis Grosso, David Gabriel Lerner and Anthony Scarpone-Lambert.
With four productions currently running on three continents, MARY POPPINS is one of the biggest stage musical successes to emerge from London or New York in recent years. Worldwide to date, the six productions of the show have grossed over $605 million, welcomed 8.5 million guests and cumulatively run 12 years. The musical is the winner of 44 major theatre awards around the globe, including Tony®, Olivier, Helpmann and Evening Standard awards.
MARY POPPINS received its worldwide premiere at the Prince Edward Theatre in the West End in December 2004. Following its successful three-year London run, the production launched an acclaimed U.K. tour.
The MARY POPPINS North American tour has garnered continuous critical praise and achieved box office success since its launch in Chicago in March 2009. MARY POPPINS can also be seen in Scheveningen, Netherlands (outside of Amsterdam at the Circus Theatre) and Sydney, Australia (at the Capitol Theatre). Productions of MARY POPPINS have also been mounted in Finland, Denmark and the Czech Republic.
For tickets, show information and performance schedule, visit www.MaryPoppins.com.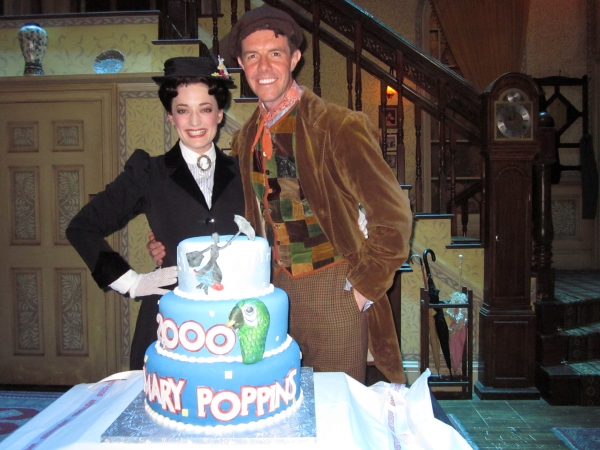 Laura Michelle Kelly and Gavin Lee

MAMRY POPPINS Company