Mary Poppins - 2006 - Broadway
Mary Poppins has arrived at Broadway's magnificent New Amsterdam Theatre in a new musical so extraordinarily enchanting that, like critics, you'll have just one word for it: Supercalifragilisticexpialidocious!
Based on P.I. Travers' cherished stories and the classic 1964 Walt Disney film, MARY POPPINS, currently one of London's biggest sensations, features the Sherman brothers' original Academy Award-winning songs. In collaboration with Cameron Mackintosh, the show has been created by Academy Award-winning screenwriter Julian Fellowes, who has written the book, and the Olivier Award-winning team of George Stiles and Anthony Drewe, who have composed new songs and additional music and lyrics.
Olivier Award-winning director Richard Lyre leads a dream team of vision and stagecraft, bringing to life the story of the Banks family and their magical nanny. Co-direction and choreography is by Olivier Award-winner Matthew Bourne, set and costume design is by Tony Award winner Bob Crowley, co-choreography is by Olivier Award-winner Stephen Mear, and lighting design is by Olivier Award-winner Howard Harrison.
MARY POPPINS marks the first collaboration between Disney, producer of such acclaimed productions as THE LION KING, BEAUTY AND THE BEAST and TARZAN, and Cameron Mackintosh, legendary producer of record-breaking shows THE PHANTOM OF THE OPERA, CATS and LES MISERABLES.
Video preview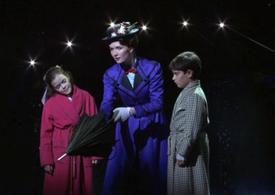 Photo preview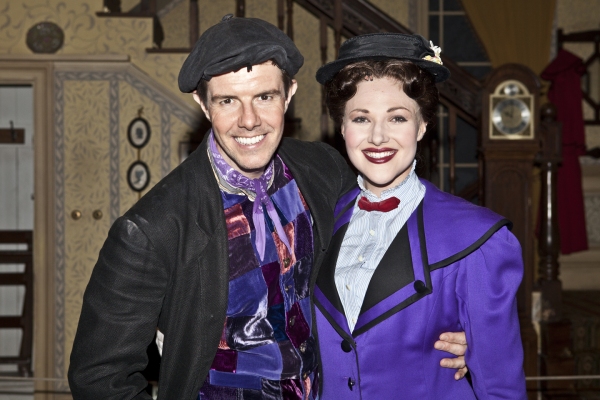 Schedule
Running Time: 2 hours and 40 minutes, with 1 intermission
Featured Reviews For Mary Poppins
Link no longer active - Associated Press
Watching "Mary Poppins," the Disney-Cameron Mackintosh extravaganza now on view at the New Amsterdam Theatre, is a little like eating an entire box of expensive chocolates — all by yourself. You may end up feeling a bit overstuffed, but, boy, the experience will be fun. Tasty, too. This lavish stage version about the world's most blissfully competent nanny is an amalgamation of the 1964 Disney movie that made Julie Andrews a film star and the classic children's books by P.L. Travers.
Mary Poppins - Variety
The partnership between producing powerhouses Disney and Cameron Mackintosh was bound to yield a mega-"Mary Poppins." With the behemoth shows that led the British invasion of Broadway in the 1980s, Mackintosh made "bigger is better" his manifesto. And Disney's ventures into musical theater can hardly be called modest in scale. So it's perhaps not surprising the lavish adaptation of P.L. Travers' beloved stories of a magical nanny is somewhat overstuffed. That quibble aside, the show is also bursting with dazzling stagecraft, stunning design, old-fashioned storytelling virtues and genuine charm.
Mary Poppins Broadway Cast