Mary Poppins - 2006 - Broadway Tickets, News, Info & More
Mary Poppins has arrived at Broadway's magnificent New Amsterdam Theatre in a new musical so extraordinarily enchanting that, like critics, you'll have just one word for it: Supercalifragilisticexpialidocious!
Based on P.I. Travers' cherished stories and the classic 1964 Walt Disney film, MARY POPPINS, currently one of London's biggest sensations, features the Sherman brothers' original Academy Award-winning songs. In collaboration with Cameron Mackintosh, the show has been created by Academy Award-winning screenwriter Julian Fellowes, who has written the book, and the Olivier Award-winning team of George Stiles and Anthony Drewe, who have composed new songs and additional music and lyrics.
Olivier Award-winning director Richard Lyre leads a dream team of vision and stagecraft, bringing to life the story of the Banks family and their magical nanny. Co-direction and choreography is by Olivier Award-winner Matthew Bourne, set and costume design is by Tony Award winner Bob Crowley, co-choreography is by Olivier Award-winner Stephen Mear, and lighting design is by Olivier Award-winner Howard Harrison.
MARY POPPINS marks the first collaboration between Disney, producer of such acclaimed productions as THE LION KING, BEAUTY AND THE BEAST and TARZAN, and Cameron Mackintosh, legendary producer of record-breaking shows THE PHANTOM OF THE OPERA, CATS and LES MISERABLES.
Video preview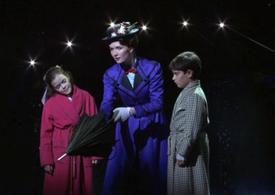 Photo preview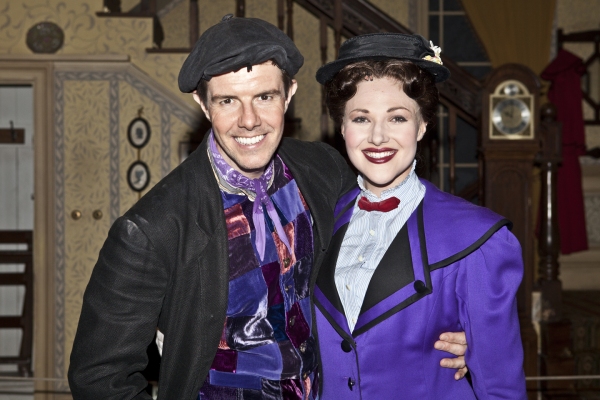 Schedule
Running Time:
2 hours and 40 minutes, with 1 intermission
Featured Reviews For Mary Poppins
Link no longer active - New York Post
Film musicals don't normally translate well into stage versions - think "Singing in the Rain" - but "Mary Poppins" doesn't simply translate, it transcends. This is a great show that, for first time this season, has Broadway singing again.
Link no longer active - Newsday
Well, she flies. She opens her parrot-handled umbrella, takes hold of her carpetbag, then soars out and up over the seats at the New Amsterdam Theatre - presumably to a place where a magic nanny can hole up until required by the next unruly family. Excellent flying. Otherwise, "Mary Poppins," the show for which "The Lion King" got kicked to the Minskoff Theatre, is a quaint, muddled, beautiful-looking musical with plenty of spectacle but even more emotional distance.
Mary Poppins Broadway Cast