Click Here for More Articles on AVENUE Q
Photos: 'Kiss and Makeup' Opens at FringeNYC
Fingers Crossed Productions presents Kiss and Makeup now playing as part of the New York International Fringe Festival through August 25 at the Lucille Lortel Theatre.
"Kiss and Makeup is a musical farce that takes place on stage and off at The Fleur Community Theatre, where the rag-tag cast of a French farce learns that the President of The United States is attending their premiere performance that very night," explain press notes, "The news throws the leading lady into a tailspin from which she never recovers, forcing the determined leading man to go on with the show by playing both the male and female leads."
The cast of Kiss and Makeup includes David Sabella-Mills (Chicago), Stephanie D'Abruzzo (Avenue Q), Capathia Jenkins (Martin Short: Fame Becomes Me); with Patti Perkins, Jeanne Tinker, Stanton Garr and Robert Rokicki.  Kiss and Makeup is created by Kevin Hammonds (book & lyrics), Mark Weiser (music & lyrics) and Kevin Hammonds (director/choreographer).
Remaining performances are Wednesday, August 22 at 7PM; Thursday, August 23 at 10:45PM; Friday, August 24 at 1PM; and Saturday, August 25 at 2:30PM.   The Lucille Lortel Theatre is located at 121 Christopher Street (Bleecker & Hudson).
Tickets are $15 and available at www.FringeNYC.org or call 212-279-448.  For more information visit www.kissandmakeupmusical.com.
Photos by George Rand

l-r: Stanton Garr, Jeanne Tinker, Capathia Jenkins, Robert Rokicki & Stephanie D'Abruzzo


top-bottom: Jeanne Tinker, Robert Rokicki, David Sabella-Mills & Patti Perkins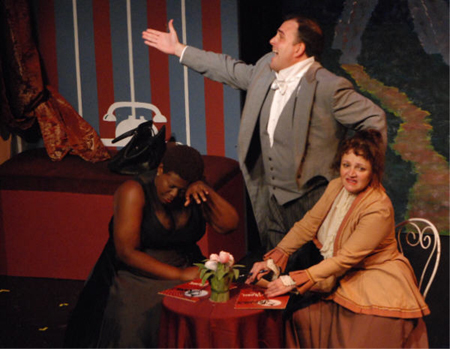 l-r: Capathia Jenkins, David Sabella-Mills & Patti Perkins

David Sabella-Mills & Stephanie D'Abruzzo

Cast of Kiss and Makeup (l-r): Robert Rokicki, Capathia Jenkins, Stephanie D'Abruzzo, David Sabella-Mills, Patti Perkins, Jeanne Tinker & Stanton Garr