Photo Flash: In Rehearsal with Kevin Spirtas and More for MR. CONFIDENTIAL at NYMF
"Days of Our Lives" star Kevin Spirtas leads a cast of 13 in the new musical comedy MR. CONFIDENTIAL, presented as part of the 2014 New York Musical Theatre Festival. Directed and choreographed by Stephen Nachamie (director of NYMF's award-winning 2012 production of Foreverman), MR. CONFIDENTIAL features book and lyrics by Samuel Bernstein (Bobbie's Girl) and music by David Snyder. The production plays five performances July 21-27 at theAlice Griffin Jewel Box Theatre at the Pershing Square Signature Center (480 W. 42nd St.), as part of the 2014 New York Musical Theatre Festival. Scroll down for a sneak peek at the cast in rehearsal!
Before TMZ and Gawker, there was Bob Harrison's Confidential Magazine. Its scandal and showbiz fizz went viral, fab '50s style, outselling TV Guide and Time Magazine. But scrape away the hype, whipped cream and dirt, and what do you have? A mostly true story about heart, innocence, and family loyalty, set to a sexy, swinging, Big Broadway beat. But shhh! Keep it confidential...
In 1952, Bob Harrison dreams up Confidential Magazine. As part of a tight-knit family, he works with older sister, Edith, and her kids Michael and Marjorie -- who trades her life as a young wife and mother for a chance to be Bob's right hand in the business.
Bob's creation is born of his own need to matter in the world. But he grows obsessed and enthralled by its spectacular success. Confidential's mix of juicy true stories about Hollywood and Broadway stars, society swells and Washington big-shots soon dwarfs everything else around, with each issue selling over five million copies by 1957.
His dazzling rise, desperate fall and spectacular comeback take Bob to a triumph that's beyond even his own imagination. Bob's girlfriend Jeannie is at the center of everything glamorous he hopes to build. His nemesis is his own hire, a red-baiting writer named Howard Rushmore. In the end, Bob must choose between fantasy and reality; family and infamy; legacy and longing.
With a cast of 13 lead by "Days of Our Lives" star Kevin Spirtas as Bob Harrison, MR. CONFIDENTIAL co-starsAmy Bodnar as Jeannie Douglas, Erin Leigh Peck as Marjorie Meade and Paul Michael Valley as Howard Rushmore, and features Jane Blass, Joshua Dixon, Tony Award nominee Willy Falk, Badia Farha, James LaRosa, Michael Marotta, Rachel Alexa Norman, Elyssa Samsel and Aléna Watters.
The production features costume design by Vanessa Leuck, set design by Alan C. Edwards, lighting design by Peter Gragg and sound design by Matt Kraus. Kevin Cole serves as musical director.
MR. CONFIDENTIAL plays five performances only as part of the 2014 New York Musical Theatre Festival. The playing schedule is as follows: Monday, July 21 at 8 p.m.; Thursday, July 24 at 1 p.m.; Friday, July 25 at 9 p.m.; Saturday, July 26 at 1 p.m.; and Sunday, July 27 at 5 p.m. All performances take place at the Alice Griffin Jewel Box Theatre at 480 W. 42nd St. (9th/10th Aves.). Tickets are $25 each and are now available by calling 212-352-3101 or by visiting www.nymf.org or www.mrconfidentialmusical.com.
Photo Credit: Jeremy Daniel


Kevin Spirtas and Company

Director/Choreographer Stephen Nachamie, Amy Bodnar, Kevin Spirtas

Amy Bodnar, Kevin Spirtas and Company

Alena Watters, Willy Falk

Kevin Spirtas and Company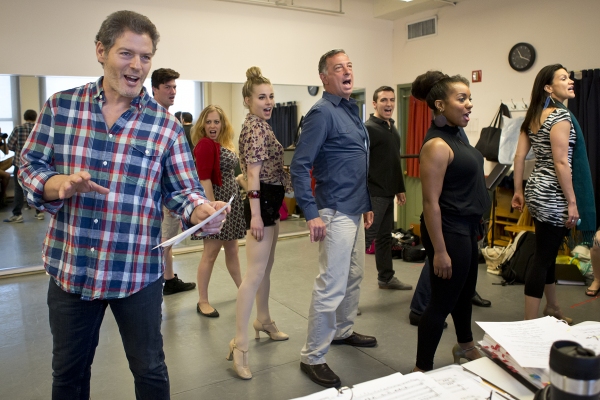 Kevin Spirtas and Company

(clockwise from left) Elyssa Samsel, Kevin Spirtas, Badia Farha, Alena Watters

evin Spirtas, Amy Bodnar and Company

Related Articles
More Hot Stories For You